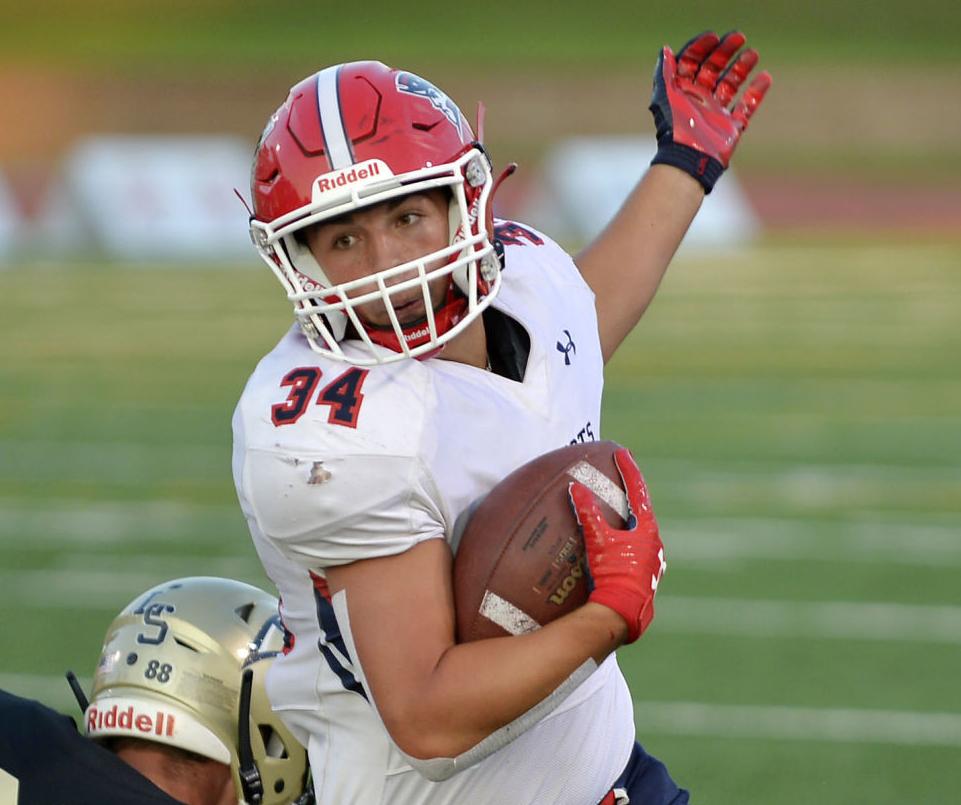 Cade Garcia carries a heavy load for top-ranked Century.
The Patriots' standout tailback logged 58 carries combined in their first two games, but it's been more than three weeks since the last time he touched the ball against another team. A scheduled bye and a virus outbreak made for an all-too-long timeout for the defending Class AAA champs.
"To go that long in between games definitely sucks but it was out of our control," said Garcia who totaled 293 yards rushing and three touchdowns in wins over Legacy and Mandan. "We've been working hard, trying to get better, waiting for our third game. We're definitely ready."
The Patriots (2-0) host Minot (0-3) today at 1:30 p.m. at the MDU Resources Community Bowl.
Not that he needed or wanted it, but the 22-day break between games has Garcia and the Patriots tip-top health-wise.
"I'm feeling really good. Ready to go," Garcia said. "We just want to get out there and play."
Century's last game was on Sept. 4. That left a whole lot of time for head coach Ron Wingenbach and company to fill, while trying to keep everyone COVID-free.
"I tell you what, you don't learn about those types of things in football coaching 101 in college, that's for sure," Wingenbach said. "But we have a really veteran staff and that always helps. We throw ideas around as to what we can do differently. We had a couple of practices at the Bowl. It was good to get on turf. But football is football. You have to block and tackle."
Wingenbach also having senior leaders like Garcia help keep the train on the tracks.
"We have a really good senior class. Those kids set the tone," Wingenbach said.
Garcia said curve balls were expected in 2020.
"We knew things like this might happen, so we just have to roll with the punches," he said. "We're just happy we get to play. The break, yeah, it wasn't the best, but we're still in position to have a season and that's exciting."
Garcia's career is likely to last long beyond this fall. The 2019 all-state selection hasn't gotten an official college offer yet, but has drawn interest from the likes of UND and South Dakota State.
"I'm hoping to get (an offer) soon. I would really like to play college football," he said.
Any school will be getting more than a top high school player. Garcia also excels academically as a member of the National Honor Society.
"Obviously doing well in school is important. That's always been a big thing in our family," he said. "I enjoy doing stuff in the community. Helping people out, helping my teammates out. Just trying to do things that are positive and make a difference."
Garcia doesn't shy away from a challenge either.
After playing basketball through his previous high school years, he'll head back to the wrestling mat for his senior season.
"I wrestled when I was a kid," he said. "It should be interesting to get back into it."
Football is the sole focus right now, however.
Garcia and the Patriots still have games against Williston (Oct. 2), Jamestown (Oct. 9), Dickinson (Oct. 15) and what could be a monster tilt against Bismarck High on Oct. 21.
"I think we've played pretty well so far. We know we have stuff to work on … our pass coverages on defense, and on offense we've been working on our passing game," he said. "We're excited to play again. It's been a while."
Get in the game with our Prep Sports Newsletter
Sent weekly directly to your inbox!