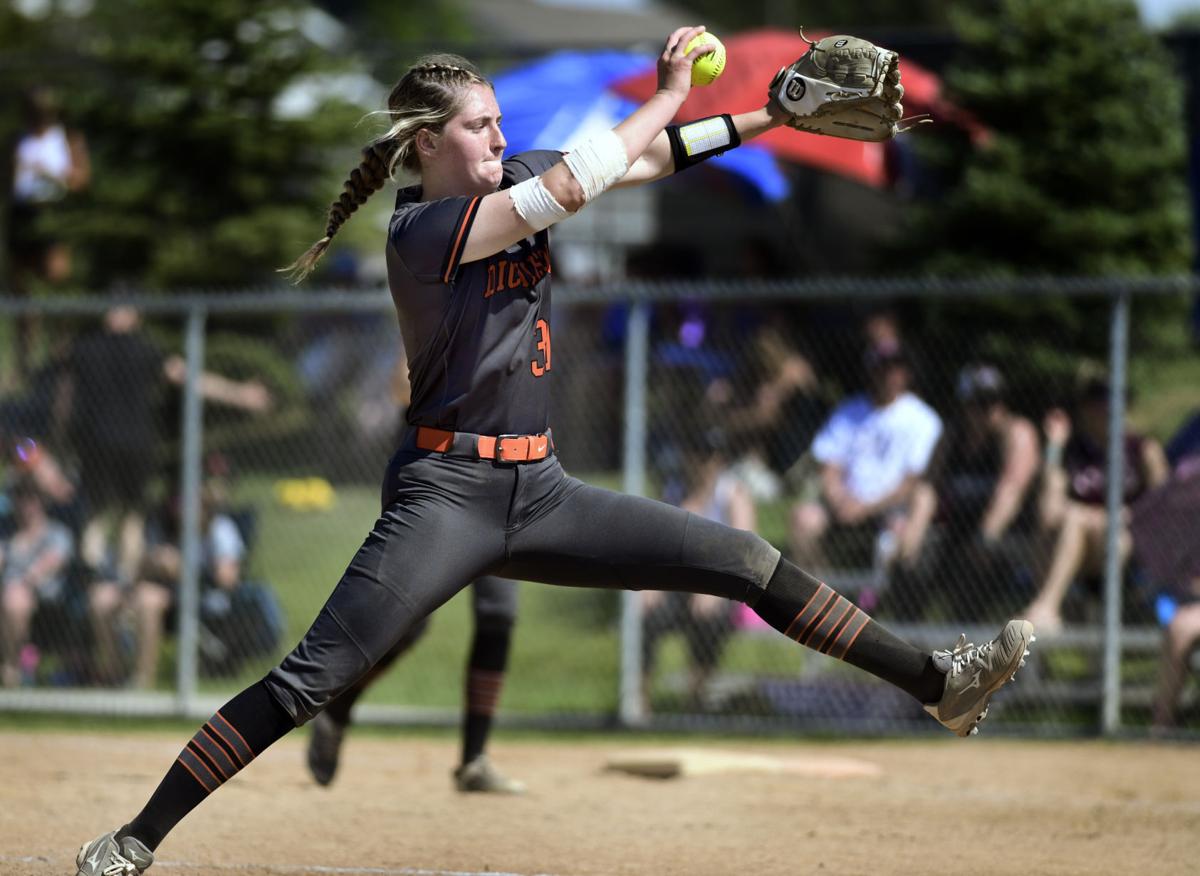 Thermometer readings were on the high side of 100 degrees, so the Dickinson softball team made it short and sweet.
 The Midgets pounded out 13 hits and Mataya Mortensen dominated in the circle as Dickinson claimed its first state softball championship Saturday in Mandan.
 The final accounting read Dickinson 10, Bismarck 0 at Fort Lincoln Field. Dickinson needed only 86 minutes to certify its first victory in four trips to the state title game.
 "This is my fourth state championship game, two with West Fargo (2015, 2016) and one with Minot (2018)," noted seventh-year Dickinson coach Amanda Mickey.
 Saturday's victory was Dickinson's 30th in 33 games. The Midgets won 13 of their final 14, the only blemish being a 5-0 setback at the hands of Century in the West Region championship contest.
 Mortensen, a 5-foot-8 junior, won her second game of the tournament in sterling fashion. She surrendered only two hits, one of which was erased by an ensuing double play. Her pitch count was 60, 45 of them strikes. She struck out five and issued just one base on balls.
 Although she has a five-pitch repertoire, Mortensen said assistant coach Scott Lafond has her throwing a lot of curveballs against Bismarck.
 "We threw a lot of junk, and we threw more junk when we got a comfortable lead," she said.
 Three players, Mortensen and freshmen Ava Jahner and Jenna Decker, have shouldered the pitching load this spring. Mortensen has performed at less than 100 percent physically.
 "(Mickey) just said 'go as long as you can go and just be honest,'" Mortensen said.
 Mickey said she has had to be judicious in determining Mortensen's work load. The junior right-hander went four innings in Friday's 6-0 semifinal win over Valley City before giving way to Jahner, who went the distance in Thursday's quarterfinals.
 "(Mortensen) has only been able to give us about three innings every other week because of a partial Tommy John (injury) and nerve damage to her elbow from hockey," the coach said. "She will have surgery next week."
 From the second inning on, Mortensen was pitching with a healthy lead.
 In the first inning, the Midgets threatened, but left two runners stranded and had another tagged out at home plate.
 They struck paydirt in the second, coupling four singles with a walk to take a 3-0 lead. Mortensen, Jahner and Decker supplied RBI singles amid the rally.
 Baylee Berg's solo home run to left field made it 4-0 in the third.
 Dickinson put an end to the proceedings in the fifth, invoking the 10-run mercy rule by scoring six runs in one-third of an inning. The Midgets collected six hits off BHS reliever Macie Lemar, who took over from Logan gronbers to start the fifth inning.
 Amy Fridley's two-run rally ignited the winning surge and Paige Balliet's run-scoring double sealed the deal.
 Mickey said her team's offensive prowess has been there from the start of the season.
 "We've put up a lot of runs. It's been continuous," she observed. "We focus a lot on offense."
  She said the team's home run count is 53 with seven different players contributing to that tally. Taya Hopfauf leads the team with 12 dingers, followed by Jahner and Reese Hauck with 11 apiece.
  Mortensen, who bats second, said anyone the Midgets send to the plate can swing the bat with authority.
 "We know the batting order doesn't matter because every one of us can make solid contact," she noted.
 Mortensen said the Midget softball team is the first state championship high school team on which she's played, but not the first state titleist.
 "In summer (USA) Softball I think we've won five," she noted.