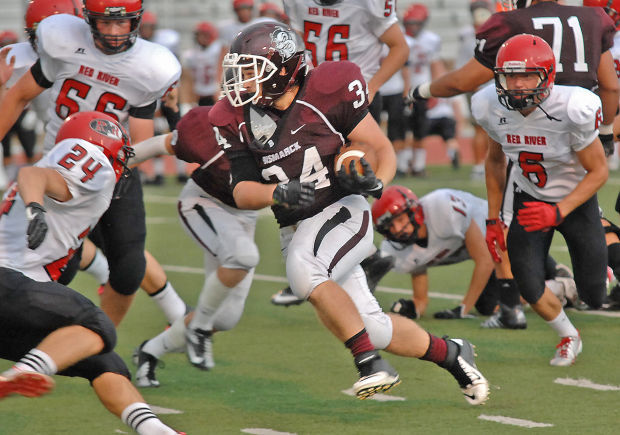 Coaches love to talk about finding balance in the offense. For Bismarck High, that's usually a few dozen runs with a couple of passes thrown in.
On Friday, the two-time defending state champion Bismarck Demons achieved a rarity — at least for the Demons — when they turned in a perfectly balanced 28-0 win over Grand Forks Red River at the Bismarck Community Bowl. It was their 18th straight victory
The Demons ran 28 times and passed 28 times in a game stopped with 11:21 to play when storms rolled into the Bismarck-Mandan area. Senior Hayden Gibson completed 13 of 28 passes for 145 yards and junior running back Noah DuBord had 136 yards and two scores in his first start.
The Demons (1-0) gained 203 yards on 28 carries and held Red River (0-1) to just 46 yards on 22 carries and 59 total yards.
"It's a team sport. I do the best I can," said the 5-foot-7, 200-pound DuBord, who bulled his way to scoring runs of 30 and 14 yards. "Everyone does their part, and I did my part."
DuBord saw extended playing time due to the absence of the Demons' top returning ground gainer. He made the most of his chance, averaging 11.3 yards per carry.
DuBord said Gibson's effective passing game made it easier to run.
"When they open it up, all of the guys move out of the box and there are big gaps in there. The linemen did a great job," DuBord said.
Gibson threw passes to six different receivers. He had 125 yards at the half, including a 14-yard touchdown strike to Jon Tharaldsen.
"We ran the ball very well," Gibson said. "We got the running game going and ran a lot of play-action passes."
Demons coach Mark Gibson said the plan on Friday was to find productive receivers, and he found some. Tanner Hegre had three catches for 39 yards, Issac Walth had two catches for 33 yards and Connor Helebust had two catches for 30 yards. Hayden Gibson completed six passes of 14 yards or longer.
I'm nervous about our passing game," Mark Gibson said. "We've got to find some guys that are interchangeable down the road … We need to find some wideouts and we're slowly doing that."
In typical Bismarck fashion, the Demons controlled both lines of the scrimmage. They averaged more than seven yards per carry and had little trouble building a big earl;y lead on a swelteringly hot afternoon.
DuBord capped a four-play, 60-yard drive with a
30-yard blast up the middle with 5:47 left. Two plays later, Red River lost the first of its three fumbles and Bismarck pounced again. On the third play from scrimmage, DuBord marched in almost untouched from 14 yards out.
Two plays later, The Roughriders lost another fumble and this time Kole Bauer scored from 19 yards out for a 21-0 lead.
"When you give any team a short field to work with by turnovers, that doesn't help," Red River coach Vern Muir said. "We did the same thing in the playoffs last year. We just hit repeat from October 26th of last year."
Bismarck's play along the lines of scrimmage was the difference, Mark Gibson said. "Overall our strength showed tonight and that was our offensive and defensive lines."
Working behind his line, Hayden Gibson stretched Bismarck's lead to 28-0 on 14-yard TD pass with 4:34 left in the first half. After a scoreless third quarter, Bismarck marched down to the Red River 17 before lightening near the bowl brought the game to a halt.
Hunter DelaBarre ran six times for 37 yards and Bauer had 29 yards on seven carries. Lucas Nuelle led the Roughriders with 23 yards on three carries.
Red River quarterback Chad Bartosh was 3-for-13 for just 13 yards. He threw for 1,200 yards and 17 TDs last season.
B: Noah DuBord 30 run (Cole Olson kick), 5:47.
B: DuBord 14 run (Olson kick), 4:35.
B: Kole Bauer 19 run (Olson kick), 2:39.
B: Jon Tharaldsen 14 pass from Hayden Gibson (Olson kick), 4:34.
No scoring, game called with 11:21 left due to lightening.
Rushes-yards 22-46 28-203
RUSHING: RR_Chad Bartosh 2-(minus 11), Lucas Nuelle 3-23, Jordan Lunski 9-17, Zachary Ranisate 6-16, Casey Schumacher 2-1. BHS_Hayden Gibson 3-1, Kole Bauer 7-29, Hunter DelaBarre 6-37, Noah DuBord 12-136.
PASSING: RR_Bartosh 4-13-0, 13 yards. BHS_Gibson 13-28-0, 145 yards.
RECEIVING: RR_Jake Robson 1-7, Cole Kringstad 1-2, Schumacher 1-(minus 2), Tyler Straub 1-6. BHS_Jacob Schulte 1-28, Tanner Hegre 3-39, Jon Tharaldsen 2-18, Bauer 2-9Minus 3), Isaac Walth 3-33, Connor Hellebust 2-30.
Records: RR 0-1, BHS 1-0.