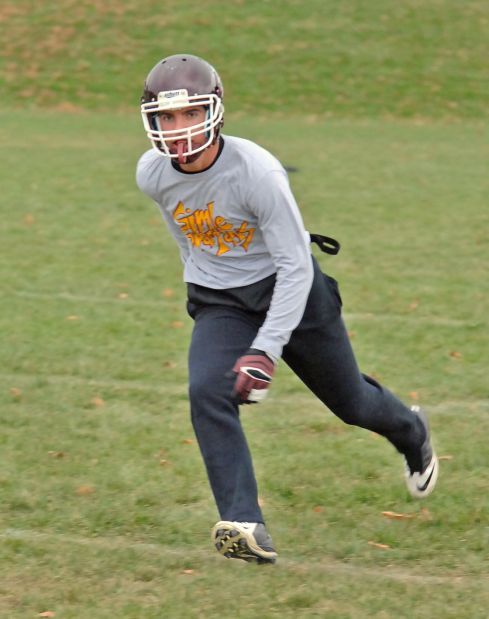 Amateur oddsmakers undoubtedly rate the Bismarck Demons huge favorites going into tonight's AAA quarterfinal playoff game with West Fargo.
Bismarck, undefeated and ranked No. 1, is embarking on a playoff run it hopes will yield a third straight state championship. West Fargo, 4-4 and unranked, enters the playoffs on a two-game losing streak.
But Kole Bauer, for one, won't be underestimating the visiting Packers when the teams line up for the 7 p.m. kickoff at the Community Bowl.
Bauer, a senior defensive back for the Demons, remembers all too well a similar scenario 51 weeks ago. The undefeated Demons trailed 8-7 in the fourth quarter before rallying past the Packers 22-8 in a semifinal game. BHS had put away West Fargo 29-0 in the season opener.
"Every year they seem to be the team that grows the most from the first week to the end. They take great steps forward," Bauer warned. "Last year from the first time we played them to the second it was like two different teams, almost."
West Fargo has struggled offensively, ranking fourth in the East Region in scoring offense (21.0) and fifth in total yardage (228.5). The Packers top the region in scoring defense, however, at 17.4 points per game.
Bauer said the Packers have offensive similarities to Minot, the team BHS defeated 28-14 last week in a battle of unbeatens.
"They run the same kind of spread offense Minot runs," said Bauer, a 5-foot-11, 175-pound free safety.
West Fargo's offensive leaders are 195-pound junior tailback Sam Olsen, who ranks fifth in the East in rushing with a 54.2 per-game yardage average. Senior wideout Jacob Blotsky stands sixth in the region in receiving with 17 catches for 238 yards.
Zach Larson, a 180-pound junior linebacker, leads the Packer defense. He's been in on 70 tackles, 40 solo.
Bismarck ranks No. 1 in the West Region in scoring offense (41.0) and total yardage (386.0). The BHS attack is built around senior tailback Ricardo Galindo, who has racked up 1,052 yards and 19 touchdowns in six games.
The Demons rank second in the region in yardage defense (201.4) and fourth in scoring defense (13.2).
Today's other quarterfinal matchups have Jamestown at fourth-ranked Fargo South, Grand Forks Red River at No. 2 Minot and No. 3 Century at No. 5 Fargo Davies. All are scheduled for 7 p.m. kickoffs.
Bauer said the BHS defense has improved dramatically the second half of the season. After the Demons survived a 55-49 scorefest with Fargo South, they were yielding 16.4 points per game. They've cut that to 9.2 over the past four games.
"We just started to focus on the basics like tackling and having everyone do his job," Bauer said. "Especially tackling. We tackled very poorly against Fargo South. Since then we've played much better."
Bauer said there's also been a change in concentration.
"We've focused on doing the little things right ... and coming in more prepared for games," he said.
A transplant from offense to defense, Bauer said he's improved right along with the rest of the defensive unit.
"At the start I had to learn run reads and run defense. Early on I had almost no idea of what I was doing. After the second game we did some drills to help me work on run reads and I've gotten a lot better," he said.
The days of feeling like a foreigner on defense are gone.
"It didn't take me very long before I felt like solely a defensive player," Bauer said. "Especially after Ricky (Galindo) came back and I didn't have to take any more repetitions at tailback."
Bauer ran the ball 22 times for 86 yards and two touchdowns while Galindo sat out the first three games due to a training violation. He's only carried the ball twice since then.
Defensively he's been busy, accounting for five of the Demons' 16 takeaways. He's picked off one pass and recovered four fumbles, three of them against Minot. He's broken up eight passes and had a part in 38 tackles. He emphasized fumble recoveries aren't a one-man show.
"The defensive linemen and linebackers do a really nice job of standing guys up and everyone else is punching and raking at the ball. We come in and clean stuff up," he said.
Bauer is a 12-month-a-year athlete. He's a two-year starter for BHS in baseball (infielder-pitcher) and hockey (defense). He'd been the junior varsity quarterback as a sophomore and junior, and thought he'd battle for the starting spot as a senior.
That changed at a summer football camp in Dickinson.
"There was a question over whether it would be me or Hayden (Gibson)," Bauer recalled. "At Dickinson State (head coach Mark Gibson) talked to me and asked me what I wanted to do. ... I said I'd do what was best for the team, and that was for me to play defense."
Although Bauer didn't think of himself as a defensive back at that point, he wasn't forging off into uncharted territory.
"Last year I got some varsity time at strong safety, which is where I practiced, and I played some free safety on the JV team, too," he said.
Bauer dressed for Bismarck's state championship game wins over Century as a sophomore and a junior. This season, as a senior starter, it's a whole different animal, though.
"As a senior, you're the one who sets the example for the younger guys," he said. "When you're an underclassman you see how the older guys do things. As a senior it's your turn to set the example."
Bauer said he's well aware that his senior year is slipping away, week by week.
"It goes by fast. ... In the playoffs it's do or die. It's your last chance, your last hurrah. It would kind of such to have that go to waste," he said.
BHS coach Mark Gibson said senior offensive guard Jaden Friedt definitely won't play against West Fargo.
Friedt, a returning all-state lineman, suffered a dislocated kneecap in the Minot game, the same injury that took him out of a summer football camp.
"He's out indefinitely," Gibson said.