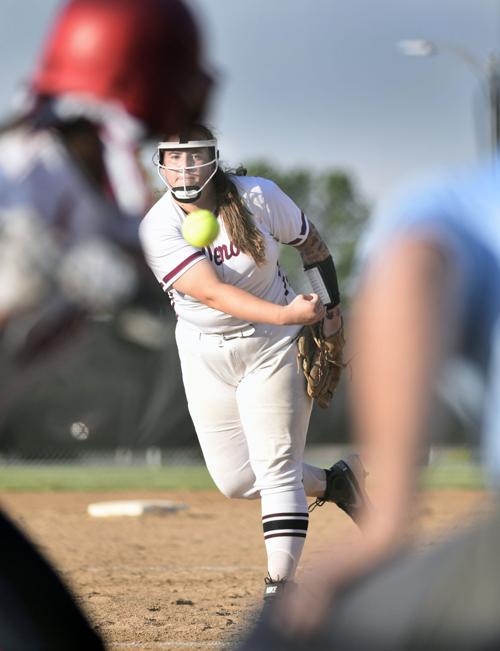 When Century and Bismarck meet they don't play softball. They fight. They fight until the bitter end.
 The teams had beaten each other three times this season with four of the games being decided by one or two runs. One went into extra innings.
 Friday's state Class A semifinal game in Mandan was the latest installment in the long-standing rivalry, and it ran true to form.
 When BHS first baseman Ashlee Potter squeezed the ball for the 21st and final out, the Demons had a 5-3 victory and a berth in tonight's state championship game.
 Bismarck, 27-6 with 28 wins in its last 20 games, will square off against Dickinson, 29-3 with 12 victories in its last 13 starts. Game time is roughly 3 at Fort Lincoln Field.
 Century, 27-8, meets Valley City, 17-9, for third place at noon.
 Valley City fell 6-0 to Dickinson in Friday's first semifinal.
 Bismarck and Dickinson have met just twice this season. BHS dropped a doubleheader, 12-11 and 5-2 at Dickinson in early April.
 Bismarck, up 5-1, appeared to have things under control against Century entering the bottom of the seventh inning. All the more so after the Demons turned a ground ball double play two batters into the inning.
 But with just one out remaining, Century came calling. Brooklyn Morris belted a double off the fence in right field and CHS pitcher Maddy Zander cracked a two-run home run to right-center.
 Then Century's Malee Wittenberg reached first base on a throwing error, and the Patriots had the potential tying run coming to the plate in the form of Halle Mattern.
 BHS pitcher Logan Gronberg coaxed a come-back ground ball with an off-speed pitch, and the Demons advanced to the state championship game for the second straight season. Bismarck finished second to West Fargo in the 2019 finale at Minot.
 Gronberg, then a freshman, was the losing pitcher as West Fargo rallied to win in 2019. She said that game was working its way into her thoughts when BHS coach Kurt Grensteiner visited the pitcher's circle to talk to his team after Wittenberg reached base.
 "He just talked about slowing down the pace of the game instead of playing at (Century's) pace," Gronberg said. "Instead of letting them control the game he said to make it our tempo and our game."
 Bismarck led the final six innings. Paige Hanson scored the first run of the game in the bottom of the first. She drew a leadoff walk on a 3-and-2 pitch and came around to score on a walk to Sydney Gerving and two wild pitches.
 A costly two-out infield error permitted the Demons' second run to score in the top of the third. And the miscue was magnified when Hanson sliced a two-run homer over the right field fence for a 4-0 BHS advantage.
 Mattern tripled down the right field line and rode home on Carli Nelson's single as Century registered on the scoreboard in the bottom of the fourth.
 Zander, a senior right-hander, blanked Bismarck on just one hit in the fourth, fifth and sixth innings. BHS added its final run in the top of the seventh, and it was something of a freebie. 
 Zander walked pinch-hitters Brielle Wrangham and Caitlyn Dannenfelzer to open the seventh inning and they moved up on a wild pitch. Potter's ground out plated the Demons' fifth run, giving BHS a 5-1 cushion going into the bottom of the seventh.
 Gronberg said she's gotten used to nail-biters with the Patriots.
 "We've been crosstown rivals for quite a while. ... We both want to win so badly," she observed.
 She said playing the role of opportunist is nothing new for the Demons.
 "We love to capitalize on other teams' mistakes and make rallies out of them," she noted.
 Century coach Kevin Ziegler said looking back on several defensive lapses makes the loss tough to swallow.
 "We played a really good team, and as long as I can remember we've gone back and forth with them. ... It came down to one or two mistakes," Ziegler observed. "We always say we've got to play a clean game against them."