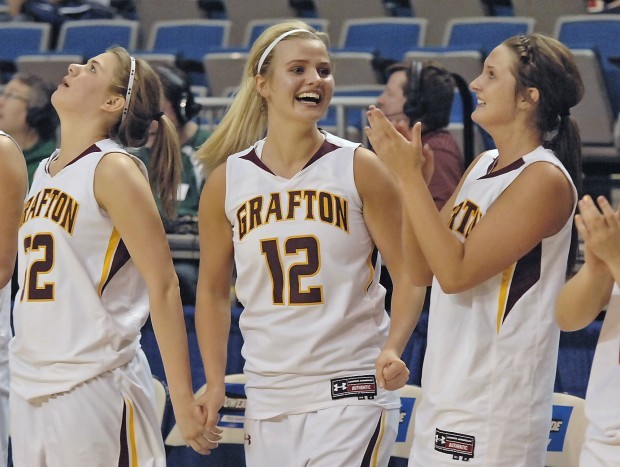 Over the past five years, Grafton High School has won state championships in football, boys basketball, boys hockey and girls cross country.
Girls basketball was added to the list Saturday night.
Grafton's 2011-12 team did the honors, defeating the Linton-HMB Lions in convincing fashion, 76-54, at the Bismarck Civic Center in the championship game of the Class B state tournament.
The third-ranked Spoilers, who finished the season 26-1 and on a 22-game winning streak, made the most of their first-ever Class B state tournament appearance.
"It was great to finally get here. We came close the last few years but couldn't get over that hump," said Grafton guard Hannah Thompson, a senior. "We knew we had a team that was capable of winning it all. We worked really hard for this. We're proud we're the first girls basketball team from Grafton to win a state championship."
It also is the first state title for veteran coach Laurie Sieben, who has led Grafton the last 11 seasons.
"It's just so satisfying to see how all of the hard work these girls have put in has paid off," said Sieben, who was named the Class B coach of the year. "I've watched these girls progress since they were in grade school, and to see them finally get here and win a state championship is just awesome. It's nice for me, but I give all the credit to the girls."
The Spoilers got out of the gate fast and never looked back. Two straight 3-pointers by Thompson sparked a 10-0 run that made it 19-6 with 1:28 left in the first quarter. The last four points came off back-to-back turnovers. After a 3-pointer by Linton-HMB's Amber Umber, Grafton finished off the quarter with two Thompson free throws and a Brooke Gaustad steal and layup.
Linton-HMB coach Pat Gerving said Grafton's pressure was relentless from the get-go.
"We haven't seen that kind of contant pressure all year," he said. "We ran into a buzz-saw tonight. They came after us full-court from the start and they never let up."
It got worse for the Lions in the second quarter. After Linton-HMB started the frame with a Kaidra Larson basket, the Spoilers reeled off 12 unanswered points and led 35-11 with 3:55 left. The half ended 41-15.
The Spoilers shot a sizzling 67 percent (16-for-24) from the floor in the first half, while Linton-HMB went 5-for-17 and committed 17 turnovers.
"It was the kind of start we were hoping for," Thompson said. "We usually don't start that well, but it was different tonight. We came out ready to play. We turned it up defensively and that opened things up for our offense. We shot the ball as well as we have all year."
The Linton-HMB offense finally came to life in the second half, but the closest the Lions could get was 55-35 late in the third quarter.
Thompson, who was named the tournament MVP, finished with 23 points. She netted five 3-pointers.
You have free articles remaining.
Linton-HMB, which was seeking its first state championship in girls basketball, was led by sophomore McKenna Flyberg, who scored all 13 of her points in the third quarter. Kayln Schneider contributed 12 points and nine rebounds.
"We have a lot to be proud of," Gerving said. "If you had told these girls at the start of the year that they would be playing in the state championship game and lose, I think they would have taken it. It's tough getting this far, but the girls did all they could to make it happen. This is a great group of kids."
Sierra Rosenau of Carrington was named the Class B senior athlete of the year.
LINTON-HMB (54): Whitney Gerving 1-4 0-0 3, Tiffaney Gerving 0-1 0-0 0, Amber Umber 1-5 0-0 3, Kaidra Larson 3-4 1-1 7, Robin Weber 3-7 3-3 9, Nicole Nieuwsma 1-2 0-1 2, McKenna Flyberg 5-11 0-0 13, Kayln Schneider 4-9 4-4 12, Taylor Beck 1-1 0-0 2. Totals: 20-45 8-9 54.
GRAFTON (76): Megan Jiskra 0-0 1-2 1, Samantha DeSautel 6-9 1-2 13, Hanna Thompson 6-10 6-6 23, Brooke Gaustad 4-7 0-0 9, Jessica Burns 1-1 0-0 2, Alyson McMartin 4-6 0-0 8, Cassie Thompson 4-6 4-6 12, Lexie Lee 0-1 0-0 0, Allison Burns 1-2 1-2 4, Brooke Feltman 2-7 0-0 4. Totals: 28-49 13-18 76.
3-pointers: L-HMB 6 (Flyberg 3, W. Gerving 1, Amber Umber 1, Alex Umber 1). Rebounds: L-HMB 26 (Schneider 9), G 24 (Gaustad 5, C. Thompson 5). Assists: L-HMB 12 (W. Gerving 3, Flyberg 3, Schneider 3), G 18 (DeSautel 6). Steals: L-HMB 7 (7 tied with 1), G 16 (Gaustad 4, C. Thompson 4). Turnovers: L-HMB 23, G 12. Fouls: L-HMB 12, G 15. Fouled out: None.
Records: Grafton 26-1, Linton-HMB 20-7.
Senior athlete of the year: Sierra Rosenau, Carrington.
Coach of the year: Laurie Sieben, Grafton.
Grafton – Hannah Thompson, Samantha DeSautel. Linton-HMB – Kayln Schneider, Robin Weber. Beach – Hailee Farstveet. Shiloh Christian – Paige Emmel. Minot Ryan – Hannah Stewart. Lakota-Adams-Edmore – Fallyn Freije, Ashtin Freije. Kindred – Brooke Graff.
Tournament MVP: Hannah Thompson, Grafton.