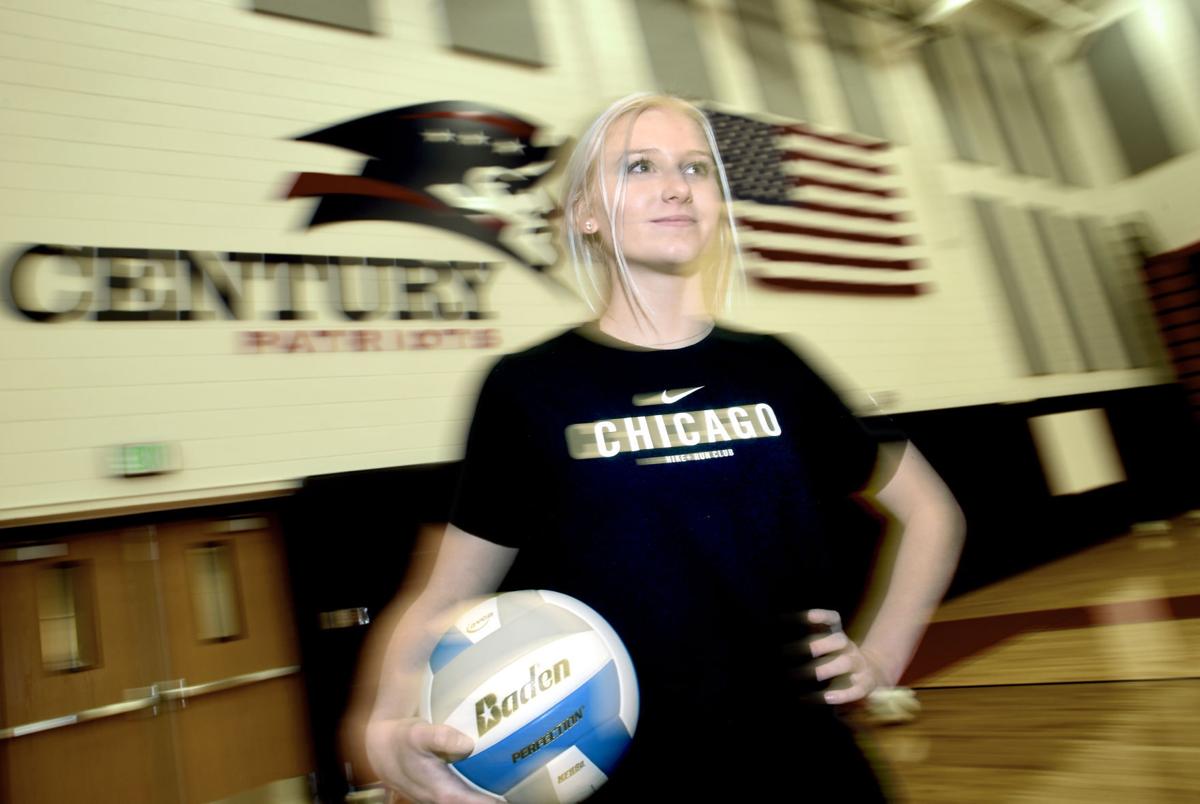 The year of 2020 has become the year of "what next?"
 The unexpected has become normal and normal almost seems unlikely.
 Thus Century Patriots libero Jocelyn Julson is determined to enjoy every point, game and match of the state volleyball tournament, which begins today at the Fargodome.
 Julson, a 5-foot-8 senior, is a two-sport athlete. But in these uncertain times, she realizes there's no guarantee the basketball season will even happen.
 "We're really blessed to have the opportunity," Julson said as she looked ahead to Thursday's 10 a.m. quarterfinal match with Valley City. "We've got to be focused and raring to go, but we've got to enjoy it, too.
 "You can only be so serious. You've got to learn to enjoy the moment. ... You get to be with your teammates and friends playing the sport you love."
 However, she hasn't lost sight of the ultimate goal. She says the Patriots left the Fargodome after their second-place finish last fall with a sense of unfinished business.
 "The loss last year motivates us even more for this state tournament," she said.
Century, the No. 1 seed from the West Region, is the only undefeated team in the field. The Patriots were the unanimous No. 1 pick in the final state Class A volleyball poll. Tournament qualifiers include the other four ranked teams: No. 2 West Fargo, No. 3 Fargo Davies, No. 4 Mandan and No. 5 Jamestown. West Fargo Sheyenne, Legacy and Valley City complete the tournament lineup. Davies is the reigning champion.
 Julson said an undefeated season wasn't even on Century's radar screen when the Patriots played their opener in September.
 "Our focus was never to have an undefeated season. ... As a team we take each match as it comes and play to the best of our ability that night. And we walk off the court knowing we gave our best," she said. 
 Julson was playing in the state Class A girls basketball tournament last March when the season came to a dramatic lightning-bolt finish due to coronavirus pandemic concerns. So she knows from personal experience that the next match is never guaranteed.
 "As a senior class we never knew when (the season) was going to be done ... so we've lived in the moment and enjoyed every opportunity we've had," she noted.
 Julson's athletic career at CHS has been something of a roller coaster. As a freshman she qualified in the 200 meters and a relay for Century's state runner-up track team and played on a limited basis for the state championship basketball team.
 Her sophomore year was washed out by a knee injury. Last year she was on the volleyball team that lost to Fargo Davies in four sets in the state title match. The basketball team saw its season come to a sudden end on the second day of the state tournament.
 "It was very abrupt, that's for sure," she recalled.
  Now, as a senior, she's pursuing athletics with a sense that the sword of Damocles hangs above her and her teammates.
 "You look forward to your senior year when you're young. I was talking to my classmates who were saying 'this is not what I envisioned for my senior year.' So we've had to change perspective. ... It's helped us draw closer as teammates and friends. ... All of us are going through it," she observed.
 Julson, who ranked third in the West Region with 19.7 digs per match, said the CHS seniors are looking farther down the road than this week.
 "We talked about this year as a senior class. What kind of culture do we want to set for the underclassmen? ... We knew it would take everyone on the team to get to where we wanted to be by the end of the season," she noted.
 Century has played in nine straight state championship volleyball matches, winning five of them. If the Patriots are to keep that streak alive, Julson says the seniors will have to lead.
 "We definitely know what we're getting into. We have a lot of girls who have been to the state tournament and we have girls who haven't been," she said. "This is the time for the girls who have experience. It's our time to step up and show some leadership.
 "It's going to look different, but it's still the state tournament, so we have to bring the same energy and motivation."
 What's different is the schedule. Matches will be played in three-hour intervals with the Class A and Class B tournaments running on separate courts from start to finish, the championship day included.
 Julson, who was named to the All-West Region volleyball team, said Century's play in the West Region tournament -- 3-0, 3-0 and 3-1 victories -- was encouraging with the state tournament close at hand.
 "I definitely think we have come together as a team and picked up on the small things," she said. "At tournament time you're no longer making the huge jumps in fixing things. You're fixing and critiquing small things. ... Hopefully, we can bring that to the state tournament."
  Playing during the coronavirus pandemic has had its unique features, such as competing before limited spectators who produce anemic crowd noise.
 "A big focus this year is just the energy. The crowd is no longer there, so we have to bring the energy for our own team. ... We really rely on our teammates to carry us through the breaks in the game," Julson said.
"Having the right mentality and pursuing what we want as individuals and a team sums up the season," she added.
  Before the first whistle is blown at the state volleyball tournament, Julson can begin counting her blessings.
 "Hopefully, we'll have a basketball season, but I feel fortunate to have had a senior volleyball season," she noted.
 Julson said losing her sophomore volleyball and basketball seasons to a non-contact anterior cruciate ligament injury in her right knee was overwhelming at first. But as things played out, she said it proved to be a beneficial learning experience.
 "It gave me time to reflect on my goals. ... It showed me I'm more than an athlete. I kind of felt I was being stripped of my purpose and I had to refocus on what my true values were," she said. "I'm a Christian. I work hard at being a good student, daughter and friend.
 "There are really good lessons I took from the injury, for sure. ... It definitely made me a better person. It was a trying time, for sure, but you've got to know God has a greater plan for you and you have to be able to trust that plan. ... At the end of the day, you're not an athlete. You're a person who is judged by your character rather than your athletic ability."
 Julson said the injury has given her an open door to help other athletes who are dealing with injuries.
 "There were about five girls who tore their ACLs after me, and that gave me an opportunity to reach out and tell them my story. ... It opened my eyes and allowed me to help them. I knew what it is like to sit on the sidelines. You never know what you have until it's gone," she observed.
  Looking ahead, Julson said she's given some thought college athletics, but there are other considerations, as well.
 "I think the medical field would be a great fit for me, and I've got to take that into consideration," she said. "I definitely value academics. ... I feel like volleyball would be my first choice, but I've got to take it as it comes."
Get in the game with our Prep Sports Newsletter
Sent weekly directly to your inbox!