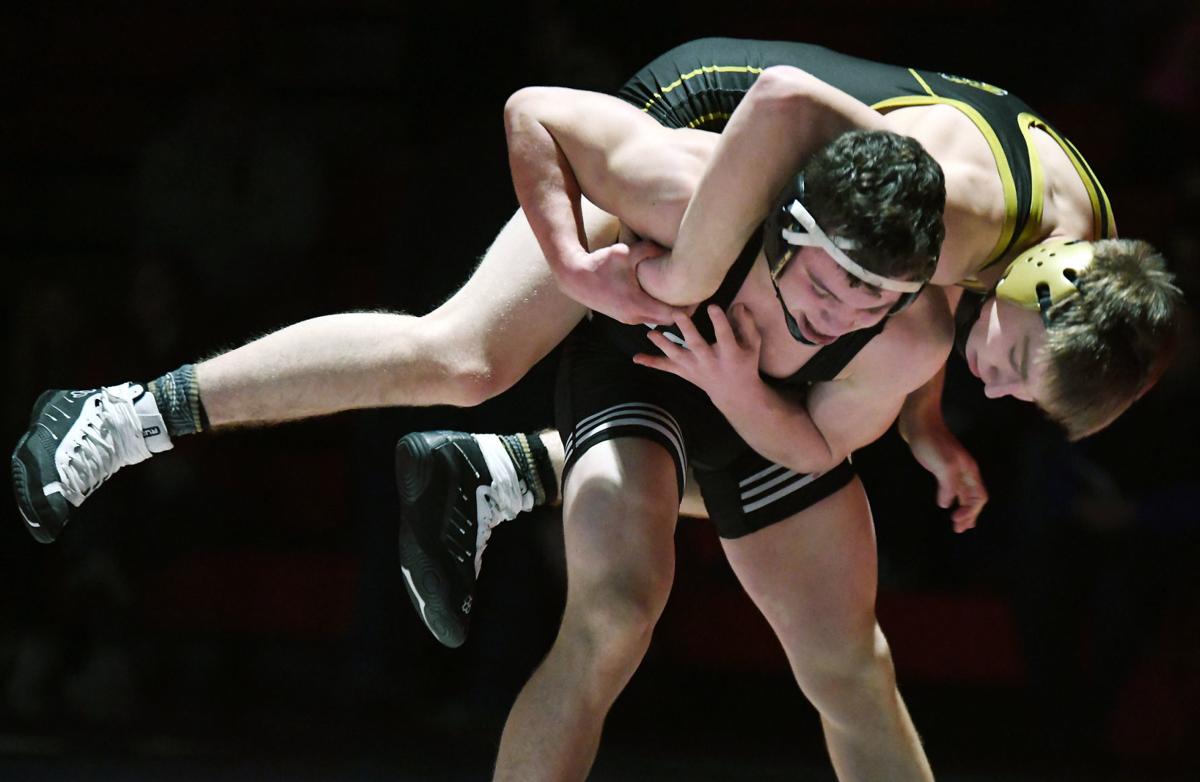 Century prepared for its first major test of the year with a pair of convincing dual wins in a Thursday night triangular at the CHS Olson gym.
 The Patriots thumped Mandan 46-22 and Legacy 50-24 to improve to 3-0 in duals. Mandan downed Legacy 43-25 in the other dual. All three duals were counters in the West Region standings.
 The three teams are right back in action today in the annual Mandan Lions tournament, which begins at 2:30 p.m. at Mandan Middle School.
 Six Century wrestlers were credited with two victories in Thursday's action. Among those six were four who logged a pin.
 Clay Radenz won a pin and a decision at 138 pounds, Jacob Boehm and Anthony Caranza did the same at 182 and 195, respectively. Kaden DeCoteau picked up a forfeit and a pin at 120.
 Radenz, a junior, has a third-place and two second-place finishes at the state tournament in his varsity career. He said Thursday's performance was satisfactory.
 He stopped Mandan's Karsten Hagney in 3:06 and defeated Legacy's Tim Kadrmas 7-3.
 "I could have done better. I was kind of slow on my feet," he said. "I've got to create better angles."
 Radenz placed second in the state tournament last winter at 126. He was up two weight classes on Thursday and expects to settle in at 138 for the season. He said it's a comfortable fit.
 "I only cut like two pounds," he said.
You have free articles remaining.
 He was a runner-up at the Lions tournament last season behind Kyle Burwick of Hettinger.
 This year he's aiming higher.
 "I want to win it. I want to dominate, mainly," he said.
 Three Mandan wrestlers won twice. Konnor Nelson had a pin and decision at 145, Will Kleinknecht earned a decision and a major at 152 and Seth Berg won via major decision and a pin at 160.
 Legacy, though 0-2, had a couple of sparkling individual performances. J.J. Thompson secured a pair of pins at 106 and Henrik Jacobsen scored pins at two different weights -- 220 and 285.
 Berg, a senior, placed fifth in the state last season at 152.
 On Thursday he defeated Draken Stugelmeyer of Legacy 13-3 and pinned Carter Krueger of Century in 1:30.
 "It's a pretty good start to the season," Berg said. "There are some little technique things I have to work on."
 Berg said he'd never faced Krueger before in any level of wrestling.
 "He kind of just shot in on me and I just reacted," Berg said. "I had him but it wasn't quite right. I kept adjusting (the hold) and it just slipped into place."
 He said he's hoping to improve his finish in his home tournament, the Lions. 
 "I want to make the finals," he said. I got third last year."