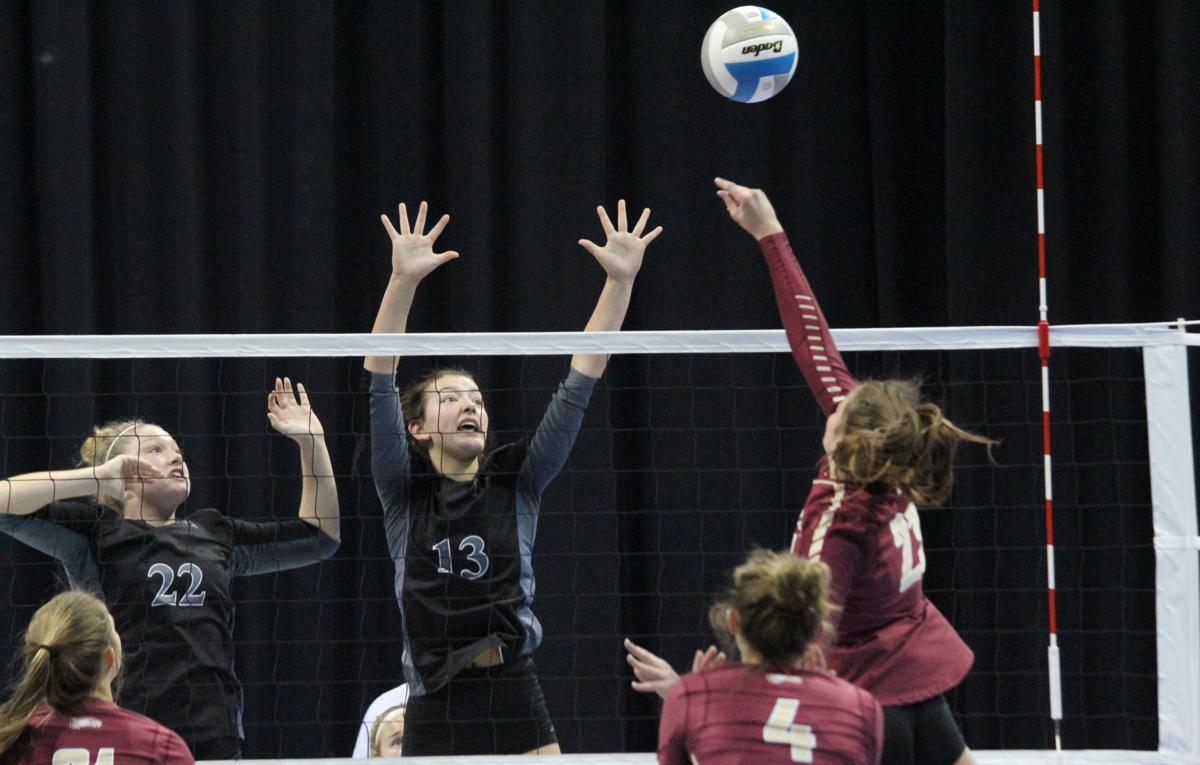 Century improved to 22-0 with a 25-15, 25-9, 25-18 sweep of Valley City at the state volleyball tournament on Thursday at the Fargodome.
The No. 1-ranked Patriots had four players with eight kills or more in rolling past the Hi-Liners. Century faces defending state champion Fargo Davies in the Class A semifinals today at 4 p.m. The winner advances to Saturday's 7 p.m. title tilt.
Megan Klein clubbed 11 kills to lead Century. Also in double figures in spikes were Julia Fitterer and Logan Nissley with 10 apiece. Fitterer tied with Jocelyn Julson with the team lead in digs with 17.
Delani Clarke (21) and Abby Fletcher (19) combined for 40 assists for Century. Claire Bauman had two blocks.
Lexi Leroux and Samantha Hatcher had five kills each for the Hi-Liners.
Fargo Davies 3, Mandan 2
Tied 2-2, Davies outlasted Mandan 16-14 in the fifth to advance to the semifinals.
After losing the third set 25-11, Mandan rallied to force the decisive fifth set with a 25-20 decision in the fourth.
Grace Solberg pounded 27 kills to lead the Eagles. Ava Wild connected for 18 point-getters. Maggie Krueger passed out 49 assists and served three aces.
Mandan had 158 digs in the match. Piper Harris led the way with 39. Taylor Leingang had a powerful double double with 29 digs and 15 kills. The Braves also got 10 kills from Morgan Sheldon.
Sydney Gustavsson totaled 33 assists, 22 digs, five kills, 1.5 blocks and an ace for Mandan.
West Fargo 3, Legacy 1
West Fargo dropped the first game to Legacy but won the next three.
The Packers got 23 kills from Halle Erickson.
Breena Sand boomed 25 kills for Legacy, which led 1-0 after a 25-21 win in the opening game. The Packers took the final three 25-15, 25-20, 26-24.
Camaryn Beasley dished out 49 assists for Legacy. Kristin Ness had 27 digs.
Jamestown 3, West Fargo Sheyenne 2
Ella Roaldson had 19 kills and Grace Hegerle 16 in Jamestown's 3-2 win over West Fargo Sheyenne.
Tied 2-all, the Blue Jays took the fifth set 15-8.
Jadyn Feist racked up 22 digs and 18 kills in a losing effort.
Linton-HMB 3, Minot Our Redeemer's 0
All four Class B quarterfinal matches were sweeps.
No. 1-ranked Linton-Hazelton-Moffit-Braddock remained unbeaten at 23-0 with a 3-0 win over Minot Our Redeemer's.
JayCee Richter led the Lions with 10 kills and 14 assists in their 25-15, 25-17, 25-12 triumph. Emily Kelsch led the Lions in aces (5) and blocks (3). Gracie Schumacher dished out 31 assists.
Linton-HMB faces Northern Cass in the semifinals. The Lions also got 21 digs from Callie Hase.
Minot Our Redeemer's was paced by Kendal Braun's 24 digs.
Thompson 3, Flasher 0
Alexis Telehey pounded 18 kills in just three games in second-seeded Thompson's 3-0 win over Flasher.
Mackenzie Hughes totaled 15 assists, 10 kills and 13 digs for the Tommies, who won 25-12, 25-20, 25-20.
Tymber Boldt and Faith Marion had nine kills each for the Bulldogs. Boldt also had a team-high 22 digs.
Langdon-E-M 3, Kenmare 0
Lexi Olson totaled 16 digs and 14 kills as Langdon-Edmore-Munich took down Kenmare 25-19, 25-17, 25-22.
Morgan Freije served six aces for the Cardinals.
Brenna Storklund (15) and Megan Zimmer (10) combined for 25 kills for the Honkers.
Northern Cass 3, Dickinson Trinity 0
Northern Cass downed Dickinson Trinity 25-12, 25-23, 25-15.
Morgan Nelson connected for 10 kills for the victors. Abby Richman served five aces.
Jada Erie was in double figures in digs with 12 for the Titans.
Get in the game with our Prep Sports Newsletter
Sent weekly directly to your inbox!