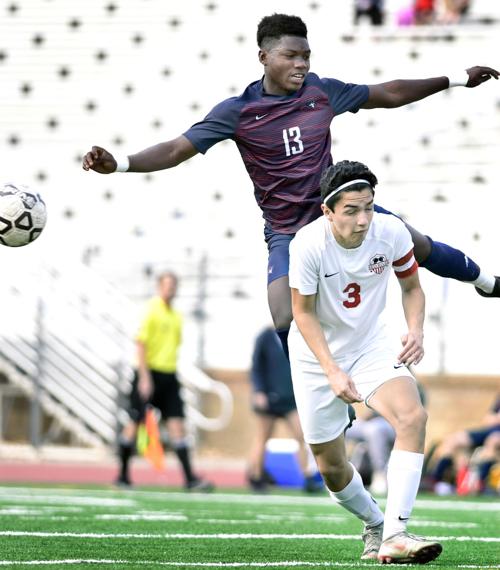 Century beat the buzzer, then came up clutch in penalty kicks to earn a trip to the state soccer semifinals.
Anthony Cleary scored with 29 seconds left in regulation to force overtime before the Patriots prevailed in an epic 10-PK shootout. Brennen Fode booted home the clincher in the 10th round to send the Patriots to the semifinals after a harrowing victory over Grand Forks Red River at the Bowl on Tuesday. The final score read 2-2 after 100 minutes, 8-7 Century in penalty kicks.
"I mean, it was the closest and most hard-fought high school soccer game I've played in," Century goalie Ben Cleary said. "We started slow, but in the end we fought back and earned the win."
Cleary played a major role for the Patriots, who trailed 2-0 with less than 9 minutes left.
The senior keeper made a game-saving save on Amit Rasaily with less than 2 minutes left in OT. Rasaily had a golden opportunity to end it, but Cleary reacted quickly and kept the game going.
"After his first touch, I came out as quickly as I could and just tried to get my steps right and set up," Cleary said. "I just got lucky.
"I think it might've been my biggest save yet."
Cleary's contributions went beyond the sparkling save. He was chosen No. 5 in order for PKs for the Patriots and buried it cool as you like.
"I've always been a pretty good penalty-kick taker," he said. "We had a game kinda like this in the eighth-grade where I was chosen third to kick. Today, I was fifth and it turned out all right."
Chance Bowlinger (2nd), Blake Backman (3rd), Kenneth Brako (4th), Ben Cleary (5th), Max Mueller (6th), Eric Niyonzima (7th), Anthony Cleary (8th) and Fode (10th) stepped up to the spot and delivered in PKs for the Patriots. Ryan Okerson, Century coach, may have summed up this instant classic best.
"It was amazing and I never want to do it again," Okerson said. "Ten shooters? You just don't see it. Both teams had chances, but wow, it was something."
It was a gutty win for the Patriots, who were playing just their second game with all their players back following nearly three weeks off due to a quarantine following a virus exposure. Second-half goals by Brennan Mullen (59:32) and Rasaily (69:53) appeared to have the Rough Riders in prime position to advance.
Brako gave Century life, zipping a shot into the lower-right hand corner on a feed from Bowlinger to make it 2-1 with nine minutes to play.
Century pressed hard in the final 5 minutes and finally were rewarded. With only seconds left, Brako's shot was mishandled by Red River keeper Matthew Scribner, setting up a juicy rebound for Anthony Cleary. The senior striker chipped it over Scribner and in dribbled in to tie the game with 29 seconds left.
"As far as resiliency, as far as gutting it out, this one ranks right up there," Okerson said. "We didn't play great for much for the game, but the kids battled. They kept competing, that was great to see."
Okerson had high praise for the Rough Riders who left in heartbreak.
"They got a heckuva group of guys. Their work rate is tremendous. They didn't let us have anything," Okerson said. "We had very little time with the ball the whole game. We still looked like we weren't all the way there yet, but again, our kids, they didn't go away even when it looked like we were in trouble."
Cleary, who had 13 saves in the win, said Century still has unfinished business. The Patriots face East Region champs West Fargo Sheyenne Friday at noon at Fargo South High School.
"We're not done. We have more to do," he said. "We need to be confident. All the teams are going to be really good, but we're going there to win."