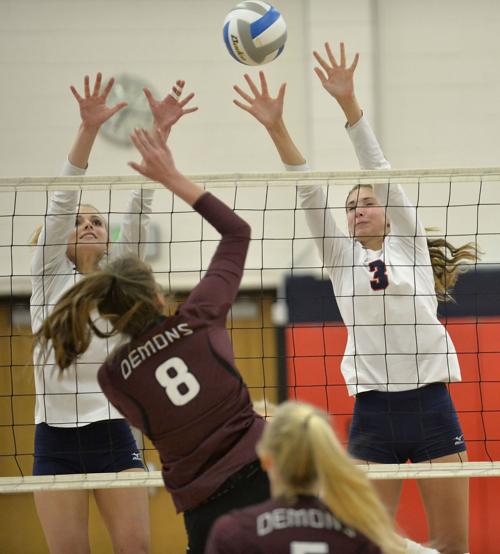 A strong performance at the net helped the state's top-ranked volleyball team remain unbeaten.
Six different players recorded blocks to help Century post a 3-1 victory over Bismarck on Tuesday at the Olson Gym. Macy Fridgen and Hattie Fitterer had 3.5 blocks apiece to help the Patriots (6-0) defeat the Demons 25-14, 25-14, 22-25, 25-16.
"I thought our girls did a nice job of getting touches on the ball, slowing the ball down," Patriots coach Jamie Zastoupil said. "Bismarck is a good hitting team so it was nice to get our blockers going, slow the ball down and get a couple stops.
"Controlling the pace of the game is where we went on our runs. We were able to play a quick game, we were able to speed up our sets because of our passes. That's when we kind of got on our runs. But Bismarck High is a tough team. They're a scrappy team. They didn't let anything drop. It's hard to be error-free when they do that and that's a focus for us."
The Patriots opened up a 2-0 lead with a pair of 25-14 victories to open the match.
Down 2-0 out of the gates, the Patriots reeled off eight consecutive points to take the lead and used an 11-3 run to take a 19-7 lead en route to the opening-game win.
An 11-3 run in the second turned a 6-6 tie into a 17-9 lead and the Patriots closed it out with a 6-1 burst after the Demons had pulled within six at 19-13.
The Demons grabbed the momentum in a big way late in the third game, closing on an 11-3 run to turn a five-point deficit (19-14) into a 25-22 victory.
"We started very slow and scared," Bismarck coach Brianna Kline said. "We found it in the third and did our best, I guess.
"They started talking and swinging rather than tipping. And our defense picked it up and had good passes."
Emily Stonecipher led BHS with 11 kills and Kenzie Moser added nine. Kenadi Renner chipped in with seven. Caitlin Allery had a team-high 2 blocks, Moser had 16 digs, Mia Hinsz finished with 21 assists and Payton Foster had three aces for BHS.
"We weren't being aggressive," Kline said. "We came into it scared. They were all nervous. They had to get out of that mental place."
"I think we got really complacent," Zastoupil said. "They started serving really well and we kind of got complacent and let things go. And that's just something throughout the season we're going to have to work on."
Century got the momentum back in the fourth, using a 9-1 run to turn an early 3-3 tie into a 12-4 advantage and building a 17-10 lead. BHS pulled within five at 19-14 before the Patriots closed out the match with a 6-2 burst.
Julia Fitterer played a big role in the fourth-set win, with seven of her team-high 16 kills in the set -- including four of them in the final closing run.
"I thought the girls really stepped up," Zastoupil said. "We had some leaders step up. I thought Julia really did a nice job of kind of taking control of the situation, being able to put the ball away, take advantage of some open areas.
I thought everybody was kind of a key tonight, all around everybody played well, just piecing it all together."
Logan Nissley added eight kills. Fridgen and Hattie Fitterer each had six.
Megan Klein had 2.5 blocks, Julia Fitterer had 1.5 and Camryn Harter and Nissley each had 0.5.
Delani Clarke posted a team-high 19 assists. Abby Fletcher had 14. Riley Lembke had two of the Patriots' five aces, with Jocelyn Julson, Clarke and Fletcher each serving one.
Bismarck (1-4) travels to Minot on Thursday while Century (6-0) is off until Tuesday, Sept. 29 when they visit Mandan.
Get in the game with our Prep Sports Newsletter
Sent weekly directly to your inbox!