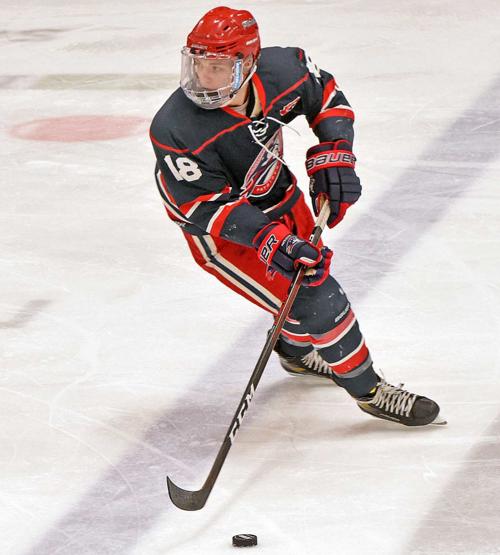 Century will take a 12-game winning streak into the state hockey tournament.
The Patriots' best game of the West Region tournament came Saturday in Minot against the Magicians. Century scored in every period, by four different players, in a 4-0 victory at MAYSA Arena. Minot has just two losses on the season, both to Century.
The Patriots, who have not lost since Jan. 8, host West Fargo on Tuesday at 5 p.m. in quarterfinal action of the state hockey tournament. The Patriots, seeded seventh in the East Region, upset fourth-seeded Fargo Davies 2-1 in a state-qualifier on Saturday.
"The guys haven't been dealt an easy hand this season," Century coach Troy Olson said. "After the COVID break, we had a stretch of five games in eight days. We had a stretch where for about two weeks every practice was a pre-game practice. 
"It's been a challenging season, but we're really proud of the kids and right now we're playing pretty good hockey."
Century, which improved to 13-2-1 with the victory, started fast. Cru Walker, off assists from Josh Mohl and Cullen Curl, made it 1-0 5:51 into the game. 
About five minutes later, the Patriots doubled their advantage with another even-strength goal, this time unassisted by Colton Schulte at 10:30.
"We were really happy with the way we started," Olson said. "That's been a little bit of an issue for us recently. The boys came out hard, got a couple goals and I think that made a big difference."
Stellar play in goal also helped. 
Junior Casey Odegaard stopped all 23 shots he faced.
"Our goaltender played well," Olson said. "He earned every one of those saves."
Century had to be good on the PK after being whistled for six infractions.
"It's not something you want to have to be good at, but we did a good job on the penalty kill," Olson said.
Century got strong play on the blue line.
"All our guys in the D-corps played pretty well," Olson said. "We were a little nervous early, but after that I thought they took really good care of the puck and showed a lot of poise."
One of those defensemen, Cullen Curl, also made an impact offensively. Curl made it 3-0 at 2:53 of the second period with the Patriots on the power play.  Schulte got an assist.
If the win wasn't already on ice, Dawson Shirley made it official. The senior forward made it 4-0 1:49 into the final period. Alex Samardzic and Curl assisted.
"It was great to continue to see all of our lines contribute," Olson said. "Against Williston we got goals from our second and third lines. At tournament time, it's a real benefit when you're able to have all your lines chipping in."
BOTTINEAU-RUGBY 2, BHS 1
Bismarck High's streak of 31 straight seasons going to the state tournament ended on Saturday.
Leading 1-0 after two periods, the Demons allowed two third-period goals in a 2-1 loss to sixth-seeded Bottineau-Rugby.
Matt Olson tied the game 5:10 into the third. It stayed that way until Ian Amsbaugh put the Braves ahead with 5:03 to play.
The Demons held a 33-19 shots-on-goal advantage, but the only tally came from Nico Mortenson unassisted at 12:48 of the first period.