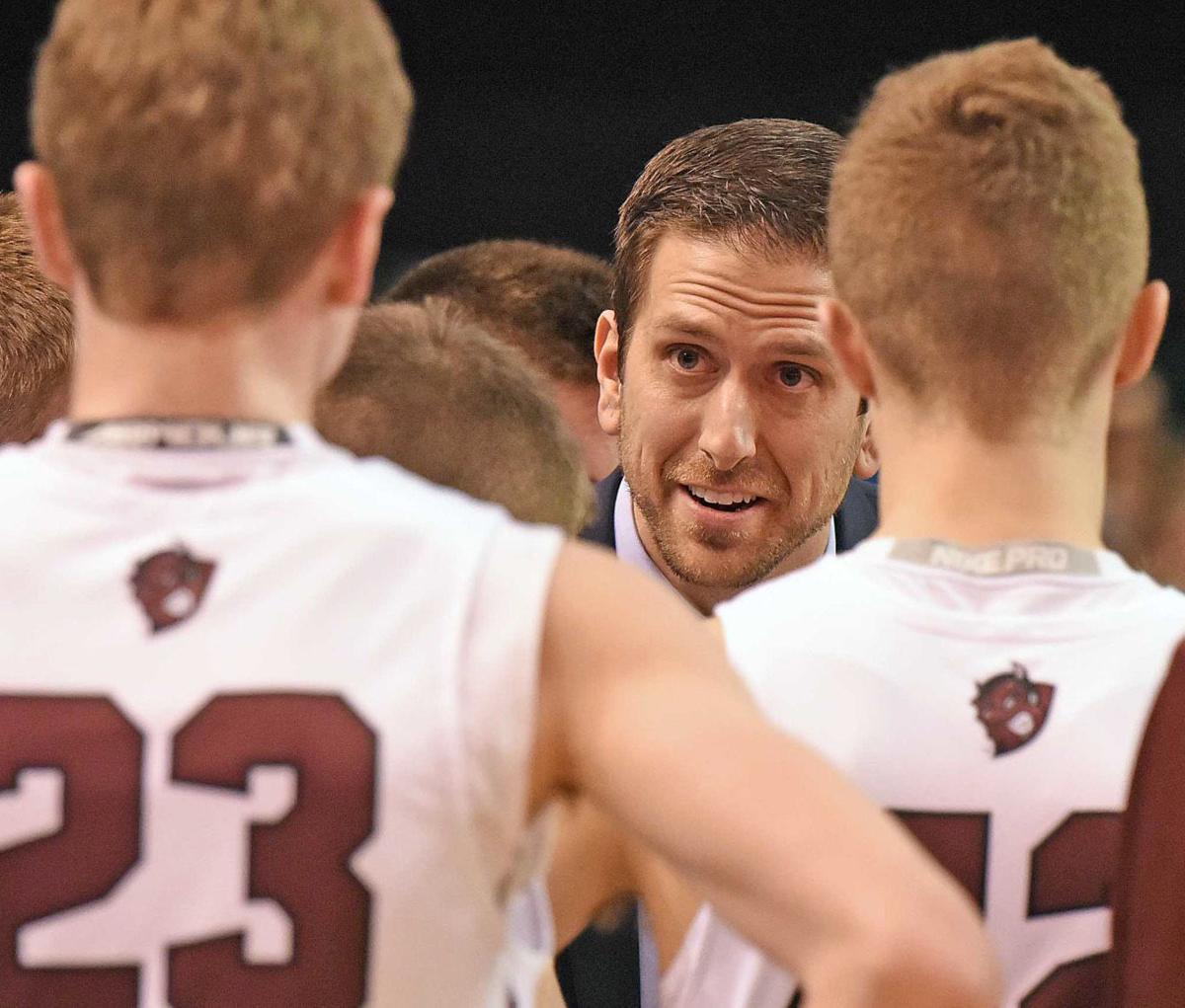 Jordan Wilhelm's bet turned up all aces this season for the Bismarck High Demons.
After two straight seasons ended sooner than expected, the BHS head boys basketball coach decided it was time for a change. Despite having little size and even less experience, Wilhelm adapted a 36-minutes-of-hell style, featuring full-court pressure defense and relentless subbing.
The Demons went 20-5, won the West Region tournament title and were two wins away from a Class A state championship when the season was abruptly suspended March 13 in the early days of the coronavirus outbreak. Last week, Wilhelm was named North Dakota Class A boys basketball coach of the year by the North Dakota High School Coaches Association.
"It was a situation where we've been running the same system for 25-plus years. I played in it for coach (Steve) Miller. I enjoyed the system and we've had a ton of success as a basketball program in that system," Wilhelm said. "But we were coming off a couple of years where we didn't finish as strong as we wanted to. Was it the system? I don't think so."
While the difference in style was dramatic in its look on the floor, it also represented a symbolic change.
"Going into the expansion at Bismarck High School with basically this brand new beautiful gym, this was something new and fresh the kids could make their own," Wilhelm said. "We were ushering in a new era of Bismarck High basketball."
The start was a little choppy, the Demons started 1-2, but from there they went 19-3, setting up a semifinal game against Fargo Davies before the State A was stopped. More than two months have passed yet all teams and athletes still struggle to process the sudden end.
"As coaches, and even for our younger players, there will be other opportunities. Nothing is guaranteed, of course, but there will be other chances. The hard part is for those seniors to not get a shot at it," Wilhelm said. "That's where the disappointment is. Those 2020 seniors (Kenyon Eagle, Tyce Halter, Nick Hinsz, Joey Mills, Kade Rohlfs) brought toughness. They played a lot of the minutes at the front of the press. We're proud of what our team accomplished and I think as time passes we'll be able look back really fondly on how the season went."
Wilhelm deflected credit for NDHSCA honor.
"You don't get into coaching for awards and things like that but it's definitely a cool honor to be recognized by your peers," Wilhelm said. "It speaks to the hard work everybody put in. It all goes back to the kids. They bought in to what we were doing. They were committed. They sacrificed for each other and the results were really positive."
Wilhelm also was selected to co-coach the Class A team in the Lions All-Star Basketball series in mid-July. It was a week he was very much looking forward to. In 2007, the former BHS and University of Mary standout played in the Lions games. However, last week all four all-star events -- two in football and one each in basketball and volleyball -- were canceled.
"I was staying optimistic about it hoping that it would all work out," he said. "I have lasting memories, lasting friendships from when I got to play in the Lions games. To get to connect with some of your rivals on the court, to become teammates, it was one of the best weeks basketball-wise I can remember. For the kids this year not to get to do it, I feel terrible for them."
So, thoughts turn to the summer, but there's disruption there, too. Camps and official team gatherings for June have been canceled. July is typically not a heavy basketball month for BHS athletes, who often are gearing up for the fall.
"We have a lot of multi-sport guys at BHS and we're normally tapering back in July for the football season," Wilhelm said.
When basketball season rolls around, the Demons have lots to look forward to. The team returns its top four scorers -- Gunner Swanson (14 ppg), Max Tschosik (11.7 ppg), Treysen Eaglestaff (11.6 ppg) and Logan Schaubert (10.3 ppg) -- plus a host of other contributors.
In the meantime, Wilhelm is more concerned with everybody staying safe.
"Nobody's been trained to deal with a national and international pandemic," he said. "The whole situation is so fluid. We're just taking it day-by-day and trying to go with the flow."
Get in the game with our Prep Sports Newsletter
Sent weekly directly to your inbox!