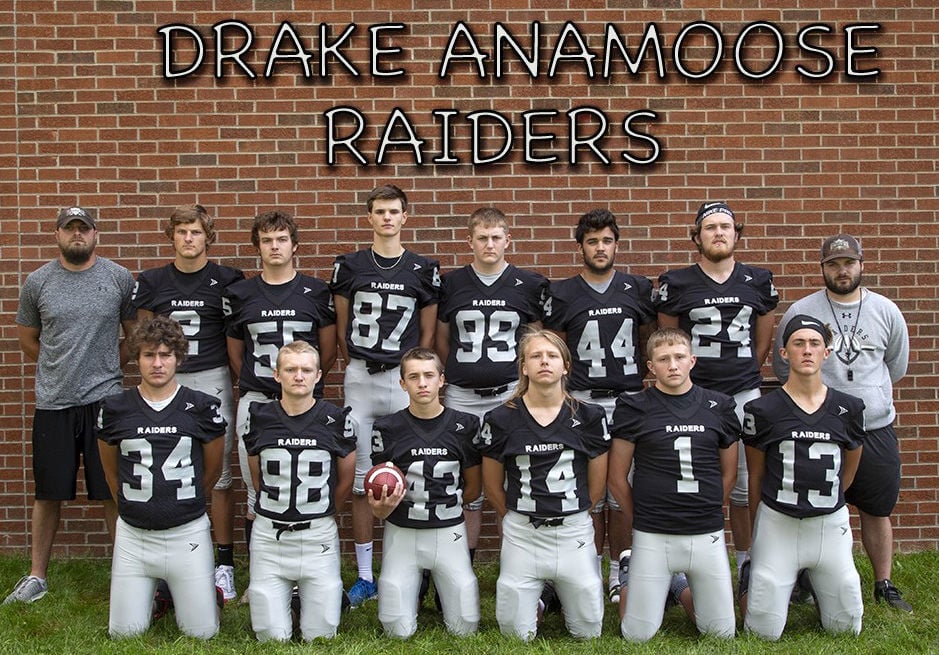 Anthony Cook is a man of many playbooks.
 Cook played 11-man football at Jamestown High School and the University of Jamestown as a running back.
 He began his coaching career as a nine-man football coach. Now he's a six-man football coach at Drake-Anamoose. No, make that a football coach of the state six-man football champion Drake-Anamoose Raiders.
 Drake-Anamoose won its title, albeit unsanctioned by the North Dakota High School Activities Association, last fall. The Raiders eked out a 70-68 victory over Center-Stanton in the six-man championship game at Watford City.
 Cook made his transition from the nine-man game to six-man under the harshest of conditions. He was a first-year coach who found it necessary to make the switch to six-man one game into the 2018 nine-man season.
 "I believe we started (the 2018 season) with 13 players and we had some injuries and a couple decided not to play anymore. We were down to 10 or 11, and we decided that was not a safe number to play nine-man football with," Cook said. "That took us down the six-man path. ... We played five or six six-man games."
 D-A's instant jump into six-man football put Cook on the hot seat.
 "It was a tough adjustment. ... We had to learn a whole new sport in two weeks. ... We threw as much against the wall as we could to see what stuck. Then we tweaked it and tweaked it," Cook recalled. "We definitely got better as we went along. ... Despite it being a learning process, everyone had a blast doing it."
 Cook tipped his hat to the seniors on that 2018 transition team -- Jesse Bossert, Chris Helland, Luke Kolschefski and Zach Miiller. 
 "It was definitely difficult, but we had a group of seniors who did what they could to set the foundation for the future," he noted.
 Finding six-man opponents on short notice proved to be relatively easy. With only a handful of North Dakota teams playing the game, there was no problem finding open dates.
 "They were absolutely happy to add another game," Cook said. "They were trying to get as many teams as they could."
 Cook said there were obvious rule changes to adopt when moving to six-man. All players are eligible receivers; ball carriers must receive a lateral before running the ball; extra-point kicks are awarded two points, runs or passes count one; field goals are worth four, 15 yards are required for a first down, the gridiron is 40-by-80 yards with 10-yard end zones, and more.
 But there was far more to the transition than studying the rule book.
 "You have to be ready for something completely different," he observed. "There are ways you can fit the old traditional style in there, but you can't force something that's not going to work. Innovation. ... You have to think outside the box."
 Cook said he quickly learned fundamentals become increasingly vital as the number of players decreases.
 "I'd never heard of six-man," Cook said, looking back on his high school and college days. "It's a whole new game with different rules, different variations, more quickness, more offense-fueled.
"But it's still the same game that you know and love. ... Fundamentals are much more important than in nine-man or 11-man because there's so much open space. You really need to focus on tackling in open space. You can't get lost in a group of people. You're on an island (on defense). There's a lot of pressure to make the tackle, rather than hang on and wait for your buddy to arrive.. ... It's wide open, more one-on-one."
 Cook said points allowed is still a valid means of evaluating defense, but he pointed to other factors, as well.
 "You see the high scores and you think there's no defense, but two or three really important stops can turn the tide," he noted. "... We look at points given up, but stops per game is pretty important and turnovers are really important. Turnovers are more devastating in six-man than they are in nine- or 11-man."
  With the two-point kicking conversion and four-point field goals available, Cook said a strong kicking game can turn a game around.
 "In our state championship game it came down to extra points. Those two points are so valuable with so many touchdowns that you almost have to kick," he noted. 
 Junior Kade Melaas was the man doing the kicking in the championship game.
  When D-A began practice last summer, Cook said the half-dozen or so six-man games the Raiders had played in 2018 were a huge benefit. D-A was no longer on square one.
 "This year we had a true identity of what we wanted to do," he said.
 Also, the business of learning on the fly associated with 2018 was behind them.
 "It was just too new, trying to learn a game at breakneck speed. It was a little overwhelming, but it was definitely a blast doing it. I never wanted to turn away from it," Cook recalled.
 Last fall was a smashing success for the Raiders. They finished  7-0 or 7-1, depending on how you want to look at a loss to the Mon-Dak (Grenora-Westby, Mont.) junior varsity. They outscored their opponents 459-250 and had the biggest offensive effort of the North Dakota season, a 107-84 victory over Midway-Minto. 
 Among the players who make the high-powered Raider offense go are junior quarterback Payton Martin, junior receiver Hunter Fletschock, junior running back Jaylee Brandt and sophomore running back Elijiah Nickelson.
 With last fall's success fresh in his mind, Cook is in no rush to go back to the nine-man days.
 "I'm not 100 percent sure (about projected enrollment), but I assume we'll have to stick to six-man for the short term. If we could move up to nine-man, I don't think many of our kids would like that," he said.
 Cook sees it the same way.
 "I do not long for that (return to nine-man). Six-man is where I belong. I really love it," he said. "I'd played 11-man all my life, but I've become enamored with six-man. It's awesome. I think anyone who's played it or watched it would feel the same way."
 Cook said he's not sure what he'd tell schools that are considering the six-man option. Is it the less-demanding manpower requirement? Or a more modest financial investment?
 "It might be a little bit of both," he responded. "But I think the most important thing for a school board to look at ... is the attraction of school pride and community pride. It's your school, as opposed to going to another (co-op) school where you may not feel the same commitment."
 Last fall seven North Dakota schools played six-man football, along with the Mon-Dak JV. Drake-Anamoose and Center-Stanton were joined by Midway-Minto, Alexander, Mandaree, Drayton and Williston Trinity Christian.
 Cook isn't sure what changes next fall may bring.
 "We know one is leaving for sure. Trinity Christian is going to be playing a JV schedule next year. ... I'm expecting around eight teams, maybe one more," he said.
(This is the second in a three-part series on six-man football. Part three will appear in Sunday's edition of the Tribune).
Get in the game with our Prep Sports Newsletter
Sent weekly directly to your inbox!