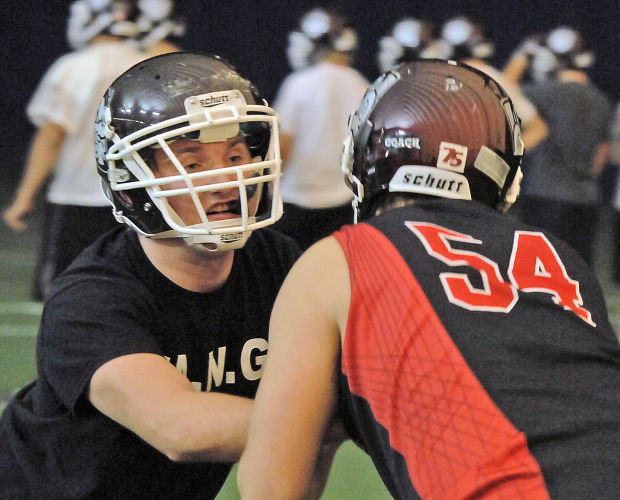 After starting out as a football game, Bismarck's first clash with Fargo South turned into pinball.
One hundred four points later, the Demons emerged a 55-49 winner.
The featured running backs had a field day. Bismarck's Ricardo Galindo milked six touchdowns from 410 yards and South's James Johannesson ran for 238 yards and four scores.
As an offensive lineman, Bismarck Demons senior Jordan Rau won't deny it was cool putting up eight touchdowns seven weeks ago against the Bruins. However, he doesn't expect to see a repeat in tonight's AAA state championship game at the Fargodome.
Admittedly, it's unlikely the teams can duplicate a game that included nine touchdown plays of greater than 40 yards.
"Both defenses are going to be prepared very well for this game and they'll come to play," Rau said. "... And you can't just bank on big plays. Not every play is going to be an 80-yard touchdown. I still love those 80- and 90-yard drives at six yards a pop."
Rau, a 5-foot-11, 210-pound guard, said several extended drives would be just the ticket to keep Johannesson and the rest of the Bruin offensive unit off the field.
South enters tonight's 6:40 championship game with an 8-3 record. Bismarck stands 11-0 with a 28-game winning streak.
Rau warns that those numbers are deceptive, though.
"They're a very good team. They've lost some close ones. They could be undefeated. They're a very talented team and we're going to have to come to play," he said.
Indeed, South's three losses are by a total of 14 points — 37-36 to Century in overtime, six points to Bismarck and 14-7 to West Fargo.
The Bruins are on a four-game winning streak, including a 38-28 semifinal victory over Minot. Bismarck advanced to the Fargodome by holding off Century 14-10.
Both teams will leave the field tonight bruised, according to Rau.
"They're a very physical team. They have one of the bigger defensive lines we play all year," he said. "... We've just got to set the tone early."
Far from an elephantine specimen, Rau is the little guy in the BHS offensive line. He accepts the fact that he'll be giving away size most games and just goes about his business.
"Typically I'm smaller. You've just got to use your technique you've been taught and come off the ball hard," Rau said. "Coach (Mark) Gibson always emphasizes coming off the ball."
This is Rau's third year on the BHS varsity, his second as a starter. He played center for the 2012 championship team and moved to guard this year. It was quite an adjustment.
"The pulling is definitely different, but I've loved it. Now I get to move" he said. "At center you're kind of stuck in the middle. As a guard you get to spring a big block coming around the horn."
"I didn't mind center," he added, "but I'm glad I'm being used for something else. ... I don't know what it is, but it's way more fun."
Last year the Demons were expected to dominate and they ran the table. This season was another matter.
"This year is different. We've had a lot of young guys step up. You can't worry about all the seniors who left. You've just got to have a lot of hunger," he said.
While he likes the way the season has gone, Rau won't say he's satisfied with his senior year.
"It depends on how the championship game goes," he said. "I feel like we've really come together as a team this year. I don't think people expected us to play as well as we have after losing so many seniors."
Bismarck head coach Mark Gibson said the 55-49 game was something of a freak event.
"It would be crazy to think it will be that type of game again," he said. "You won't see those kinds of numbers. ... It was played at such a feverish pitch — explosion after explosion."
In addition, Gibson said the defenses seemed to have trouble getting their footing on the natural grass at the South field.
"Both teams have improved defensively," he said.
Gibson said James Johannesson, South's speedy 210-pound junior running back creates headaches for opposing coaches.
"He's one of the most talented backs this state has seen. I'd compare him to Weston Dressler with another 100 pounds added. He can run over you and he can run around you. And like Ricky (Galindo) he seems to get stronger as the game goes along."
Since the two teams met the first time, junior speedster Ty Brooks has become a much more prominent part of the Bruin mix.
"He gives a whole new dimension to their offense," Gibson said. "You will not see a better 1-2 package than those two kids."
n NOTES: Gibson said injured all-state tackle Jaden Friedt is "questionable" for the game. Friedt, a 6-4, 255-pound senior, suffered a dislocated kneecap in Bismarck's final regular season game. ... First cousins will be facing one another in the championship game. Bismarck fullback Noah DuBord's father, Steven, and South tight end Alex DuBord's dad, Roger, are brothers. ... Johannesson has run for 2,435 yards and 26 touchdowns in 230 attempts this season. He's 110 yards short of 4,000 yards for his career. ... South quarterback Zach Kellen, a senior, has thrown for 880 yards and nine TDs while being intercepted once. Brooks has 14 catches for 335 yards and three TDs. ... The Bruins lead the East Region with 39.2 points per game and rank third with a 20.2 defensive average. ... Galindo is the West Region's top rusher with 1,494 yards and 22 touchdowns on 179 carries in eight games. ... Junior quarterback Hayden Gibson has gone to the air for 1,242 yards and 14 scores with six interceptions. Wide receiver Jon Tharaldsen, a junior, has 32 catches for 722 yards and 11 scores. ... BHS averages 37.9 points with a defensive average of 13.6.