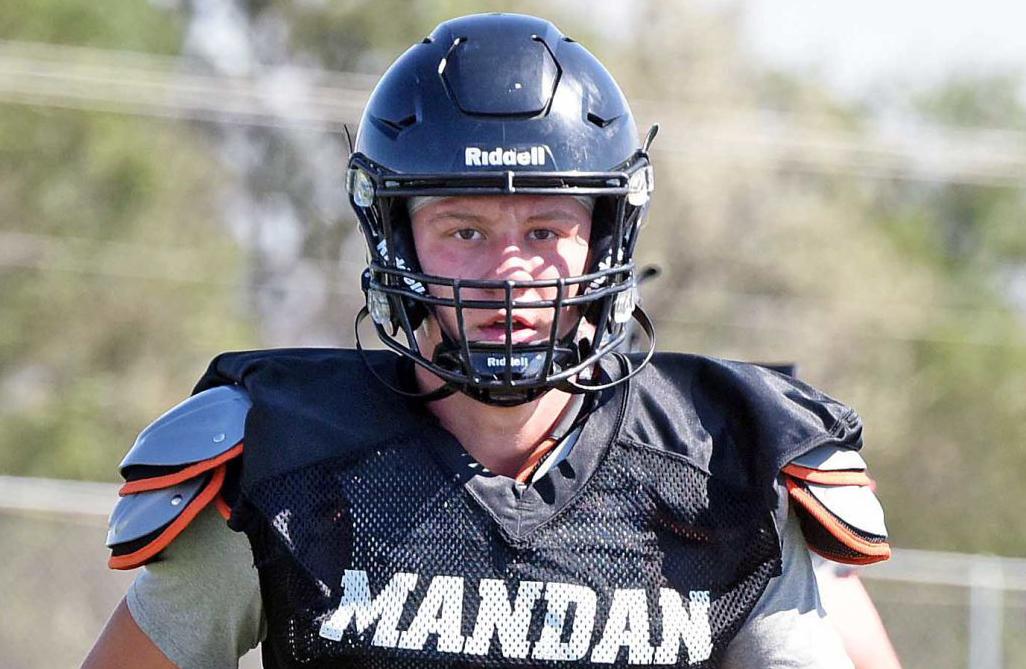 Two tight losses to start the season did not leave Mandan in the dumps.
Just nine points from being 2-0 instead of 0-2, the Braves blew out Williston Friday night for their first win of the season. They ended any doubt early with 24 points in the first quarter and 38 by halftime.
"The biggest thing was we played pretty error-free football to start the game," Mandan head coach Todd Sheldon said. "We didn't have many mistakes on offense or defense."
Junior quarterback Max Carlson had three touchdown passes, two went to All-West Region returner Aaron Grubb and the other to Karsyn Jablonski, who has been one of the breakout players in 11AA football this season. Jablonski had 250 yards receiving in the first two games of the season.
"He's pretty dynamic with the ball in his hands," Sheldon said of Jablonski.
Carlson also has impressed. The 6-foot-4, 195-pound junior has thrown for more than 600 yards through three games.
"He's done a really good job picking up what we're doing and running our offense," Sheldon said. "He's incredibly athletic. Some of the throws he makes are pretty unique when you're talking about a high school kid."
Junior running back Lincon Wiseman also got high marks for his running against the Coyotes.
"Lincon played really well," Sheldon said.
For the Braves, their best football seems to be in front of them. They started the season with just one returning starter on each side of the ball.
"We really feel like we're getting better with every game. Even the seniors, most of them haven't played a lot of varsity football, so there's room for growth with them and obviously our younger kids, we're seeing a lot of improvement there, too," Sheldon said. "There are some growing pains you go through, that's expected, but if we can get a little better every time out, I think we have a chance to be a pretty good team."
Daubers were not down after their six-point loss to Bismarck High Aug. 26 and three-point setback one week later to St. Mary's. Both were played away from home.
"Considering how many new players we were using, there were definitely things we thought were positives and we could build on," Sheldon said. "Everybody is starting to find their niche and where they belong."
The Braves have been getting contributions from a number of corners. Fullbacks Sam Burr (2) and Brenden Palmer (1) have combined for three TDs. Kicker Sarah Burgum has booted field goals in each of their last two games.
Sheldon thinks the offense will continue to mesh.
"Every team is always working on timing and how things fit together. Maybe it's been a little more for us with the inexperience we have," Sheldon said. "It's just some of those little things with timing on both the run game and pass game that you only get with practice and reps. We're getting better."
The Braves have remained healthy for the most part. Big sophomore lineman John Bugbee (6-7, 320 pounds) has missed time, but is likely to be back sooner than later.
The schedule remains challenging. The Braves head to Minot on Friday to face the Magicians, who blanked Bismarck High 10-0 at the Bowl on Friday. After that, they host No. 1 Century. Fargo Davies, unbeaten Jamestown, West Fargo and Legacy also are still ahead.
"BHS is a pretty big and athletic team across the board, so to go there and come out with a win shows they're playing pretty well," Sheldon said of the Magi. "(Minot) runs some different stuff. It presents challenges from a defensive standpoint, so we'll need to have a good week of practice and be ready to go on Friday."