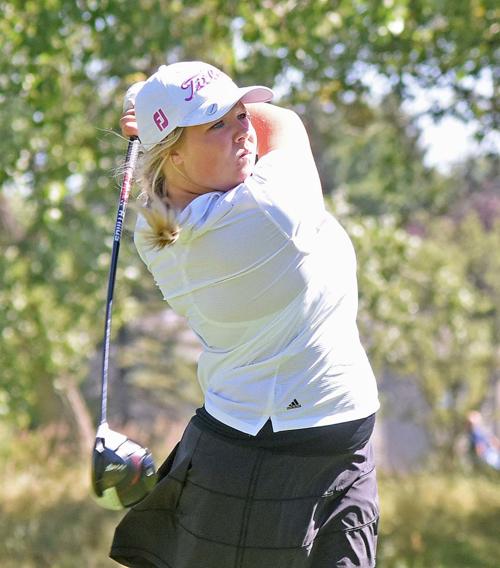 Even if the conditions weren't perfect on a windy Tuesday afternoon at Riverwood Golf Course, the Century girls' golf team and sophomore Hannah Herbel were.
 Herbel carded a 5-over-par 77 to edge Williston junior Carrie Carmichael by a stroke to win her fourth tournament in four outings. Additionally, the Patriots extended their team winning streak to four events.
 Herbel shook off a triple bogey on the second hole and held off the one player who has consistently chased her all season.
  "Hannah played really well again," Century coach Jeff Rasmussen said. "She had a couple swings get away from her … but she had a really good day. It's a testament to her resiliency."
 Herbel's one-shot win was the closest anyone has come to beating her all year. Carmichael, a junior, has shaved the gap between the two from 10 shots, to four shots, to two shots and now one.
 "I just made a mistake. I went over the green and had to punch out but that was the only mistake I made today and I recovered well after that," Herbel said.
 Instead of falling apart after a triple bogey on the second hole of the day, Herbel buckled down and finished the front nine with six pars and a birdie.
 "After I have a hole like that, I just try to move on … and like coach says, 'You only have 10 seconds to be mad.' Then you move on," Herbel said. "The rest of the front nine went pretty well."
 Hannah said gusty winds over 40 miles per hour were a slight factor on the back nine.
"It started to get pretty windy but the trees offered some protection, so it wasn't too bad," Herbel said.
"The wind started to pick up toward the second half of the round, but the thing about down there is it wasn't as bad as out in the open," Rasmussen said.
 Herbel and Carmichael were runaways in the medalist race. Century's Riley Crothers tied for third with Dickinson's Lola Homiston. Both shot 83.
 As a state tournament qualifying event, anyone shooting 92 and under qualified for the state tournament. Nineteen golfers came in at or under that score, including Navisha Soni (85) and Aliyah Iverson (92) of Century.
 The Patriots finished with winning total of 337. Mandan was second at 355. Bismarck 363, Legacy 366 and Jamestown 370 rounded out the top five.
 Herbel and Carmichael figure to battle it out all the way to the final tournament. And that's a good thing, Herbel said.
 "I haven't gotten a chance to play with Carrie this year, I just get to see her after the rounds. I really wish we could play together," Herbel said.
 "Carrie has been working hard and I think it provides more motivation for Hannah to go lower," Rasmussen added. "It's fun to watch. They're two great competitors."
The next meet on the schedule is the Mandan Invite on Tuesday, Sept. 8 at Prairie West.