AREA SPORTS
BYERS SINKS ACE AT PAINTED WOODS
Jon Byers of Bismarck made a hole-in-one on Wednesday at Painted Woods Golf Course in Washburn.
Byers aced the 112-yard 11th hole, using a 9-iron.
Witnesses were Ken Sorenson, Wayne Leidholm and Doug Haugtzedt.
NDSU'S STONE EARNS HONOR
Elliott Stone has been named an Academic All-American for the third time, becoming just the third North Dakota State athlete to do so since the school's transition to NCAA Division I in 2003.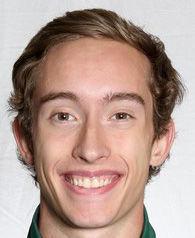 The Shiloh Christian graduate earned a bachelor's degree in mechanical engineering with a 4.0 grade point average. Stone currently has a 4.0 GPA pursuing a master's degree in business administration.
Stone ranks fourth in NDSU history in both the indoor 3,000-meter run and outdoor 5,000. In cross country, he was an All-Summit League first team honoree twice during his career. He earned all-conference all-academic honors eight times. Additionally, he was named the 2018-19 Summit League Male Scholar-Athlete of the Year across all sports.
The only other Bison athletes to earn three Academic All-American awards are Greg Menard (football, 2015-16, 2018) and Tim Colwell (baseball, 2012-14).
WEIGEL DRAINS HOLE-IN-ONE
Jerry Weigel of Washburn fired a hole-in-one on Thursday at Painted Woods Golf Course in Mandan.
Weigel sank the ace on the 16th hole from 142 yards away. The club of choice was an 8-iron.
Les Schoenberg, Steve Krahler and Doug Stoltz were there to witness it.
RED RIVER ATHLETE HONORED
Shelby Frank of Grand Forks Red River has been named the Gatorade North Dakota Girls Track and Field Athlete of the Year.
Frank, who will compete in track and field at the University of Minnesota next year, won the award for the third straight year.
Frank is a four-time state champion in the discus and two-time state champion in the shot put. There was not a 2020 track season due to the coronavirus outbreak.
Frank, who graduated with a 3.66 grade point average, won the discus at the 2019 New Balance Outdoor Nationals with a throw of 155 feet. Her 2019 PR of 167 feet in the discus ranked No. 4 in the nation among high school athletes.
DULUTH NWL SEASON SCRAPPED
The Duluth Huskies have canceled their 2020 Northwoods League season.
The decision was made due to continuing concerns over the COVID-19 pandemic.
On July 1, pods in Minnesota, Illinois-Wisconsin and Michigan will begin play with games ending in August.
GILLETTE, SHERIDAN DROP ATHLETICS
Gillette College and Sheridan College have dropped all of its NJCAA Division I athletic programs, the schools announced on Thursday.
The cuts are due to the impacts of the COVID-19 crisis, which continues to rage across the country.
Gillette College and Sheridan College, both frequent opponents of Bismarck State College and United Tribes, offered men's and women's basketball, and men's and women's soccer. Sheridan also had a volleyball team.
The rodeo programs at both colleges will continue. According to a press release, both colleges hope to "eventually bring back additional athletic opportunities with Division III teams in the future."
The Northern Wyoming Community College Trustees said a net decrease in funds of $3.96 million is expected. Discontinuing sports at Gillette and Sheridan saves $2.8 million. In addition to athletics, district administration, two academic programs and campus police also face financial cuts.
TWO MINOT STATE PITCHERS WITH ROX
Two Minot State pitchers are on the season-opening roster for the St. Cloud Rox Northwoods League team.
RJ Martinez, a lefty, and right-hander Noah Myhre, will pitch for the Rox when their season begins July 1. Martinez, from California, tossed 15 2/3 innings for the Beavers before the 2020 season was canceled. Myhre, from Arizona, threw 15 1/3 innings.
Be the first to know
Get local news delivered to your inbox!