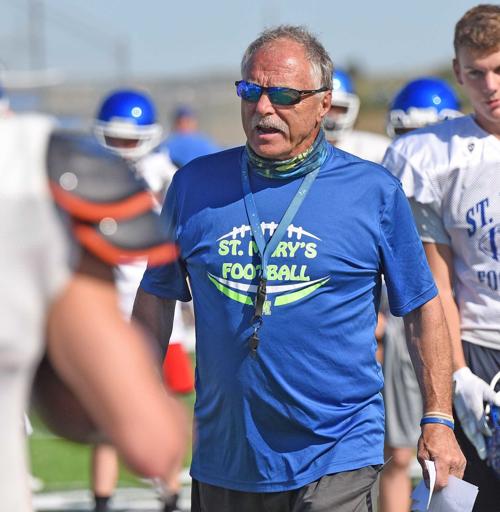 High school football teams don't get bye weeks during a typical season.
In 2020 typical doesn't apply so coaches are getting extra time to clean things up.
For St. Mary's, there isn't much that needs cleaning. The Saints, a unanimous No. 1 in the latest Class AA football poll, have been dominant from day 1.
Coach Dan Smrekar's Saints have not allowed a point yet. Through four games the season scoreboard reads: Saints 140, Opponents 0.
"We have a good thing going," Smrekar said. "Defensively, a lot of people are flying around. It's been really encouraging."
The Saints have wins over the No. 2 (Hillsboro-Central Valley) and No. 5 (Valley City) ranked teams in the AA poll. Next up is No. 3 Beulah (3-1) on Friday, Oct. 2 at Smrekar Field.
"It's an important game," Smrekar said. "Beulah is a quality football team."
The Miners lost for the first time on last Friday, 23-14 in Hillsboro against the defending state champions.
St. Mary's starts seven seniors on defense -- Reece Barnhardt (linebacker), Cullen Curl (safety), Thomas Jackson (cornerback), Matthew Nathe (linebacker), Matthew Scheer (linebacker), Zachary Haas (defensive end) and Chase Russell (defensive end) -- and four juniors: Isaac Felchle (linebacker), Nick Schumacher (safety), Isaac Vandal (cornerback) and Jack Weikum (nose guard). 
"I think we're playing physical. We're looking sharp," Smrekar said.
With three lopsided games, the Saints also have been able to use a number of other players to increase depth and prepare for future seasons.
"Those kids are getting beat up by the starters in practice, so when you're able to get those kids into the game it's a lot easier for them to come to practice on Monday," Smrekar said. "Those kids are the future. Any time you can get them a chance to play it's really a positive thing."
Injuries to key players have been a recurring theme in recent seasons for the Saints, but through four games they've remained healthy. Two weeks in between games will only help.
"We don't have anybody injured," Smrekar said. 
St. Mary's original schedule called for a road trip to Belcourt to face Turtle Mountain on Friday but the Braves are not playing for virus-related reasons. After hosting Beulah on Oct. 2, the Saints head to Watford City (0-4), host Hazen (1-2) then finish the regular season at Stanley (0-3) Oct. 21. 
Smrekar is hoping for the same approach during the second half of the season.
"We're really pleased with the effort, attitude and enthusiasm," he said. "It's good stuff." 
Be the first to know
Get local news delivered to your inbox!