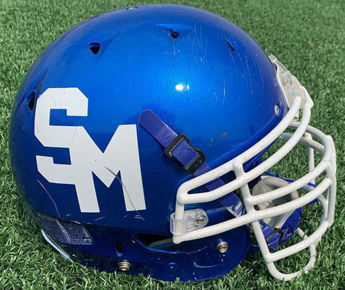 St. Mary's defense has been dominant from the opening kickoff this season.
There are X and O reasons for it. The Saints are fast. They're physical. They tackle well. But it goes beyond that, head coach Dan Smrekar said.
"Our kids like defense," Smrekar said. "We emphasize it and our kids really like to play defense."
That point becomes obvious when watching the Saints for any length of time. Any time an opponent has the ball, he's soon to be swarmed by a bunch of Saints.
"We've got really good team speed. Our goal is to play very fast, very physical and get a lot of people to the ball," Smrekar said. "When you have good speed it can cover up mistakes. If somebody misses a tackle, the second guy, third guy, fourth, fifth, sixth guy won't."
The Saints don't miss many tackles. They don't make many mistakes. In fact, they rarely allow points.
Heading into Saturday's Class A quarterfinal game at 1:30 p.m. against Devils Lake, the No. 1-ranked Saints (8-0) have allowed 27 points total in eight games. Five times, St. Mary's has allowed nothing. Only second-ranked Beulah has hit double figures (13).
"The great thing is, the kids like to practice," Smrekar said. "They're willing to get better."
Senior Chase Russell anchors the Saints' 3-man front and clogs running lanes from his nose tackle spot. At the D-ends, senior Zach Haas and Jack Weikum can rush the passer, but also don't allow ball carriers to get outside. Senior Sawyer Rapp and junior Nick Windsor, who start on the offensive line, spell the starters and when they do, there is no dropoff.
"The one thing we thought at the beginning of the year was we needed to play better up front," Smrekar said. "Those kids have responded, on both sides of the ball. When those kids play well up front, that allows the linebackers to fly around and make tackles."
The Saints' speedy linebackers are a headache for opponents. Reece Barnhardt, Isaac Felchle, Matthew Nathe and Matt Scheer not only rack up tackles, they're capable of forcing turnovers.
"Our linebackers have played well," Smrekar said.
It goes no easier in the back.
Cullen Curl, one of the top running backs in the state, teams with Nick Schumacher at the safety spots. Schumacher, the Saints' kicker, would start at quarterback for a lot of teams, but Jackson Uhler has performed admirably under center in his senior season. Thomas Jackson and Isaac Vandal occupy the corner spots. Curl, who has 16 rushing touchdowns and 878 yards rushing on only 115 carries, and Jackson are seniors.
"When your seniors buy in and work hard, it trickles down to the younger kids," Smrekar said.
The Saints' younger players have gotten plenty of playing time on Friday nights. In the first half of games this season, St. Mary's has outscored its opponents 225-8.
Smrekar is always quick to pull his starters as to not embarrass their opponent. That figures to happen again Saturday. The Saints have wins of 38-0 and 54-0 over Devils Lake.
"We look at the positive side of it and that is we're able to play a lot of kids, which helps with our depth and it also helps with the development of our younger guys for the future," Smrekar said. "We work hard at practice. It's pretty intense and we think that gets us prepared for those four-quarter battles."
The Saints have gone wire-to-wire at the top of the Class A poll this season. It's not a topic of conversation within the team, but the team's goals are clear.
"We're staying focused on what we want to accomplish," Smrekar said. "We have a pretty determined bunch."
They're chomping at the bit. The Saints last played on Oct. 20.
"We're about as healthy as we could be," Smrekar said. "Everybody is ready to play. They're really looking forward to getting out there on Saturday."
Be the first to know
Get local news delivered to your inbox!