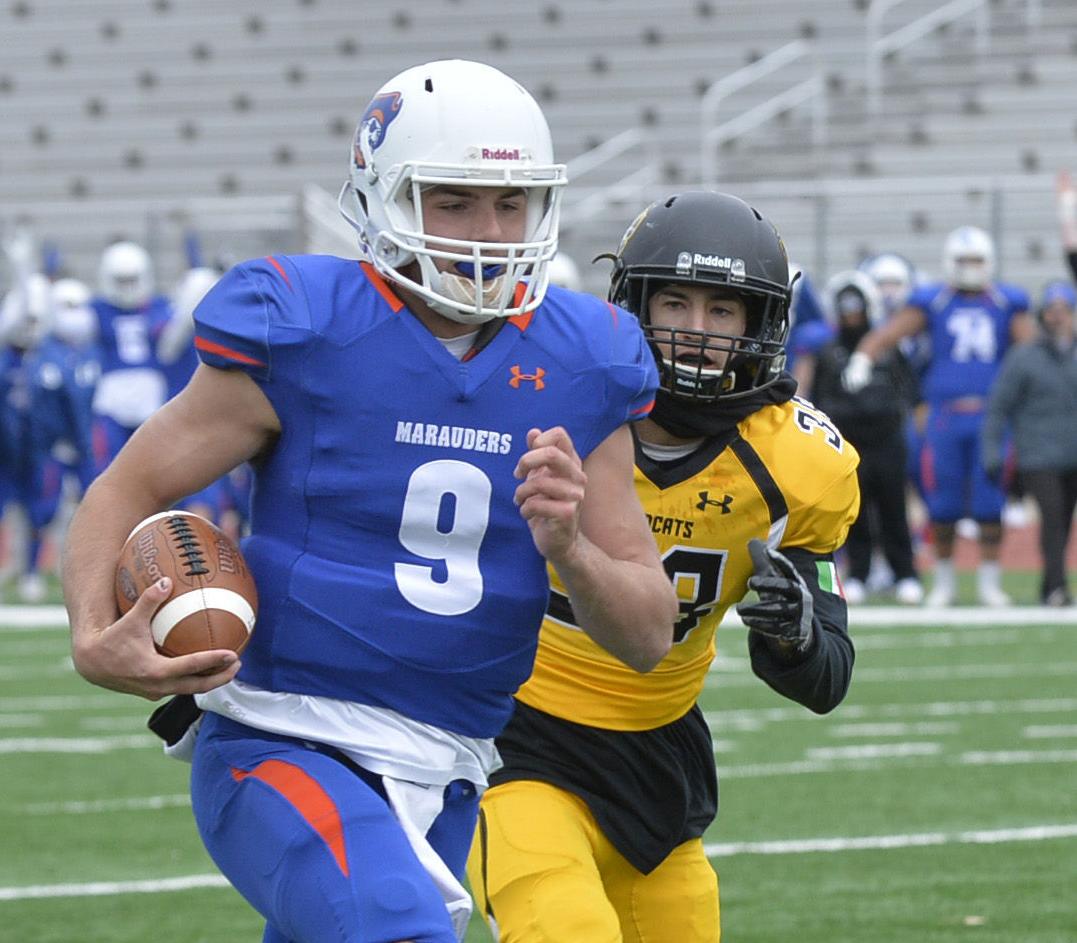 Spring football was going to be physical for the University of Mary football team.
Craig Bagnell's Marauders were going to have a scrimmage every day with a heavy dose of fundamentals -- blocking and tackling.
Had things gone as planned, the Marauders would be approaching the stretch run of spring ball. Instead, they had to call an audible.
"You talk sometimes about certain situations in life where there isn't a book for it. This is definitely one of those situations," Bagnell said. "It's disappointing for sure. Our guys were excited. Our coaches were excited. We've had a really good winter in the weight room.
"Everybody's in the same boat. It's a situation beyond our control. As a coaching staff, we have things on the checklist for April and May we're working on and getting accomplished. We've turned the page."
The first of 15 practices was originally scheduled for March 14, but everything was put on hold one day before that, and eventually canceled, due to the coronavirus outbreak. The Marauders' spring game was planned for April 11.
Now, the academic component is at the forefront with major changes there as well.
"Our main concern is making sure our guys are set up properly for the rest of the semester," Bagnell said. "You try to prepare for every scenario, but this one's pretty much off the charts."
ROSTER HEADING INTO SUMMER
About 60 players were set to compete in spring practices, more than 40 of whom played meaningful snaps last season.
Offensively, quarterback Logan Nelson will head into the summer and then the fall as the starter. Nelson battled injury last season, but was a dangerous dual threat when healthy. The senior-to-be passed for seven touchdowns and ran for six more.
The names and numbers of who lines up next to Nelson in the backfield will be different. Running back Bryan Lumsden, who ran for 676 yards and seven TDs, is no longer with the team. Speedster Jakim McKinney, Dorian McAllister, Scott Tripps (5.3 yards per carry on 50 attempts in 2019) and Legacy High's Diamonte Stugelmeyer all will be in the mix for carries come fall. McKinney, McAllister and Stugelmeyer are all redshirt freshmen. Tripp will be a senior.
The Marauders will be deep at wide receiver topped by senior Luke Little and junior Danny Kittner. Junior college transfers Riley Potthast and Brandon Morris will challenge right away for playing time.
One of the major themes of the spring would have been working on long, clock-eating drives, a problem area last season for the Marauders.
"We have to be able sustain drives, hold onto the football and then get points at the end of those drives," Bagnell said. "In our league, that's not easy to do. Every little detail matters."
Defensively, the Marauders bring back seven players that started last season led by Mandan's Jarad Zittleman, who had 66 tackles and an interception.
Linebacker Dylan Anthony (68 tackles) also returns. Transfers Sam Suggs (linebacker) and cornerbacks Tylen Small and D'Angelo Johnson are expected to make an immediate impact.
No. 1 on the defensive docket for spring practice was increasing pressure on opposing quarterbacks. The Marauders were out-sacked 40-15 last season. They also were minus-6 on interceptions (12-6).
"Ball disruptions, more pressures, red-zone defense, those are all areas we have to improve," Bagnell said.
In short, more scrimmages, more live periods, more physical.
"It's gonna be a blood bath," Bagnell said prior to spring practice being lost.
NEW COACHES ADDED TO STAFF
Alex Kastens and Mitchell White have joined the U-Mary coaching staff.
Kastens, a two-time all-conference player at Carroll College, will serve as defensive line coach. Kastens played for and then coached with recent coaching staff addition Mike Van Diest.
White was a four-year letterman at Michigan State. After a brief stint with the Oakland Raiders and Philadelphia Eagles, White had a successful six-year playing career in the Canadian Football League, including winning Grey Cup championships with the Ottawa Redblacks (2016) and Toronto Argonauts (2017).
"We are excited to have Alex and Mitchell join our staff," Bagnell said. "Listening to both Alex and Mitchell, they have a love for the game, building relationships, and getting their scholar-athletes in the best position to be successful."
The Marauders open the season on a Thursday night (Sept. 3, 6 p.m.) at Wayne State (Neb.). Their first home game is Sept. 12 against Augustana.
Be the first to know
Get local news delivered to your inbox!