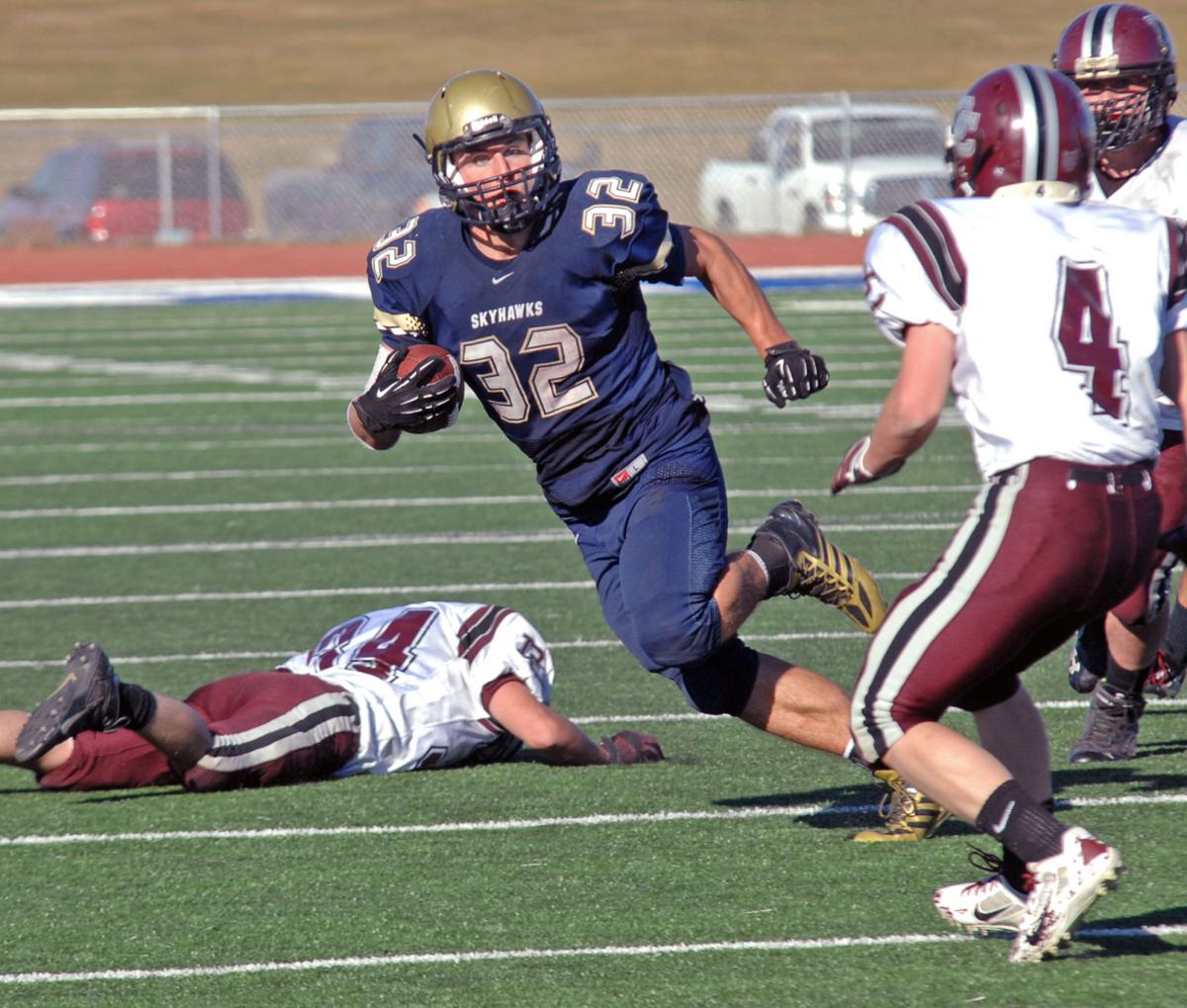 When it comes to Shiloh Christian's running backs, you can choose your poison or you can play it 50-50. Either choice means trouble.
Blake Emmel, a 190-pound senior, ran for 194 yards and two touchdowns as undefeated Shiloh advanced in the state 9-man football playoffs on Saturday with a 38-8 victory over Divide County. A.J. Dale, his 170-pound senior confederate, added 131 yards on 13 carries with one touchdown romp.
All told, the winning Skyhawks ran for 300 yards on the rug of Miller Field while improving to 9-0 on the season.
Bob Brown, who shares Divide County head coaching duties with Nathan Nelson, summed it up nicely.
"The more weapons they have the more difficult it is to defend. ... But it all starts up front," Brown said.
The Maroons coach said Dale and Emmel make the equation doubly difficult with their tackle-breaking ability.
"They don't go down with one hit. It seems they get at least five yards," he said.
That held true in Shiloh's first two possessions, both scoring drives.
Dale broke a tackle on the Skyhawks' first snap of the ball and dashed 24 yards to the Maroon 48. On the next play, Emmel burst through the left side for a 48-yard scoring run.
On Shiloh's second series, Emmel broke a tackle at the line of scrimmage and was off on an 80-yard dash to paydirt.
A 27-yard punt return by Nick Pfaff set up Shiloh's third score, giving the Skyhawks a short field at the Maroon 34.
A 12-yard smash by Dale and a 17-yard romp by Emmel helped move the ball to the one-yard line. A quarterback sneak by Zac Martin from one yard out enabled the Skyhawks to take a 22-0 lead at the end of the first period.
A sluggish second period in which Shiloh managed just one first down enabled the Maroons to generate a little momentum.
The visitors cut the deficit to 22-8 with a 57-yard, 14-play scoring drive. Senior fullback Evan Eriksmoen banged in from six yards out to put Divide County on the scoreboard with 6:13 to play in the first half.
The second half was a completely different story.
Shiloh's defense, led by defensive end-linebacker Matt Fettig and Martin in the secondary, limited the Maroons to 34 yards and two first downs in the second half.
Divide County, which ran 43 plays to Shiloh's 18 before intermission, ran just 17 plays in the second half.
"We really challenged the kids at halftime," said Shiloh head coach Funnon Barker. "In the second quarter Divide County was bringing it to us ... but the kids stepped up and answered the challenge. I was happy to see that. We're going to need that effort next week.
Next Saturday, Shiloh plays host to Grant County-Flasher in a quarterfinal game at 2 p.m. The Skyhawks won the first encounter with GC-F 38-26 a week ago. GC-F is the No. 3 playoff seed from Region 4 and Shiloh is No. 1.
Fettig, a 200-pound junior, said the defense was simply more efficient in the second half.
"It was better execution," he said. "We weren't very happy with the way we played at the end of the first half, so we came out pretty excited and played with more intensity. I think that's what did it."
Shiloh struck for two second-half touchdowns, to bring the running clock mercy rule into play with 10:44 left in the game.
Divide County's Dylan Olsen fumbled on a punt return early in the third quarter and Emmel recovered at the Maroon 13. On third down, Martin lofted a touchdown pass to Chris Oswald for Shiloh's fourth TD.
A short Divide County punt gave Shiloh another short field to start the fourth quarter. The Skyhawks drove 44 yards in three plays, Dale breaking an inside running play for 30 yards and a score.
Emmel said he and Dale make each other better.
"They have to play us honest. ... That benefits both of us because they can't cheat one one or the other," he said.
Emmel echoed the Divide County coach in pointing to the offensive line as the source of the backfield's success.
"All the credit goes to the offensive line," he said, ticking off the names of Chris Oswald, Jared Glasser, Dawson Fagerland, Fettig and Andrew Hartman.
Emmel said Divide County has a consistently strong program, making every game a challenge.
"This was a good game to see where we are," he said. "Divide County has a great program and this shows we're capable of going far this year."
Divide County 0 8 0 0 — 8
S – Blake Emmel 48 run (run failed), 8:08
S — Emmel 80 run (A.J. Dale run), 3:55
S — Zac Martin 1 run (Emmel run), :37
DC — Evan Eriksmoen 6 run (Jarret Obenchain run), 6:13
S – Chris Oswald 11 pass from Martin (Oswald pass from Martin, 7:09
S – Dale 30 run (Emmel run), 10:44
Penalties-yards 2-30 1-10
Rushing: DC – Evan Eriksmoen 18-66, Taylor Elsbernd 13-65, Jarret Obenchain 6-53, Chase Jacobson 2-15, Dylan Olsen 1-minus 2, Robby Lorentz 3-minus 2, Trent Bossingham 3-minus 8. S — Blake Emmel 18-194, A.J. Dale 13-131, Zac Martin 5-minus 25.
Passing: DC – Elsbernd 2-14-0, 32 yards. S — Martin 3-10-0, 18.
Receiving: DC – Olsen 1-19, Lorentz 1-13. S — Oswald 1-11, Andrew Hartman 1-9, Emmel 1-minus 2.
Records: Divide County 6-4, Shiloh 9-0.