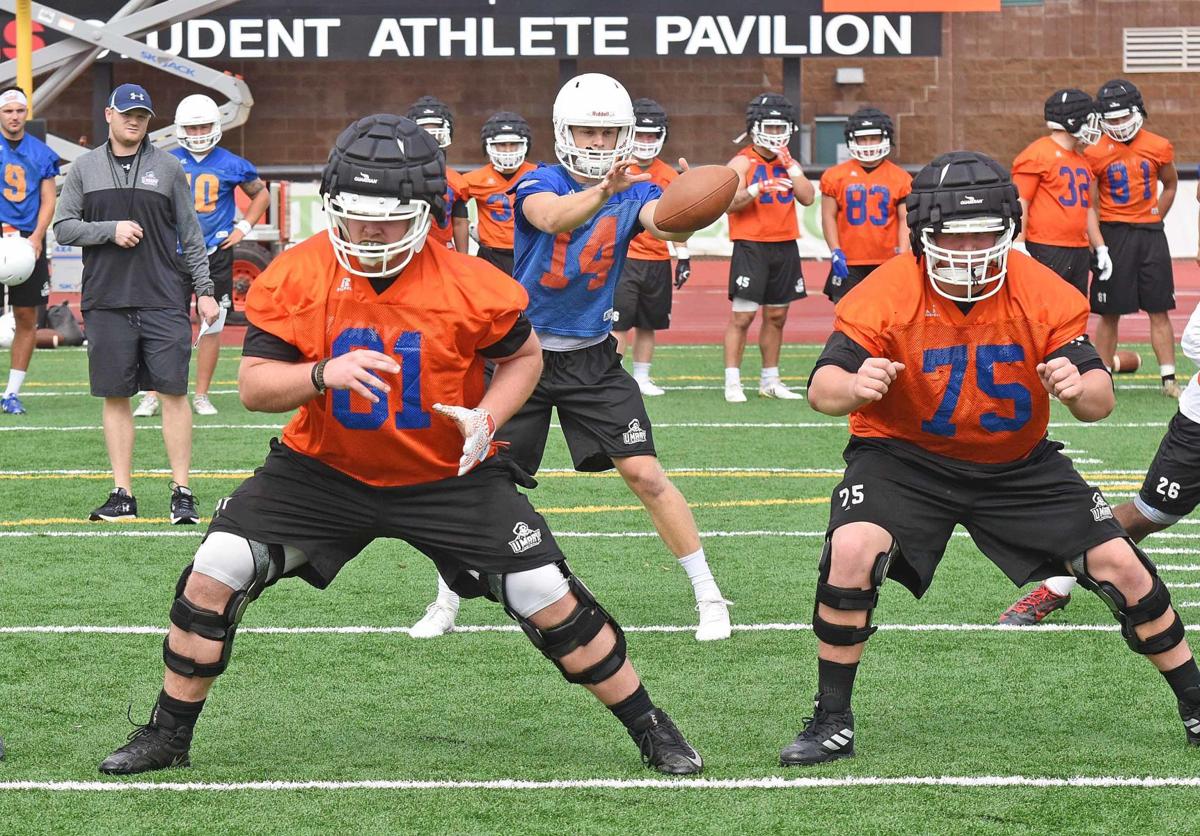 All eyes are often on the quarterbacks, but that was especially true Monday as the University of Mary football team kicked off training camp.
The Marauders have 20 practices to determine who gets the start on Sept. 5 against St. Cloud State. Californians Jordan Velarde and Avery Gould, along with Logan Nelson from Billings, Mont., shared first- and second-team reps on Monday, all flashing plenty of upside.
Velarde is the only one of the trio with NCAA D-II starts under his belt, but he suffered a season-ending injury in the second game last fall. Nelson also missed last season with a knee injury, while Gould could be the wild card. The 6-foot sophomore is not as tall as Velarde (6-6) or Nelson (6-5), but is elusive and has a big arm.
It all adds up to a good problem to have for head coach Craig Bagnell.
"I'm excited," Bagnell said. "It's going to be a fun, tough call.
"The bottom line is we have three guys that I think can play at a high level."
Velarde and Nelson are juniors. Gould is a sophomore. Legacy High grad Jason Hoekstra, who played in 10 games last season as a true freshman, has had a strong spring and summer. Hoekstra is expected to redshirt this season, meaning he'll still have three years of eligibility.
Bagnell's clear preference is for one guy to win the job, but he is flexible.
"We've told the guys that this is your opportunity to separate yourself -- go win the job," Bagnell said. "This is isn't wide receiver where eight different guys can play. Only one can play and we want somebody to separate themselves.
"If we don't see that, then we'll see what happens. I might play a couple of guys. I have done it before."
FLYING AROUND
With music playing in the background, and the temperatures rising throughout the morning, energy was high on Monday.
Grady Blewett, one of the top returning linebackers in the Northern Sun, took notice.
You have free articles remaining.
"It's one of the better first days I've been a part of," the senior from Bozeman, Mont., said. "We had a really good summer. A lot of guys were here working out and I think that allowed us to come out and play fast and hit the ground running."
Blewett, Noah Krebs and Dylan Anthony are all returning starters at linebacker. Jarad Zittleman will captain the secondary with fellow returning starter Marquell Evans. More than 60 players stayed in Bismarck during the summer months to train with the team.
The Marauders have nine players that started on offense at times last season, including a promising trio at wide receiver, led by ace pass-catcher Luke Little, a junior. Danny Kittner, Garrett Weissinger and newcomer Leo Vecchi will be a handful on the outside as well.
Up front, seniors Tyson Lytle, Hunter Hanson and Rory Olson will anchor the O-Line. Tyree Sheppard started most of last season as a freshman.
Bagnell is high on the running backs with sophomore Bryan Lumsden the returning starter. Sebastian Franck-Love, last season's projected starter, is back after missing 2018 with a knee injury.
"Day 1, the energy was good. The returning guys, having been in the system a year now, you can see the growth. The mental growth and physical growth. We're bigger, stronger, faster," Bagnell said. "It's fun to be back out there with the guys, with the coaches. It was fun."
NEW ADDITION
Bagnell and company made a potentially large addition to the defensive backfield late in the summer.
Dre Jackson, a 5-10 cornerback, transferred in from FCS school Montana State. A couple more new players are expected in the coming days.
"Recruiting, it never ends," Bagnell said.
ADDED PROTECTION
As camp began, most of the players had an added layer of protection on their helmets.
Described as impact-reducing shells -- made by a company called Guardian -- the white, puffy-looking pads absorb 33 percent of the impact of a collision, according to the company's website.
Practices this week run from 9:30 a.m. to noon through Saturday at the Bowl and are open to the public.