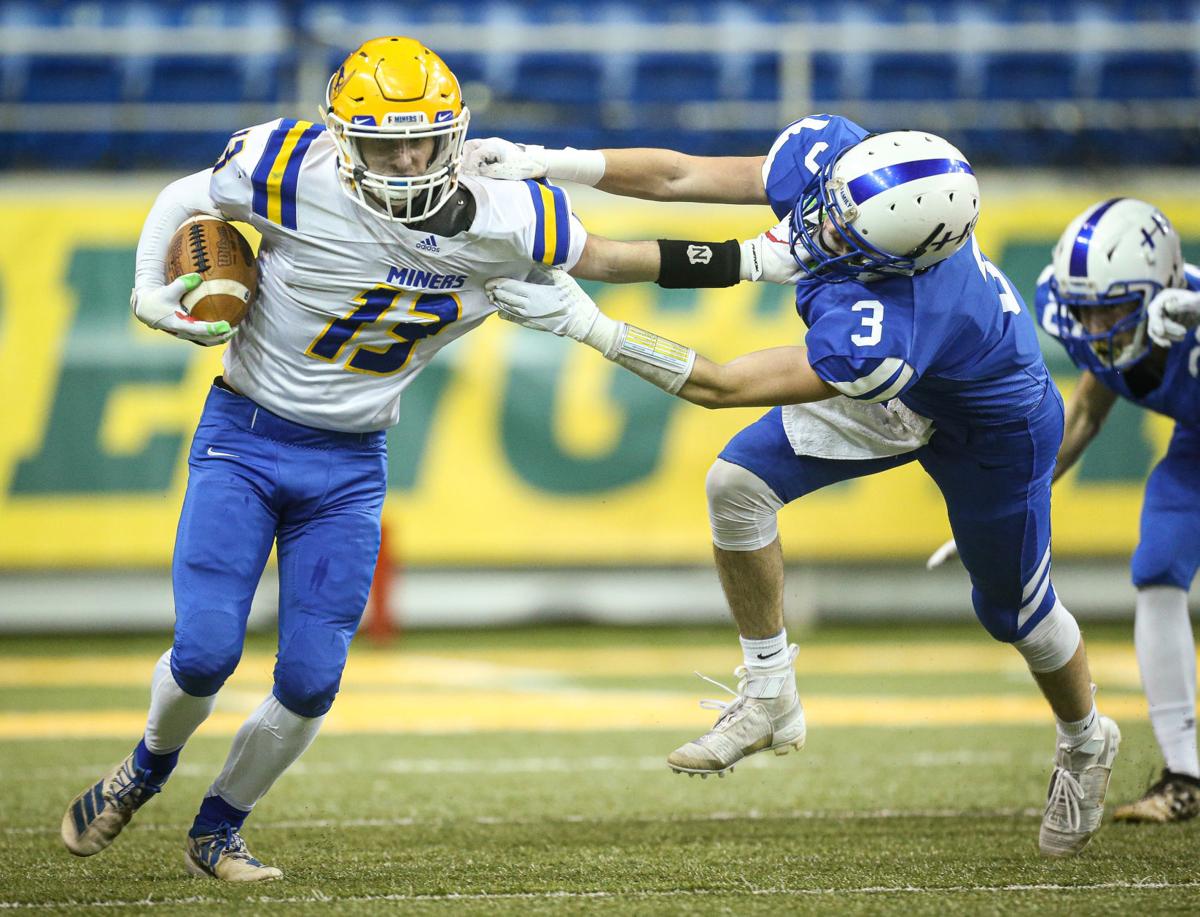 The last time the Beulah Miners squared off with the Hillsboro-Central Valley Burros, a state title was on the line.
This time around, it's a big non-conference game kicking off a big stretch of the season for the No. 2-ranked Miners. But coach Jim Dooley says there's not any more motivation this time around.
"There's no revenge thing or anything like that," the Miners coach said. "We're glad we're playing a quality opponent. We're in the heart of our schedule. We're getting to some of our red-letter games. Hillsboro was the only team that beat us last year. Hazen is our big rival, just eight miles away. And St. Mary's has been a traditional rival for us.
"It's a big three weeks. We're hoping we can stay healthy and COVID-free. It's been an interesting year from that perspective. We're looking at it a day at a time, a game at a time, even more than in the past."
The Miners are 3-0 and ranked No. 2 in the Class AA football poll heading into a trio of big contests. On Friday, they travel to Hillsboro-Central Valley for a rematch of last fall's state title game. The Burros (2-1) are 2-1, ranked fourth in the state after a loss to St. Mary's last week.
After that, the Miners match up with Hazen (1-2) in their annual rivalry contest. And after that, the Miners visit top-ranked St. Mary's (3-0).
"These are the games you look forward to," Dooley said. "This team likes to compete, likes the competition. The bigger the game, the more they focus in. The older guys have been looking forward to this one.
"It's a non-region game against a good opponent. It will be a good indicator of where we're at and where we need to be in a couple of weeks. More important will be the region games when we get into those."
Beulah's defense is coming off back-to-back shutouts. After opening the season with a 50-20 non-region win over Watford City, the Miners blanked Devils Lake 35-0 and Wahpeton 49-0 last week.
"The first game, we had a couple of bad angles, lapses but we didn't scrimmage anyone, and you're going to have some of those things and learn from it," Dooley said.
The defense has been solid the past two weeks, facing different looks.
"Devils Lake, they run the ball between the tackles, Wahpeton throws it a lot so a lot of different guys stepped up," Dooley said. "The secondary is coming along, the defensive line was much improved from week 1 to week 2. The linebackers have been solid and getting better."
The Miners also got junior quarterback Trey Brandt back last week following a summer foot injury. Getting Brandt back on the field is also a big boost to the Miners' defense.
"That helps a lot on defense, too," Dooley said. "He's been playing since he was a freshman on defense. It's nice to have him back."
Nate Battest and Trapper Skalsky, both second-team all-staters last season, have helped the Miners put up big numbers and pick up some of the slack with Brandt sidelined.
The Miners have outscored their first three opponents 134-20.
"We have a lot of guys with a lot of yards," Dooley said. "We rushed for over 1,000 yards in the first three games. We're in a good spot. We're fortunate to have good athletes, especially in the backfield. Even missing Trey, we still managed to score 50 and 35. Tre gives us an element we didn't have in those other games."
The depth is a nice luxury.
"When you've got a couple of guys nicked up, it's nice to know there's not a drop off going from the starter to the backup. It's a seamless transition there."
And it's tough for a defense to focus on stopping any one player.
"Ideally, when we're at our best, it's not really by committee but all the backs are getting their hands on the ball and doing something with it," Dooley said.
Even off to a good start, there are some things to fine tune.
"Any time you're playing games like this, you can't make mistakes, you can't beat yourselves," Dooley said. "For the most part, we've been doing well but there has been a play or two in each game where we made a mistake or two that will hurt you in a close game.
"We have to play mistake-free. We don't want to have any mental mistakes or turnovers that can kill you. There are mistakes you can eliminate. Turnovers will happen. These teams are good, but you don't want it to snowball. Don't give them easy opportunities. Make them work for everything they get."
Be the first to know
Get local news delivered to your inbox!