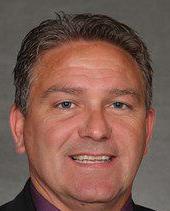 Todd Hoffner's ties to North Dakota run deep.
The head football coach of No. 3-ranked Minnesota State-Mankato said taking on teams from his home state – like today against the University of Mary – has been enjoyable.
"We have a lot of great friendships there still," said Hoffner, an Esmond native. "We want to represent and play well, but that's true every week we have the opportunity to compete."
Hoffner's Mavericks have done nothing but that year after year. In his 10th season as head coach, Hoffner's teams have won 98 games and lost 21.
The 1989 Valley City State graduate credits a couple of Ls to the Mavericks' tremendous success.
"Luck and linemen," are the keys, Hoffner claimed. "We've done a really good job recruiting linemen that want to play a physical style of football. That's the kind of football we want to play and we've been fortunate through the years to find a lot of very talented linemen that love to play that way."
The University of Mary, coming off its first win of the season against Upper Iowa, will face its stiffest test so far today at 1 p.m. in south southern Minnesota.
You have free articles remaining.
Through six games, the 6-0 Mavericks have allowed only seven touchdowns.
"Defensively, we've been playing lights out" Hoffner said. "Jim Glogowski, our defensive coordinator, has done a great job putting our guys in position to succeed and our players have gone out and performed. It's been really fun to watch."
The Marauders have scored 27 points or more in three of their past four games. Quarterback Logan Nelson is averaging 181 yards passing and 65 rushing.
"Offensively, (U-Mary) has been doing quality stuff to stay competitive," Hoffner said. "They have good players. Hopefully we're in position to minimize their offense."
Hoffner also singled out the Marauders' special teams, including returner Danny Kittner, who continues to lead the conference in all-purpose yards per game (173).
"Special teams-wise they have some special players making special plays," Hoffner said.
While the Mavericks' defense effectively allows nothing, their offense is rolling. Mankato features the leading rusher (Nate Gunn) and leading receiver (Shane Zylstra) in the NSIC. Zylstra, a senior, is expected to get NFL looks. His brother Brandon played for the Vikings and is currently with Carolina.
Mankato plays two quarterbacks – JD Ekowa and Ryan Schlichte – who have combined for nearly 1,200 yards passing. As good as the Mavericks are defensively, Hoffner believes when the games matter most, it comes down to the "trigger-puller."
"Defense can take you a really long way, but at the end of the day, the quarterback needs to be able to make plays," Hoffner said. "Whether it's in the NFL, the Division I level, or wherever, when you're talking about competing for championships, your quarterback needs to be able to make quality decisions in those really tough moments."