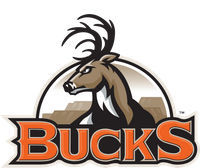 The foundation of anything isn't as sleek as the finished product. That's how Bismarck Bucks coach Rod Miller feels about last season, his first as head coach of the Indoor Football League franchise.
 "Last year was a rebuilding year," Miller said of the Bucks' 2-12 record. "I think this year we're going to take off. I have a three-year plan and I knew last year was going to be tough. I've been in this business 22 seasons and sometimes you have to rebuild. We had to start from scratch. Last year we had to build the foundation."
 Miller's first season was the Bucks' first in the IFL after two years in the Champions Indoor Football League.
 Miller has a title in that league (Wichita 2016). He hasn't sat around waiting for mid-winter to start finding players for year two. He already has more than 30 players signed and waiting for the start of training camp in February. The Bucks will host an open tryout on Dec. 7, giving other free agent players a chance to earn a look when camp opens.
 Miller's emphasis so far has been along the lines.
 "For me, it starts up front," Miller said. "Getting linemen was the No. 1 priority. Being able to protect our quarterback and get to the opposing team's quarterback was the top priority."
 The inability to do both led to missing the playoffs for the first time in (three-year) franchise history. The Bucks had just three sacks and three interceptions all season, while surrendering 21 sacks. That includes a five-sack debacle in a 50-35 loss to Nebraska.
"We're bringing back 10 guys from last year's team that can take us to the next level," Miller said. "Then we're bringing in veterans from other teams and some rookies."
 Returning Bucks were scattered throughout the lineup last season.
 Quarterback Tasleem Wilson has re-signed. The 6-4, 230-pounder threw for 415 yards and seven touchdowns in three games with the Bucks last season. Wide receiver Ricardo Johnson will be in camp after making 13 catches for 100 yards in three games last season.  
You have free articles remaining.
 Defensive end LaTreze Mushatt was second on the team in tackles with 38. The 6-4, 250-pounder had two of the Bucks' three sacks. Deion Carter, a 6-0, 192-yard defensive back made 32 tackles and broke up seven passes.
 Cody Barber will be in camp as a kicker.
 "I wanted to get us a bigger team, a faster team and stronger team all around," Miller said.
 Miller certainly has addressed the bigger and stronger. He is big on 6-4, 300-pound veteran Ken Van Huele. "He played for me in Wichita when we won the (2016 Champions Indoor Football League) championship," Miller said. "He was a starting lineman for Iowa when they won their (IFL) championship in 2018 and last year he went to Arizona but was injured. Getting him as a veteran lineman with championship pedigree was big for us."
 Miller actively sought out 6-3, 320-pound Justin Brown, who finished last season at Cedar Rapids. "He has experience and can play all three spots," Miller said. "Those are big pick-ups for us, as is (6-5, 317-pound) Leon Hill, who was a first-team AAL center last year."
  No team gave up more yards per game and only one gave up more points that the Buck last season. Miller said several factors contribute to that, most of which were addressed by having more time to prepare for the coming year.
 "Two of the coaches coming last year that were veterans had situations within three weeks of training camp couldn't come. We went from a veteran staff to a young staff," Miller said. "I got spread thin trying to overlook everything and we didn't have people in the best position at times. When you have young guys and you're moving up and playing good teams, that could put you in a bind. This year we have veterans and we have some quality defensive backs.," Miller said.
 That includes Carter, former North Dakota State Bison Darren Kelley (6-1, 200), who was hurt after one game last season and Marcus Green (6-2, 190) played at the University of Oklahoma as a red-shirt freshman and sophomore. "Getting somebody with that pedigree will be good for us," Miller said.
 While IFL rules allow for Miller to invite up to 40 players, Miller said he will likely invite 36 and will have to cut down to 25.
 "Knowing you have to cut down to 25 and that these guys don't make a lot of money, I don't want guys to leave their families and come all the way across the country and leave their jobs for a two-week training camp," Miller said.
NOTES
The IFL has grown by two teams with Oakland Panthers and Spokane Shock joining the league … Open tryouts will be held in the Fore Seasons Golf Dome Dec. 7 from 1-5 p.m. … The Bucks will have an informational kiosk in Kirkwood Mall through the holiday season.