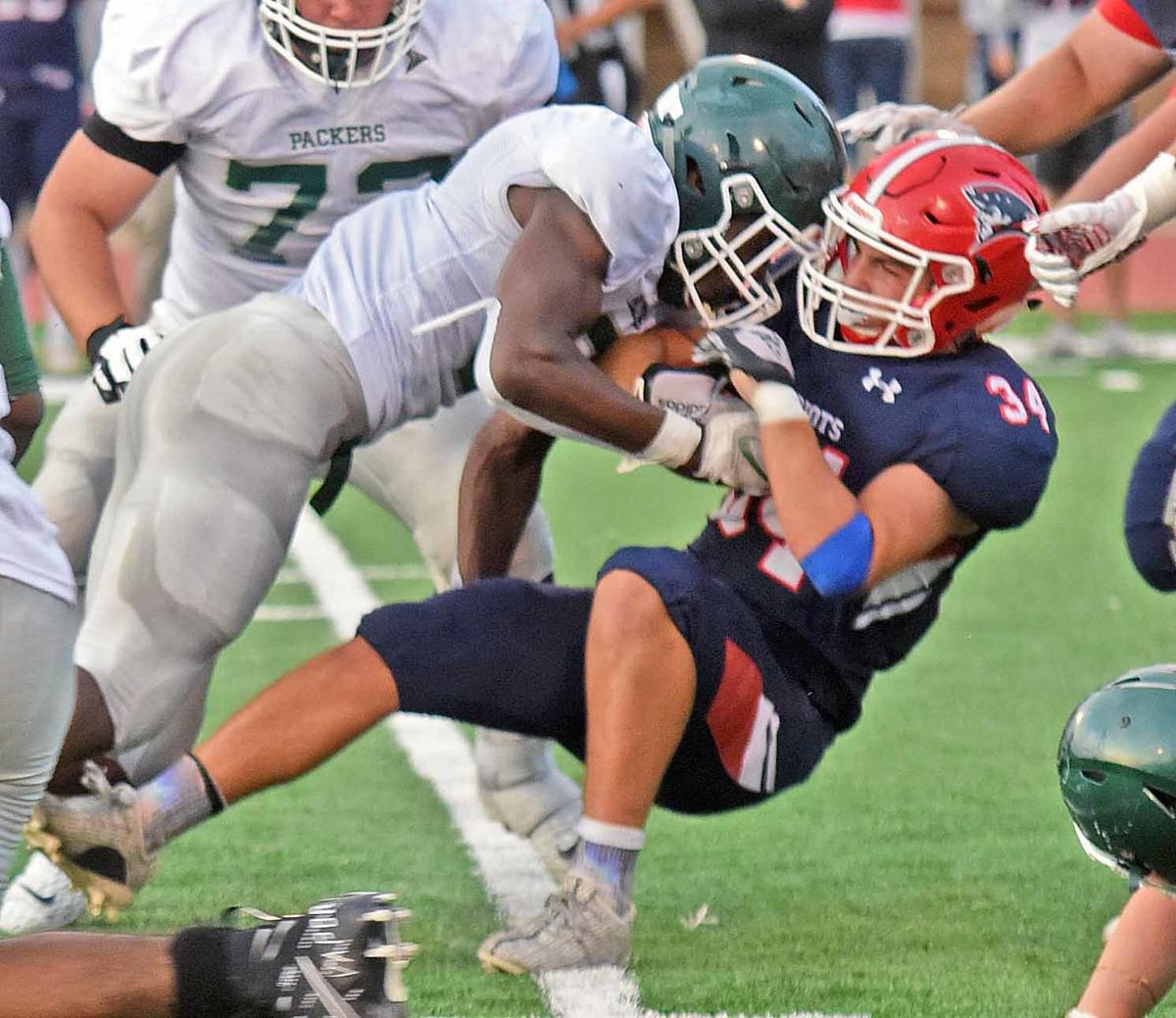 Running back Cade Garcia expects Century's offensive line to shine many a night this season.
Friday night was one of those nights.
The No. 1-ranked Patriots rushed the football 51 times for 259 yards and four touchdowns in a convincing 31-0 Class AAA non-region victory at the MDU Resources Community Bowl. Garcia led the way, rushing for 110 yards and three six-pointers on 20 carries. Quarterback Cade Feeney and running back Grant Anderson added 66 and 60 yards, respectively, for the Patriots, who improved to 2-0 overall.
"It's exciting getting to play behind those guys this year. We believe we have the best offensive line in the state," said Garcia, a 5-foot-11, 185-pound junior. "We have so much confidence in them. They can take over games, just like they did tonight."
Century's defensive front had a big night, as well. The Packers, 0-2, netted only 12 yards on 26 attempts.
"We're strong up front on both sides of the football," said Century coach Ron Wingenbach. "We gave up some yards early on, but our defensive front got stronger and stronger as the game went on. We knew going into the season that our offensive and defensive lines would be among our strengths. Tonight they showed it."
The Patriots took command after a hard-fought first half that ended 10-0 in their favor. Wade James' 35-yard field goal with 10:24 remaining in the second quarter put Century on the board. After a West Fargo turnover, Feeney capped a 16-yard drive with a 1-yard keeper. The Packers' only threat stalled on the Century 29-yard line after 13 plays.
Garcia scored all three second-half touchdowns for the Patriots. The first, a 1-yard plunge, finished off an 11-play, 54-yard drive with 6:01 left in the third quarter. His 7-yard run capped a 9-play, 48-yard march 1:22 into the fourth quarter. Garcia's 11-yard burst with 6:44 remaining set the running clock in motion.
"Our offensive line just wore them down in the second half," Garcia said. "They work so hard getting ready for games. If we have a lead late in the game, we know we can keep moving the ball and running the clock."
The Patriots will take on Legacy on Saturday.
Be the first to know
Get local news delivered to your inbox!