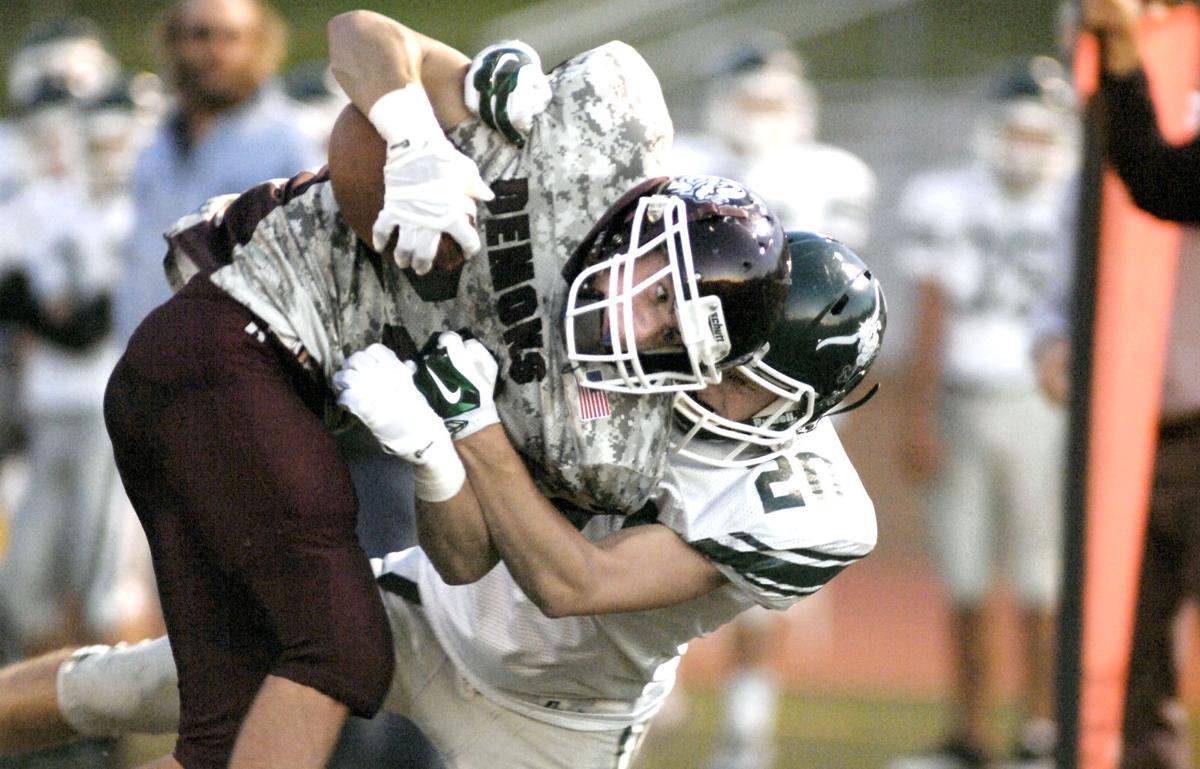 The Bismarck Demons started well and finished with a flourish Friday night.
And they needed every bit of it.
After letting a 14-0 lead get away in the third quarter, the Demons took control in the final period. BHS put together the only scoring drive of the quarter to defeat West Fargo 21-14 in nonconference football at the Community Bowl.
Quarterback Hayden Gibson scored what proved to be the game-winner with 5:38 to play, bulling into the end zone from 2 yards out to break a 14-all tie. Hunter Johnson's kick put Bismarck up 21-14.
Defensive back J.D. Tollelfson applied the clincher in the next series, picking off a Creighton Pfau pass to close down a Packer drive that had reached the BHS 37-yard line.
Pfau intercepted the ball at the 24-yard line and returned it to the 29 with 1:34 remaining on the clock. The Demons ate up the remaining time in five plays to improve to 2-0 on the season.
"It was pretty much me and the tight end out there and it was my job to defend him," Tollefson said of his key interception. "… He had run that route on me a couple of plays before. I thought the quarterback was going to scramble, but I stayed with my man. The quarterback looked my way and threw. I made a break on it. I was in perfect position and all I had to do was step in front of the guy and make the interception."
A pair of turnovers proved costly to the visiting Packers as Bismarck scored twice in the second quarter.
The game was scoreless when the Packers fumbled the ball away at their own 45 early in the second period.
Bismarck ate up the 45 yards in nine plays, junior tailback Jaxon Ford darting wide to the right to score from five yards out with 7:42 to play in the quarter.
West Fargo's second fumble began as a big gainer, Pfau hitting Tanner McKinnon for a big gain. But a BHS defender stripped the ball, enabling Dalton Sanders to recover at the BHS 13.
The Demons turned that unpromising outlook into a touchdown, marching 87 yards in 18 plays. Gibson hit Seth Siverson from 5 yards out for Bismarck's second score with :20 left in the half. Johnson kicked his second conversion and BHS led 14-0 at halftime.
West Fargo shaved that lead away promptly after intermission, scoring twice in less than seven minutes.
Ewan Jones recovered as Ford fumbled the ball away in Bismarck's first possession of the second half. That set the Packers up at Bismarck's 33.
Three plays later, Isaiah Helland-Davis broke away for a 17-yard scoring run. Pfau connected with Joshua Pistorius for two more points and the Packers trailed just 14-8.
Bismarck went three-and-out in its next possession, and Anthony Nichols returned to the BHS 34. Six plays later, Helland-Davis blasted up the middle to score from eight yards out. Packers coach Jay Gibson again went for two points, but Pfau's conversion pass fell incomplete, leaving the game knotted at 14.
Bismarck coach Mark Gibson said he was proud of the way his team responded when the Packers came roaring back.
"I was proud of the way we played in the first half and I was proud of the way the kids responded to adversity," the BHS coach said. "I was proud of the guys' effort. As long as you have effort, a lot of good things can happen."
Mark Gibson didn't want to sell West Fargo short.
"The underlying factor to everything is that we were playing a very good football team. That was a very good high school football game," he said.
Jay Gibson was encouraged by the way his team fought back.
"We showed character," he said. "… We tied it up with a short field twice and that's a good thing. … We came back in the Minot game (a season-opening loss), so that's good stuff."
The West Fargo coach said another positive sign was the way the Packers fought BHS nose-to-nose.
"Bismarck is really physical and we were physical tonight, too," Jay Gibson said. "That was a good sign."
Rushes-yards 27-133 44-168
Penalties-yards 7-55 5-40
B – Jaxon Ford 5 run (Hunter Johnson kick), 7:42.
B – Seth Siverson 5 pass from Hayden Gibson (Johnson kick), :20.
WF – Isaiah Helland-Davis 17 run (Joshua Pistorius pass from Creighton Pfau),
WF – Halland-Davis 8 run (pass failed), 5:25.
B – Gibson 2 run (Johnson kick), 5:38.
Rushing: WF – Sam Olsen 12-69, Isaiah Helland-Davis 7-51, Creighton Pfau 7-11, Jacob Hoy 1-2. B – Jaxon Ford 25-121, Dalton Sanders 9-39, Hayden Gibson 7-7, Noah DuBord 3-1.
Passing: WF – Pfau 9-15-1, 131 yards. B – Gibson 14-19-2, 115 yards.
Receiving: WF – Tanner McKinnon 3-73, Joshua Pistorius 3-34, Anthony Nichols 3-24. B – Seth Siverson 3-35, J. Ford 3-35, Jon Tharaldsen 5-21, Connor Hellebust 1-13, DuBord 2-11.
Records: West Fargo 0-2 overall; Bismarck 2-0.