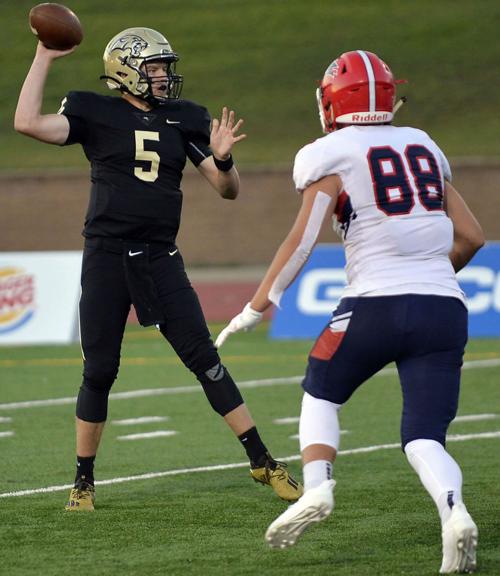 Century may have started a little slowly this season, but the Patriots have officially kicked it into gear.
Eyes were raised after Minot (1-4) took the defending Class AAA champs down to the wire at the end of September, but since then order has been restored.
In their last two games, the Patriots have scored 116 points, while their opponents have scored zero. That includes a 45-0 sleeper hold the Patriots put on previously 4-0 Jamestown on Friday.
Thomas Jeske, starting defensive end and tight end for the Patriots, said confidence never dropped within the Century walls.
"Just going hard on every play and making sure we're assignment-sound and tackling well, those were the main things on defense," the 6-foot-3, 215-pounder said. "On offense, just executing assignments, being on the right guys. Being smart situationally when things arise and making sure we're doing the little things right."
The Patriots were expected to dominate the trenches this season. Jeske and offensive linemen Andrew Leingang, Camden Schwarzkopf, Brody Toten, Lucas Schweigert and Tristan Wilson are paving the way for the Patriots' power ground game, which is averaging 245 yards per tilt.
Cade Garcia has run for 561 yards and 10 touchdowns. Peyton Arndt is breaking off 14.6 yards per rush on 18 carries.
Jeske said practice reps are where it starts.
"We have a lot of depth and competition at practice. That helps everybody get better," he said.
The Patriots are still trying to get the passing game on track. Century has 17 completions in five games, two of them going to Jeske.
"We're working on the passing game," Jeske said. "We'll keep getting better."
Defensively, Jeske has two sacks, one behind Kansas State-bound Leingang, who leads with three. Jeske, who also is a thrower for the CHS track and field team, has drawn attention from college programs. Dickinson State and Valley City State have shown steady interest with MSU-Moorhead of the NSIC entering the fray lately. He's not sure which side of the ball he would end up on.
"I'm definitely interested in playing college football," Jeske said. "I'm undecided on a career. We'll just have to see how it goes."
It's been an unorthodox senior year already. Having in-person classes only two days a week has been an adjustment for all Bismarck Public School students.
"It's really different from normal," Jeske said. "You have two different schedules, so you just try to get used to it the best you can."
The football season has mirrored the academic slate in its quirkiness. Century went 22 days between games from Sept. 4 to Sept. 26. This week, three of the four West Region games will be played on Thursday. Century hosts Dickinson (1-4) at 7 p.m. at the Bowl tonight. The following week, everybody plays on Wednesday (Oct.21), including the marquee West Region matchup of the season – No. 3 Bismarck (5-0) vs. Century (5-0).
Jeske said the Patriots are taking it day by day.
"It's been strange with all the Covid stuff, but we've been doing pretty well at distancing and making sure we're following the rules," he said. "To keep playing this season, we have to be smart about everything, so that's what we're going to do."
Be the first to know
Get local news delivered to your inbox!