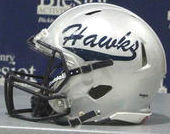 How many times has a Dickinson State quarterback thrown for 524 yards in a game? Never.
 How many times has a Dickinson State football team been held to just two rushing first downs in a game? Likely never.
 In a game that kept the Blue Hawks' NAIA playoff chances alive, senior quarterback Hayden Gibson shattered school passing records for the second time in a matter of weeks. This time, the Bismarck High grad completed 40 of 67 passes for 524 yards and four touchdowns in the Hawks' 30-28 North Star Athletic Association win against Waldorf University.
  DSU coach Pete Stanton didn't want to throw that much. It was more a necessity than a choice as the Hawks played catch-up all game and took their first lead on Jeremiah Paine's 42-yard field goal with just five seconds left. The Warriors held the Hawks' to just 63 yards on the ground.
 "It was a situation where they were loading up the box and giving us looks that made it tough to run the ball inside. Obviously, we ended up throwing it a lot," Stanton said. "You don't always like to throw it that many times but that's the way the game worked out."
 Two weeks ago, Gibson had set the school record with 401 passing yards in a 42-21 win over Presentation College. That broke his previous record of 380 yards.
You have free articles remaining.
 Gibson has completed 191 of 297 passes for 2,376 yards and 24 touchdowns with one game left in the regular season. He holds the single-season touchdown record of 28 set last year.
 On the receiving end of most of those passes has been junior Tyger Frye. Against Waldorf, Frye shattered the record for catches in a game (10) he had held with Dave Ouellette. Frye had 16 catches for a school-record 194 yards. That broke Eric Boettcher's 26-year-old record of 192 yards. Freshman Noah Sickler had eight catches for 180 yards.
 With 60 catches for 682 yards, Frye is closing in on his record for receptions of 67 set last season.
  The game-winning drive against the Warriors was something Dickinson State wasn't able to pull off the previous week in a 23-22 loss to Valley City State.
 "We had a two-score lead with 12 minutes left," Stanton said. "We just didn't do a very good job of finishing in that game. They took away our run and we weren't able to hit enough plays. We did a good job of coming back and having one of our best days in school history as far as yardage."
 Dickinson State (7-2 overall, 5-1 NSAA) is ranked 20th in the latest NAIA poll. Valley City State also is 5-1 in conference play heading into Saturday's game against Waldorf. The Warriors beat the Vikings 37-17 earlier in the season.
 The Hawks conclude the regular season at home against Mayville State, a team they beat 79-14 earlier this season. DSU had 615 yards of total offense in that game, setting a scoring record in the process.
 "If we win, we'll get share of our fifth straight conference title," Stanton said. "If Valley City wins and gets in the top 20, they'll get the playoff bid. If we win, and Valley is not in the top 20, then we would get it. We just have to take care of business like we did last weekend."