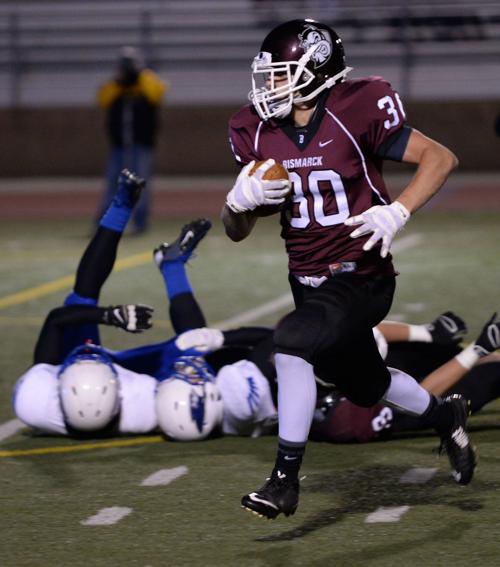 The Jamestown Blue Jays' hopes of beating Bismarck blew up on the launch pad Friday night. And Jaxon Ford lit the fuse.
Ford scored four first-quarter touchdowns in a span of 7:28 to launch Bismarck to a 63-14 West Region football victory over Jamestown at the Community Bowl.
Unbeaten and second-ranked Bismarck improved to 5-0 with the victory.
Jamestown, which entered the game with just one loss, never recovered from the first-quarter explosion, falling behind 50-0 by halftime. The Blue Jays trailed 57-0 before putting their first points on the scoreboard.
Ford credited the BHS defense for taking the wind out of Jamestown's sails at the outset.
"They came out right away in (Jamestown's) first drive and made a statement," Ford said. "It makes it a lot easier to score when you get the ball at their 30 or 40."
The Demon defense completely shut down the Blue Jay attack in the early going. Jamestown's first-quarter possessions garnered just two first downs and resulted in four punts. As a result, Bismarck's scoring drives began at the BHS 48 and the Jamestown 30, 25 and 32.
Lucas Butts, a 205-pound sophomore nose guard, was a big part of that defensive show. He finished the night with two tackles, a sack and two fumble recoveries, the second of which resulted in a 40-yard touchdown.
"I saw (kickoff return man Andrew Hornung) was holding the ball loosely. I knew I had an opportunity to strip it and I kind of went with it," Butts said.
Butts ripped the ball from Hornung's hands and had clear sailing to the end zone for the final BHS score.
Ford also chalked up a special teams TD, hauling the second-half kickoff 82 yards to give the Demons an eight-touchdown advantage.
Bismarck coach Mark Gibson said it was a delight to watch his offense, defense and special teams all function at a high level.
"I credit the defense, the special teams and the offense. All three phases were clicking early ... and Jamestown had no idea what hit them," Gibson said.
"A big part of it was the coin toss. (Jamestown) chose to receive into the wind and we had a lot of short fields early," Gibson added.
Indeed, Bismarck had mounted just 139 yards of total offense and totaled just six first downs in building its 28-0 first-quarter lead. At one point the Demons scored three TDs in the span of four offensive plays.
Ford said the foundation of Bismarck's spectacular showing against the Blue Jays was built on the practice field.
"We've been putting in a lot of hard work ... and Friday is kind of like your payday, you know?" he said. "It helps a lot when everyone comes out flying right away."
That includes Ford's wing men in the offensive line.
"I'd like to give credit to the offensive line. They made it a lot easier tonight," he said.
Field position spoke volumes about the blowout. Bismarck outgained the Jays just 237-190 and had just an 11-8 edge in first downs.
Ford finished the night with 128 yards in eight carries. Ben Hanson paced Jamestown with 108 yards in 19 carries.
Of course those totals were influenced by Gibson's decision to pull the plug at halftime. BHS stripped most of its starters from the lineups in the second half.
Jamestown coach Tim Fletcher was impressed with Bismarck's precision and disappointed in his team's preparation.
"What Bismarck ran at us was plays we've seen all year. They out-executed us in every facet of the football game in the first half," Fletcher said.
"I think it was pretty clear we didn't come physically and mentally ready to play," he added.
Bismarck hits the road next week to take on Minot. Jamestown's next test is a home game with fourth-ranked Century.
Penalties-yards 8-60 2-25
B – Jaxon Ford 39 run (Hunter Johnson kick), 8:09
B — Ford 18 run (Johnson kick), 4:34
B — Ford 25 run (Johnson kick), 2:07
B — Ford 32 run (Johnson kick), :41
B — Noah DuBord 6 run (Johnson kick), 11:23
B — Jon Tharaldsen 8 pass from Hayden Gibson (Johnson kick), 5:07
B — Dalton Sanders 24 run (Johnson run), 2:59.
B — Ford 82 kickoff return (Johnson kick), 11:47
J — Ben Hanson 6 pass from Ross Monson (Hanson kick), 11:51
B — Lucas Butts 40 fumble recovery (kick blocked), 7:55
J — Andrew Hornung 23 pass from Monson (Hanson kick), 2:26
Rushing: J – Ben Hanson 19-108, Andrew Hornung 4-11, Nolan Love 5-6, Matthew Hust 1-0, Ross Monson 7-minus 18 . B – Jaxon Ford 8-128, Dalton Sanders 5-44, Nick Hagen 7-12, Noah DuBord 2-5, Carter Strand 1-5, Hayden Gibson 2-3.
Passing: J – Monson 6-18-1, 69; Paxton Mewes 1-1-0, 14. B — Gibson 5-10-0, 39.
Receiving: J – Hanson 3-25, Logan Anderson 1-26, Hornung 2-18, Cameron Gilbertson 1-14. B — Jon Tharaldsen 3-19, DuBord 1-13, Brayden Thomas 1-7.
Interceptions: B — Sanders.
Records: Jamestown 2-2 West Region, 4-2 overall; Bismarck 3-0, 5-0.