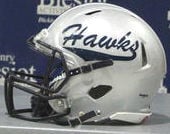 With the start of the North Star Athletic Association season just one day away, Dickinson State football coach Pete Stanton is thinking a lot about what is in camp and what is not.
 Like every other college football coach in America, Stanton is dealing with the COVID-19 virus and quarantining of players who may have been exposed.
 In any other year, his biggest concern would be replacing record-setting quarterback Hayden Gibson, whose arm was instrumental in the Blue Hawks' recent postseason appearances.
 Stanton says his focus is on the players and getting ready for Saturday's opener at Dakota State.
 "It hasn't been seamless, but we've been able to navigate through," Stanton said. "It certainly has had an impact."
 Stanton said the five-time defending conference champion Blue Hawks have had to adjust the way they practice.
"Just the way we've changed the practice structure and going more to small groups and spreading out our meetings," Stanton said. "I have to give credit to our players, they've done a real good job of taking care of themselves."
 Stanton said it's a given that the Hawks will have to deal with COVID-19 during the season and they have protocols in place for dealing with players who are unavailable week to week.
"We're going to have that situation every game," Stanton said.
 The NAIA is helping with the depth issue, allowing players up to five games without it costing them a season of eligibility.
"It'll be like a bonus for them and us," Stanton noted.
 Stanton's focus can now return to the field and finding a quarterback to replace Gibson, who holds game, season and career records for pass completions (40, 224, 705), pass attempts (63, 361, 1,128) and passing yards (524, 3,003, 9,397), plus season (29) and career (90) touchdown passes.
 His replacement? Either junior Drew Boedecker (6-3, 205) or redshirt freshman Aaron White (6-2, 203).
 Boedecker has appeared in two games in his career, completing both of his two pass attempts, one for a touchdown. Not having spring ball made it tougher than it should have been getting a new quarterback ready.
 "Drew Boedecker is going to start for us," Stanton said. "He's been around the program a long time. He's paid his dues. We think he's ready to go."
 Two players hoping for that are senior receivers Tyger Frye (5-11, 170) and Jaret Lee (6-0, 180). Frye was first-team all-NSAA after catching 72 passes for 845 yards and seven touchdowns. He has game (16), season (72) and career (166) receptions records and holds the team mark for receiving yards in a game with 194.
 Lee hauled in 31 passes for 561 yards and eight touchdowns.
 "We're going to have to get the ball into Tyger's and those other receivers' hands, be creative and make sure we're smart. You've got guys like Tyger and Jaret, big playmakers, those are guys we have to be able to utilize," Stanton said.
 The running back corps basically complemented Amad Andrews last season. This year, sophomore Alec Lovegren (5-9, 190), senior Derek Tabor (5-10, 185) and freshman Braden Zuroff (5-11, 195), a transfer from North Dakota State, will do the brunt of the work.
 Lovegren ran for 293 yards and four touchdowns and Tabor 233 yards and a score last season. Sophomore Riley Linder (5-10, 205) gained 221 yards and scored five touchdowns.
 "We have good depth at the running back position and have good offensive linemen back as well," Stanton said.
 The anchor to the offensive line is all-NSAA senior center Drew Heiser (6-2, 255) and all-NSAA junior guard Blade Miller (6-0, 255). Joining them up front is honorable mention all-NSAA senior tackle Matt Day (6-0, 275).
 Defensively the Hawks were third in the NSAA in total defense and scoring defense last season.
 Senior linebacker Nick Miller (6-1, 200) is the team's top returning tackler with 41 stops, including 3.5 tackles for loss. Junior linebacker Jared Smith (6-1, 200) was a disrupter in the backfield with 33 tackles, 9.5 tackles for loss and 4.5 sacks.
 Senior all-NSAA nose guard Presley Piliati (6-1, 285) anchors the defensive line. He's coming off a season of 30 tackles and 5.5 tackles-for-loss.
 "The big question mark is going to be in the secondary. We lost four seniors," Stanton said. "We think we have some pretty good athletes back there but they are really untested."
 Again, without spring football, the players have had few reps other than the snaps they've had in past seasons.
 "It's been a work in progress," Stanton said. "We have guys who played before, they just weren't starters. It's more just a communication thing."
 Returnees include senior Justin Tauaefa (6-2, 225), who missed much of last season to injury and came back to finish with 16 tackles. Junior Javonte Oliphant (6-0, 170) had two tackles.
 "We've had guys who played, they just haven't been our everyday guys," Stanton said.
Be the first to know
Get local news delivered to your inbox!