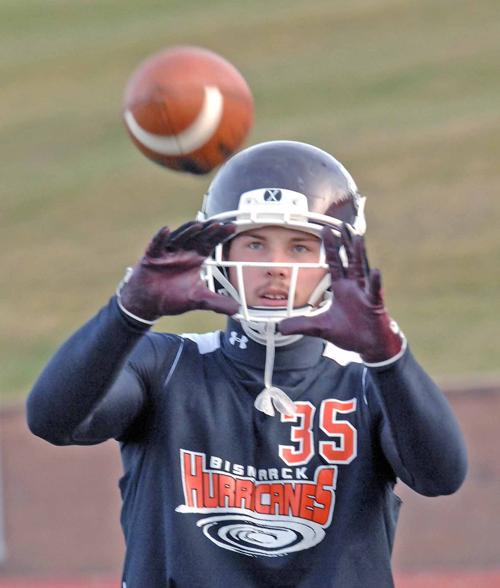 Taken as a novel, Bismarck Demons senior Jon Tharaldsen thought the 2013 football season was really tacky.
The book was great until the plot twist in chapter 12. The undefeated Demons lost the state AAA championship game to Fargo South.
"The way the season ended last year left a bitter taste," said Tharaldsen, a 6-foot-2, 220-pound wide receiver. "... But that's definitely provided motivation for our senior class to push harder this year."
"We wanted to get back there (to the championship game)," Tharaldsen added. "We knew it would be a tough road to get there. We worked really hard in the offseason ... and we've worked really hard in practice."
BHS has trod that tricky path well, going 9-0 to reach the state semifinals. The only obstacle that remains between the top-ranked Demons and the Dakota Bowl is Minot.
Bismarck and unranked Minot do business tonight at 6:30 p.m. in the state semifinals at the Community Bowl. Fargo Davies, ranked second, and No. 4 Fargo South meet tonight in the other semifinal.
Bismarck won the first encounter with the Magicians 50-14 at Minot, but Tharaldsen hardly acknowledges that game. He says Minot, 6-3, is going to one tough hurdle to clear.
"That game was definitely closer than the score shows. This Minot team is no joke," Tharaldsen said. "We're preparing for them hard."
What the final score doesn't show is the total yardage for the game was a near-standoff — 419 yards for BHS to 407 for Minot. The Magicians had a 262-234 edge in rushing yardage and ran 59 plays to Bismarck's 60. Tharaldsen said the blowout-type score resulted from defense and big plays.
"Our defense came up with some big stops in the red zone, we had a kickoff return for a touchdown and we had a pick-six at the end of the game," he recalled.
BHS head coach Mark Gibson backed his big wideout on all counts.
"We had some big plays," Gibson said. "Anybody who thinks we're just going to walk out there and dominate things is crazy. Anyone who was at that game (in Minot) knows it wasn't a 50-14 game."
Bismarck is shooting for an eighth straight trip to the Dakota Bowl. The Demons have won four of the last seven state AAA championships. Minot last reached the finals in 2006.
Tharaldsen has had his trips to the mountain top as a maroon-clad athlete. He's contributed to three state championships as a thrower in track and field, winning back-to-back state shot put titles and finishing second last spring in the discus.
Last winter he started on the Bismarck team that placed sixth in the state Class A basketball tournament.
He played only on special teams when the Demons won their last football championship in 2012. But he wants to win as a senior, the team with which he's most likely to be identified. And it's about time.
"This is my 10th year of football," he said.
Because of his size, Tharaldsen played in the line in the youth football leagues and at Wachter Middle School.
"My sophomore year was the first year I was a wide receiver," he recalled.
Even then, he played mostly outside linebacker on the junior varsity team.
Last fall he made a big splash on offense, leading the West Region with 729 receiving yards on 33 catches, 11 of them for touchdowns.
This season his receiving role has diminished with 25 catches for 319 yards and seven scores. However, his contributions elsewhere are on the rise.
He's been used as an outside linebacker in short-yardage situations, and there's always blocking that needs to be done on offense.
"I've gotten double-teamed a lot more this year, which opens up other players on the team. When there are open receivers you've got to go to them," he said. "No matter who gets the ball, we're confident in them."
Blocking may not be a high-profile pursuit, but Tharaldsen said it's really a receiver's primary task.
"Blocking is a major part of the game because as a receiver you're not going to get the ball on every play," he said. "... I'm a slot back a lot and there blocking is important because you're an extra lineman. You have to help block a defensive tackle or go to the second level with a linebacker."
Tharaldsen said his opportunities on defense are limited, but he relishes those downs.
"I come in when there's an opportunity to rush the quarterback," he said. "It's definitely a fun experience for me. It has a whole different feel than offense."
Thus speed — 4.6 in the 40 — figures in Tharaldsen's game on both sides of the ball.
"I guess the backs are a little faster than I am, but I've always been fast. I've done things in the summer to work on my speed," he said. "Speed is important to me as an athlete in football, basketball and track."
Tharaldsen said if Gibson told him tonight that he was going to play only defense he wouldn't bat an eye.
"I just love playing football no matter where I'm at on the field," he said.
There's a possibility that Tharaldsen may play his final football game tonight. A fortnight ago he committed to the University of Minnesota as a track and field athlete.
He said he was recruited by UND and NDSU for football, but decided to cast his lot with track.
"There are good opportunities for me academically, and the last couple of years they've been rated the top throwing team in the nation," he said. "They have really good coaches and really good resources. And I'll also be close to home."
Tharaldsen said he loves both football and track, but he figured his upside was greater in the throws.
"I really want to see what I can do. I think I have a high ceiling as a thrower and I want to see how far I can go with it," he said.
Bismarck tops the West Region in scoring offense (49.9), rushing offense (285.9) and yardage offense (409.6). BHS is No. 4 in pass offense (123.7). The Demons lead the way in scoring defense (12.3), rank second in rushing defense (107.9), third in yardage defense (253.2) and seventh in pass defense (145.3).
The Demons have been highly aggressive on defense with 28 takeaways compared to eight turnovers.
Minot sits second in rushing offense (191.2) and yardage offense (315.4) and third in scoring offense (24.0) and pass offense (124.2). Defensively, the Magicians rank first in rushing defense (84.7) and yardage defense (210.7), second in scoring defense (15.6) and fifth in pass defense (126.0).
Gibson said the statistics are in no way indicative of Minot's talent. He said the Magicians' 24-8 upset of third-ranked West Fargo in the quarterfinals is a better indicator.
"They're that good. They're a topflight football team. They're good in all three phases of the game and that makes them a very dangerous team," Gibson said.
Fargo Davies 31, Dickinson 14
Fargo South 62, Century 46
Bismarck 35, Grand Forks Red River 7
Minot (6-3) at Bismarck (9-0), 6:30 p.m.
Fargo South (8-2) at Fargo Davies (9-1), 7 p.m.
Offense: 1. Bismarck 49.9 points per game. 2. Century 27.9. 3. Minot 24.0. 4. Jamestown 20.5. 5. Dickinson 16.6. 6. Mandan 14.7. 7. Williston 7.6.
Defense: 1. Bismarck 12.3 points allowed per game. 2. Minot 15.6. 3. Jamestown, 20.9. 4. Dickinson 24.1. 5. Mandan 26.6. 6. Century, 32.3. 7. Williston 34.7.
Rushing: 1. Jaxon Ford, B, 149-1,263. 2. Karter Gorney, Min, 186-1,071. 3. Chris Kraft, C, 153-916. 4. Kass Dvorak, D, 140-583. 5. Nick Miller, Man, 123-569.
Passing yards: 1. Chris Kraft, C, 76-150-6, 1,245. 2. Ross Monson, J, 70-171-6, 1,159. 3. Hayden Gibson, B, 81-131-2, 1,113. 4. Ben Bolinske, Min, 78-152-5, 1,108. 5. Jake Carlson, Man, 70-169-7, 841.
Touchdown passes: 1. Hayden Gibson, B, 19. 2. Chris Kraft, C, 14. 3. Ross Monson, J, 11. 4. Ben Bolinske, Min, 8. 5. (tie) Jake Carlson, Man, and Andrew Heckaman, D, 6.
Receiving yards: 1. LeCarl Branch, W, 33-497. 2. Cyril Nagurski, C, 15-404. 3. Logan Anderson, J, 16-402. 4. Adam Geiger, C, 28-374. 5. Brayden Lund, Min, 30-348.
Total offense: 1. Chris Kraft, C, 2,161. 2. Ben Bolinske, Min, 1,413. 3. Jaxon Ford, B, 1,263. 4. Ross Monson, J, 1,245. 5. Hayden Gibson, B, 1,146.
Scoring: 1. Jaxon Ford, B, 134. 2. Chris Kraft, C, 92. 3. Karter Gorney, Min, 78. 4. Dalton Sanders, B, 66. 5. Cyril Nagurski, C, 64.
Field goals: 1. Ben Hanson, J, 5. 2. Tony Kostelecky, D, 2. 3. (tie) Payton Schafer, Man, and Mason Hoffer, Min, 1.
n NOTE: Statistics for Mandan's game with Fargo South are unavailable.
Offense: 1. Fargo South 44.9 points per game. 2. Fargo Davies 35.0. 3. G.F. Red River 31.0. 4. West Fargo 29.3. 5. W.F. Sheyenne 22.7. 6. Devils Lake 21.1. 7. Fargo North 14.8. 8. G.F. Central 10.3.
Defense: 1. West Fargo, 11.0 points allowed per game. 2. Fargo Davies 21.3. 3. Fargo South 25.4. 4. G.F. Red River 25.5. 5. Fargo North 32.9. 6. G.F. Central 36.4. 7. Devils Lake 37.2. 8. W.F. Sheyenne 38.6.
—Compiled by Steve Thomas