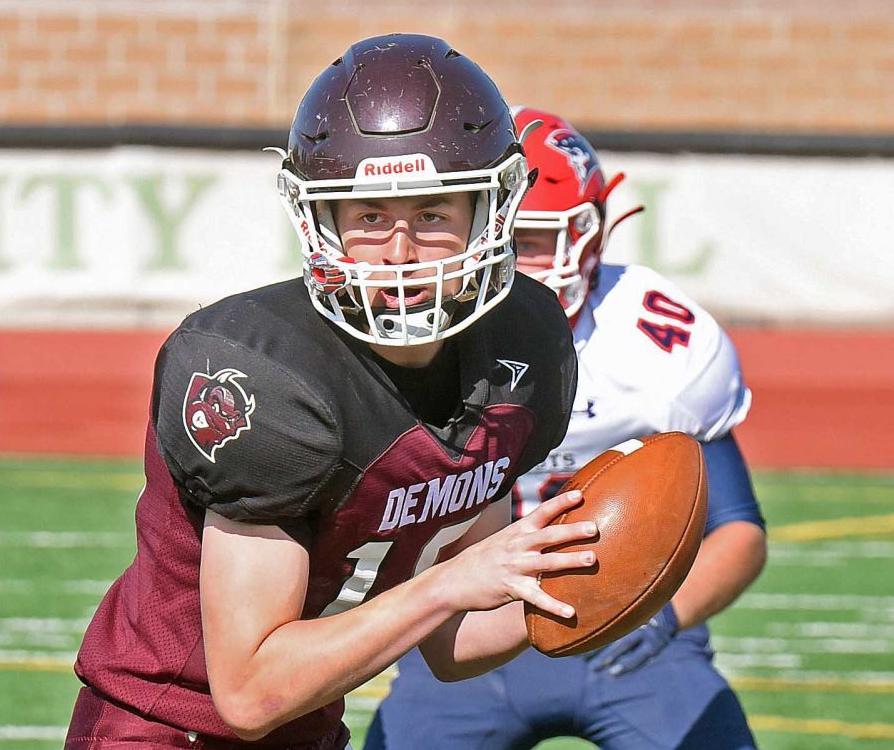 Using comparative scores has gotten a bad name when it comes to evaluating athletic teams. But ...
Bismarck struggled past Mandan 28-22 in last week's football opener. On the other side of the state, Fargo Shanley mowed down Fargo Davies 34-0.
 Shanley is Bismarck's next opponent, and BHS head coach Mark Gibson says The Deacons are every bit as imposing as the opening-week scores would suggest.
 "This week is going to be a true measuring stick to see where we are. ... Our kids will see what we need to do to play at that level," Gibson observed. "I'm very impressed by Shanley in all phases of the game. ... From what I've seen, they're head and shoulders above all the other teams in the state." 
 Reigning state champion Century, meanwhile, racked up its 23rd straight win, 19-7 at the expense of Legacy. Next up for the Patriots is a long Friday bus ride to Williston.
 Gibson said he wasn't surprised a the way Shanley took apart Davies in its opener.
 "(Shanley) returned something like eight starters on offense and six or seven on defense, and it shows. They're very polished. ... Teams like us are still trying to figure out where we are. This is definitely a giant test for us. ... We'll have to play near perfection and force them to make mistakes."
Under the North Dakota High School Activities Association's new football plan, the 10 AA teams are split into East and West Regions with six teams in the West and four in the East. In the chase for playoff berths, each region has separate standings, with five teams from the West and three from the East advancing.
Thus, Bismarck's Friday night game at Shanley is non-regional, but still has ramifications that will be felt in the postseason.
"We say it's a nonconference game, but obviously it will affect us in the (statistical rating) formula. It's not your normal nonconference game where, if you lose, it's not a big deal. As far as I know, this is something that will count against us or help us, depending on if we win or lose."
Once the eight AA playoff teams have been determined, the pairings will be based on a QRF formula.
"So a (regional) champion could be a No. 3 seed," Gibson pointed out.
As is the case in many opening games, Gibson said the Demons exhibited plusses and minuses against Mandan.
"It was negative how we started and positive how we came out the second half, executed and finished," he said. "The bonus is, as physical as Mandan was against us we came out of it relatively injury-free."
 But not penalty-free. The Demons piled up almost 100 yards in penalties, a lack of focus and discipline that they can ill-afford to repeat.
 "The dumb penalties are all within your ability to control. ... We were very undisciplined, and that's disheartening," Gibson said.
 Century head coach Ron Wingenbach said the Patriots' opening victory over Legacy was a mixed bag of pluses and minuses.
 "Reflecting back, I thought we rallied to the ball pretty well," he observed. "Certainly we have things to improve on, but to come out of our opener with a win and injury-free I think is a big bonus."
 At Williston, an opponent with just four wins over the last three seasons, Wingenbach wants to see more consistency from his offense.
 "No. 1 is just sustainability on offense -- being able to play four quarters instead of one," he said. "We really didn't open our playbook a lot in the first game."
  "I thought (senior quarterback) did a good job throwing the ball. His reads were good. ... There are a couple plays we'd like to have back, but we're really pleased with the improvement he's exhibited all season," Wingenbach said. "We can only build on that."
 There are several other things on Wingenbach's shopping list in week No. 2 in addition to offensive consistency.
 "Let's start with the specialty teams. I think we have a lot to clean up there. ... Offensively, I felt we had some non-focus penalties that we've really got to clean up," he said. "... It's important that we develop depth, and we talked a lot about tackling technique. Those are all correctable things. When we go to Williston we've got to see improvement in those areas."