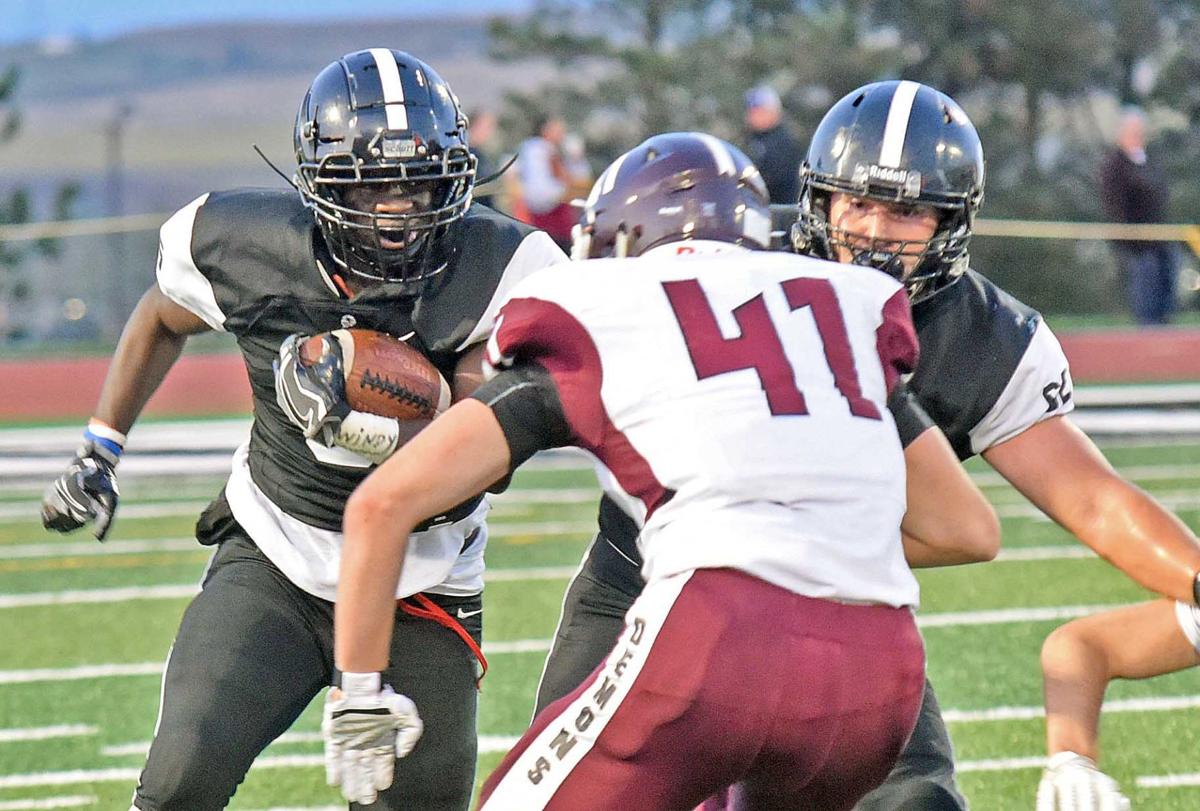 State champion Century has added more glitter to its state championship football season.
 The Patriots placed nine players on the Class AAA all-state football team.
Century, which went 12-0 to the title, placed six players on the first team and three more on the second.
Senior quarterback Cade Feeney, who accounted for 23 touchdowns on the season, was shared first-team QB honors with Legacy senior Rhett Clements.
Feeney threw for 13 touchdowns and ran for 10 more. In all, he totaled 1,996 yards of offense with 1,293 coming through the air.
Century linemen Andrew Leingang and Konnor Stordalen also were named to the first team. Century ran for 2,590 yards on the season and allowed just 898 on the ground.
Linebacker Damon Dixon, who had a team-best 59 solo tackles and 46 assisted stops, earned first-team designation. Lucas Schweigert, a sophomore defensive lineman registered 44 solo tackles and 26 assisted stops, including six sacks, joined Dixon on the first team. Also honored was defensive back Cody Sorenson, who had a team-high five interceptions to go with 29 solo tops and 14 unassisted tackles.
Running backs Grant Anderson and Cade Garcia were named to the second team. Garcia had 19 touchdowns and 1,008 yards rushing. Anderson rushed for 611 yards and four TDs and added 149 receiving yards.
Skyler Riedinger, a two-way standout, also was named to the second team. Riedinger had 608 yards receiving and seven touchdowns. He also had three interceptions from his defensive back spot.
State semifinalist Mandan had six players named all-state.
Senior tailback Austin Frey, who surpassed 1,000 yards, was named to the first team along with senior wide receiver Elijah Klein.
You have free articles remaining.
Defensively, top linemen Jaxon Duttenhefer, a junior, and senior Kobe Poitra were named to the first team.
Senior quarterback Dane Carlson and senior safety Will Kleinknecht were named to the second team.
Bismarck had one first-team selection in senior defensive back Nick Hinsz.
Bismarck Demons sophomore running back Isaiah Huus, who ran for more than 1,000 yards, was named to the second team. Senior linebacker Thomas Colby and junior lineman Caleb Dockter were named to the second team.
Josh Haag, a senior linebacker from Legacy, was named to the second team.
SAINTS PLACE FIVE ON 'AA' TEAM
St. Mary's senior quarterback Drew Dosch, senior offensive lineman Chris Birnbaum and junior running back Cullen Curl were named to the Class AA all-state first team.
The Saints placed two players on the first team defense in junior linebacker Reece Barnhardt and senior defensive back Jaxon Wiseman.
Connor Puetz, a senior linebacker, was named to the second team.
Class AA state runner-up Beulah was topped by senior running back Tryston Miller and senior lineman Korey Rueb on the first team offense. Jacob Klaudt, a junior, was named to the first team defense.
Earning second-team honors for the Miners were sophomore linebacker Trapper Skalsky, junior running back Nate Battest and senior lineman Cade Steffan.
Hazen senior DB Isaac Doll and senior defensive lineman Gabe Pfliger were selected to the first team defense. Senior running back Tyson Van Inwagen was named to the second team.