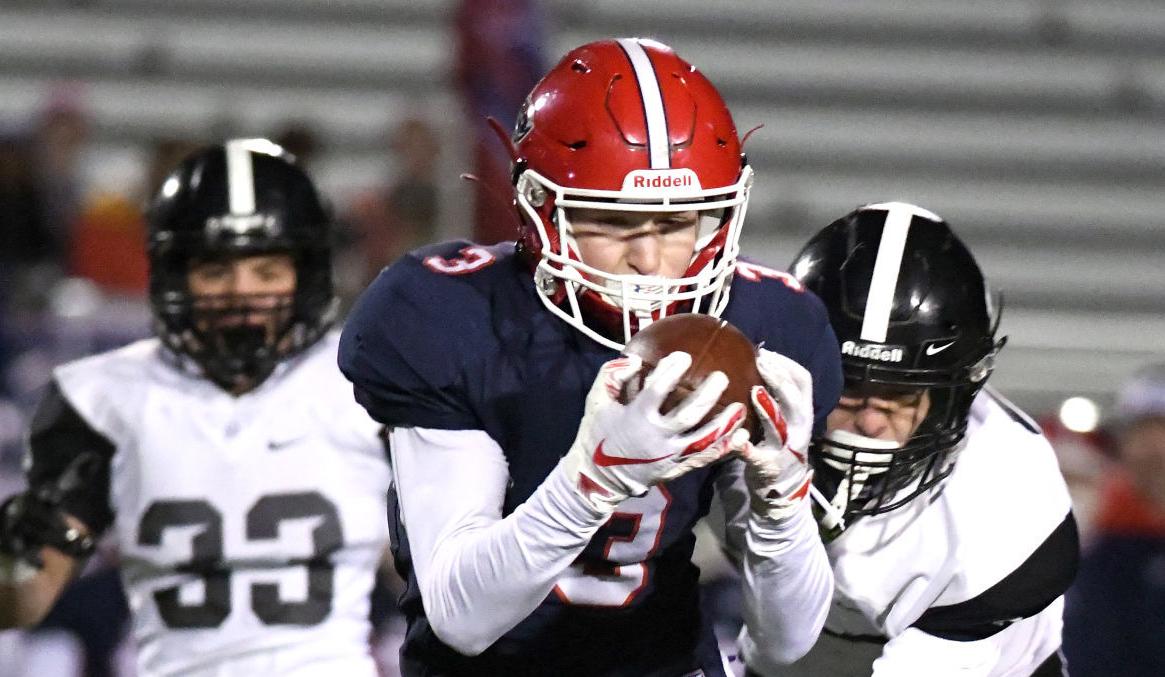 Mandan's best chance to beat Century in Friday's Class AAA semifinals was to play a near perfect game, not just a near perfect fourth quarter.
 The undefeated and top-ranked Patriots forged a 27-0 lead -- mostly on Mandan mistakes -- and held on for dear life to post a 27-21 win over the Braves at the MDU Resources Community Bowl.
 With the win, Century (11-0) heads to the Fargodome next Friday to play West Fargo Sheyenne in the state title game at the Dakota Bowl. It will be the Patriots' third title game appearance in the last four seasons. A win would give Century its first unbeaten season in school history.
 Quarterback Cade Feeney ran for 88 yards and three touchdowns and the Patriots defense stymied Mandan at every turn. Until the final 12 minutes.
  "When we went into the wind for 15 plays and punched one in to go up 27-0, that was critical," Century coach Ron Wingenbach said. "We ate up a bunch of time and got seven out of it."
 Mandan (7-4) fell to the Patriots for the second time this season. It put up much more of a fight this time, especially in the fourth quarter.
  "We got a little bit down on ourselves in the first half and had a negative mentality that flipped over after halftime," Mandan coach Todd Sheldon said. "We got a few things going right. I feel like we would have won this game if we would have had five more minutes."
 If nothing else, Sheldon had a valid argument.
 Century took the second-half kickoff and marched 90 yards in 14 plays to go up 27-0 on Feeney's 5-yard run with 6:04 left in the third quarter. Then it was all Mandan until the final play of the game. The Patriots went three-and-out on three straight possessions and Mandan scored three times.
 With just a half minute to play, Feeney ran a keeper for 11 yards on third-and-nine for a first down that ended the game. Feeney scored on runs of 7, 1 and 5 yards. Cade Garcia had the Patriots' other touchdown on a two-yard run.
 "We need to do a better job of finishing," Wingenbach added. "But I'm not going to put it all on our team. I certainly give Mandan credit as well."
 Century's defensive line of Lucas Schweigert, Austen Hasche, Nick Korom, Andrew Leingang and Damon Dixon dominated the Braves' front. Mandan rushed for just 112 yards.
 Mandan quarterback Dane Carlson struggled along with the rest of the Braves in the first half but he exploded in the last two quarters. Carlson finished the night 13-for-22 for 225 yards and three fourth-quarter touchdowns.
 With 10:29 left, Mandan got on the board on Elijah Klein's 35-yard catch in triple coverage. Jaden Rohrich added the PAT to make it 27-7. Then the Braves' defense held.
 With 5:44 to play, Klein caught a 7-yard fade into the end zone to make it 27-14. The drive was kept alive by a 73-yard Carlson-to-Aaron Riopelle pass on third-and-6 from the Braves' 9. Then the Braves' defense held again.
Mandan then drove 67 yards in 1:47 to score again, this time on a 16-yard pass from Carlson to Jayce Lowman. That pulled the Braves within 27-21 with 2:06 left.
 Mandan needed one more stop and forced the Patriots into a third-and-long. But the Braves didn't have that one more stop. They may not have needed it if they had not gotten off to such a poor start. Mistakes led to Century's first touchdown and cost Mandan great field position on the ensuing kickoff.
 Austin Frey ran for 23 yards and three first downs before the Braves' drive stalled. Mandan did not get another first down on the ground until 1:01 remained in the third quarter. Frey finished with 42 yards on 16 carries.
 Meanwhile, Century's Grant Anderson blocked a Blake Arenz punt and recovered the ball on the Braves' 24-yard line. Feeney capped a short four-play drive with a seven-yard TD run around right end with 5:40 left in the quarter.
 Frey had an ensuing 53-yard kickoff return called back for holding, taking the ball from the Patriots' 47 back to the Braves' 15. Five plays later, an 8-yard punt cost Mandan field position and two possessions later, Century drove 40 yards to go up 13-0 on Garcia's two-yard run.
 Garcia's touchdown followed a missed 24-yard field goal negated by a Mandan offside call that moved the ball to the Mandan 4. Feeney then went to a hard count and the Braves jumped again moving the ball to the 2. So the Patriots went for it on fourth-and-goal and Garcia barreled his way in. James' PAT failed, leaving Century up 13-0.
 Mandan's next possession ended in a sack and a punt. Feeney then completed a 40-yard pass to Anderson down to the Mandan 1 and scored on a one-yard run. Paul Osmond's PAT followed with 5:57 left in the half.
 On the next possession, Mandan moved from its own 32 to the Century 30 -- thanks to two Century personal foul penalties -- before losing the ball on a fumble.
 Century opened the second half and scored what proved to be the game-winning touchdown on a drive that ate up half a quarter.
 Despite some anxious moments, Century did what it set out to do, Wingenbach said.
"We're gonna build on the fact that we're in the W column and we're going to Fargo."
Be the first to know
Get local news delivered to your inbox!