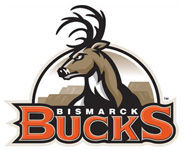 Ten games into the season, the Bismarck Bucks are exactly what their record says they are.
With five wins and five losses, the Bucks have scored 416 points and allowed 411. They're 3-2 in Bismarck and 2-3 on the road. They've won two games in a row twice, and have a pair of two-game losing streaks.
"Well, right now, we're .500 and that's right about where we should be," Bucks head coach Rod Miller said. "We've shown some really good flashes, but also have been inconsistent at times. That's really what we're looking for -- consistency. Playing well for four quarters in all three phases of the game -- offense, defense and special teams. That's the next step we need to take."
Game No. 11, and their second-to-last home game of the season, is tonight at the Bismarck Event Center. The Bucks welcome the Frisco Fighters, who at 6-1 own the second-best record in the Indoor Football League. Kickoff is set for 6:05 p.m.
"It will be a good test for us, but that's every week in our league," Miller said. "Our primary focus is on what we need to do to be successful. It all starts with what we do."
The Bucks are coming off a hard-fought 43-38 loss in Worcester, Mass., against the Pirates (6-3) last week, which turned into the "road trip from hell" with multiple long layovers before finally arriving at the destination.
"You have to be able to fight through adversity, that's part of being a winning team," Miller said. "We're really happy to be back home. We get to sleep in our own beds before the game, so we should be ready to go."
The Bucks have a new look on offense. Previous quarterback Glen Cuiellette took his talents to a league in Germany. Enter Caleb Lewis and Kelly Bryant. Lewis was impressive in his first start last week against Massachusetts. The former Robert Morris University QB threw for 154 yards and three touchdowns. He was also picked off once.
Bryant will be a familiar name to college football fans. Bryant was Clemson's starting quarterback in 2018 before being replace by then freshman Trevor Lawrence. At the time, Clemson coach Dabo Swinney said: "We trust Kelly, we believe in Kelly. Kelly's a great football player. ... He'll continue to help us win."
Bryant eventually transferred to Missouri. Lawrence, of course, was the No. 1 pick in the latest NFL draft.
Miller is high on both QBs.
"These are two talented quarterbacks. Kelly can really run, but he can also throw. Caleb is more of a pocket passer, but can use his feet if he has to," Miller said. "We're really excited about both of these guys. They bring a different dynamic to our team."
Wide receiver JT Stokes provides both quarterbacks with a legit No. 1 receiving option. Stokes has 445 yards receiving and 12 touchdown catches.
"Last year would have been his rookie year but the season got canceled. He's come out this season and played at a really high level," Miller said. "Other teams know about him now, so he's having to adjust to teams being well prepared for him."
The Bucks have an interesting stretch run. After tonight's game, they travel to Tucson July 24 before hosting Green Bay July 30. Road trips await Aug. 7 (Des Moines) and Aug. 21 (Albuquerque), sandwiched around an extra bye week which was created after the IFL had to juggle the schedule when the Louisville Xtreme was kicked out of the league. The Bucks lost a home game in the deal, but Miller sees bright spots in the scenario.
"Getting that extra bye week before we play Duke City and going into the playoffs will be really nice. We'll be able to heal up and get refreshed," he said. "I like the team we have. We're young, and when you're young, you're going to have some ups and downs. Now it's just about getting everybody on the same page and peaking at the right time. We're gonna get there."