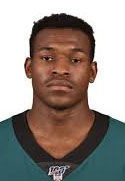 One month from today, Jay Liggins will report to NFL training camp with the Philadelphia Eagles.
After going undrafted in April, the Bismarck High and Dickinson State product was quickly scooped up by the Eagles. Liggins participated in rookie camp, organized team activities and mandatory minicamp the last two months. Where that leaves him going into training camp is uncertain, but one thing seems sure.
"I made it this far, so I guess they like what they see," said Liggins, who is back in North Dakota before returning to Philly next month. "It's been a lot of long days. You wake up at 6 a.m., don't get done till 6 p.m. We only practice about an hour, but it's a lot of meetings and other stuff. Sometimes six hours of meetings in a day."
You'll hear no complaints, however, from the two-time All-American defensive back at Dickinson State.
"It's awesome. I'm out there with guys I've been watching on TV, getting to live my dream," he said.
The 6-foot-2, 200-pound Liggins is the only rookie defensive back on the Eagles' roster. Wearing No. 42, Liggins is lining up against the likes of Zach Ertz, DeSean Jackson, Alshon Jeffrey and Nelson Agholor in practice. 
"Physically, in terms of strength and speed, I don't feel overmatched. It's more the mental part where a lot of these guys have been doing it their whole careers and I'm still learning technique and learning the playbook and stuff like that," Liggins said. "Those guys (Ertz, DeSean Jackson) they're very savvy. They know how to run routes and how to create space.
"I feel like I'm improving and progressing every day. It's just about getting the reps and continuing to improve. I definitely feel like I can compete against those great players."
Liggins went from the college football season at DSU to training in Texas for three months. It's been a long year, but something he's not unfamiliar with.
"In college I was playing football in the fall and competing in track pretty much the rest of the year so physically I'm used to it," Liggins said. "Mentally, it's a little more challenging with the terminology and everything. I do value my breaks and down time a little more time. I just try to relax, take a step back and make sure I'm getting the rest I need."
NFL-wise, the Eagles are the rarest of birds. With Liggins and quarterback Carson Wentz, Philly has two Bismarck boys.
"We had lunch together earlier in the summer when I first got there. It was good," Liggins said of going out to eat with Wentz. "We interact here and there, but there's a lot of stuff going on. There's not a lot of time for small talk."
Back in Dickinson, with occasional trips back home to Bismarck, Liggins is enjoying some down time.
"It's fun to hang out with my friends, just kind of be regular Jay," he said. "I'm working out and training and doing some stuff with my coaches and teammates (at DSU). I have to stay sharp so when the time comes, I'm ready to go."
Most oddsmakers view Philadelphia as a legitimate Super Bowl contender in 2019 with a deep and veteran roster. Carving out a spot on the 53-man roster will be challenging, but Liggins is relishing the opportunity.
"I've worked hard to get here. I'm treating it as a blessing every day," he said. "At the end of the day, it's still football. It's at the highest level, but it's the same game I've been playing my whole life."
Be the first to know
Get local news delivered to your inbox!