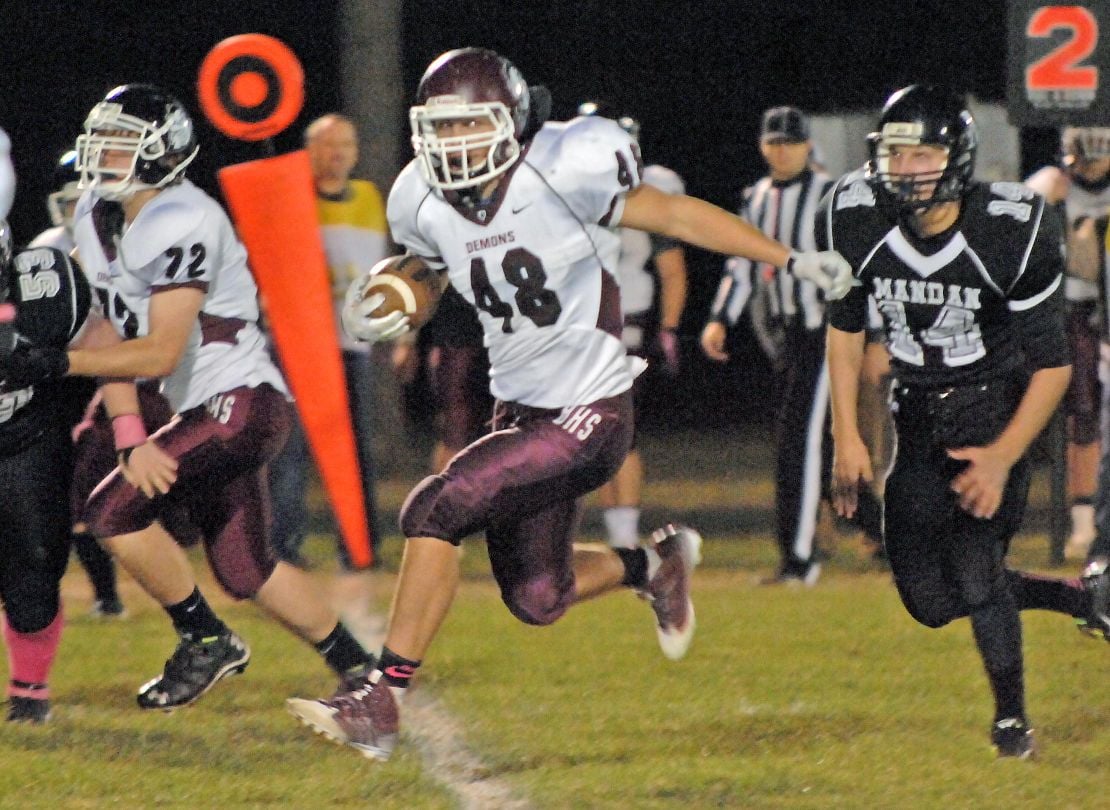 Bismarck Demons coach Mark Gibson goes into football games with an ace in the hole most of his contemporaries don't enjoy.
When in doubt, Gibson can saddle up his hogs and grind out wins with a powerful running game.
That's essentially what happened in Mandan on Friday night as the Demons rolled to a 43-13 victory to wrap up the regular season undefeated.
Up 21-6 after a lackluster first half, Gibson let tailbacks Jaxon Ford and Dalton Sanders go to work behind his formidable interior five. Those shakers and movers up front are Sam Neubauer, Jaren Olson, Luke Keller, Justin Bauer and Tristan Hall — about 1,220 pounds of trouble.
Using the tried and true power running game, the Demons promptly put up three touchdowns for 43-6 lead. Thus the final 16 minutes of the game was played under the running clock mercy rule.
BHS covered 197 yards in those three game-clinching drives, all but 32 of them on the ground.
Ford got the first score, closing out an eight-play, 55-yard march with a two-yard run.
In Bismarck's next possession, Sanders broke away for a 69-yard scoring run on the first snap of the ball for a TD.
The damage was completed via a four-play, 73-yard burst. Seth Siverson caught a 21-yard pass from Hayden Gibson to close the deal.
That left the host Braves in a 43-6 hole with 15:59 to play.
Sanders, a 5-foot-10, 175-pound senior, said Bismarck's halftime discussion involved.
"Coach Gibson said they're going to come out with everything they've got and we've got to come out and match their intensity," Sanders said. "We stuck to Demon football ... and the offensive line did a great job up front."
Sanders finished with 91 yards on the night on just six touches.
Although Mandan trailed by two touchdowns at intermission, the Braves had gained 264 yards to Bismarck's 160 and had a 46-24 edge in offensive plays.
"We didn't have a lot of touches. They kept the ball the first half," Gibson said. "That was a combination of things. Mandan played hard and we didn't the first part of it ... and we were out of sync. That's a credit to Mandan."
"The second half we challenged our kids a little bit and they rose to the occasion," Gibson continued. "We did what we do and got straight downhill on them."
Bismarck scored first, Ford breaking a 70-yard run on the Demons' second play from the line of scrimmage for a 7-0 lead.
Mandan quarterback Jake Carlson answered on the next snap of the ball, breaking loose through the right side for an 80-yard scoring jaunt. Payton Schafer's conversion kick was blocked and BHS led 7-6.
Gibson threw a five-yard touchdown pass to Jacob Schulz for Bismarck's second TD, and the defense set up the third.
Linebacker Alex Seibel pilfered a Carlson pass deep in Mandan territory, setting the Demons up at the Braves' 19. Two plays later, fullback Noah DuBord powered through the middle from nine yards out to give BHS a 21-6 lead early in the second period.
Mandan scored the final seven points of the game, driving 53 yards in six plays. Cameron Christopherson finished off the march with a 16-yard scoring run wide to the right side with 4:07 to play.
Braves coach Todd Sheldon said sometimes it doesn't even help to know what's coming against the Bismarck running game.
"We've watched them on film and it's the same thing they've always done," Sheldon said. "... They came out the second half and ran off-tackle counter. They easily the best team in North Dakota at running that play."
Sheldon said the Braves were able to keep the lid on in the first half by hogging the ball.
"We were in a no-huddle offense. We wanted to hold onto the ball and give our kids a chance to play fast and physical," he said.
Ford gained 131 yards in nine carries and scored twice to lead all ball carriers. All told, BHS pounded out 324 yards on the ground en route to 383 yards total offense.
Mandan rushed for 195 yards and passed for 194 more to finish with 390 yards of total offense. The Braves ran 66 plays to Bismarck's 49.
The Demons mitigated that deficit with a 3-1 advantage in takeaways. That runs their season tally to 24 takeaways vs. eight turnovers.
Mandan closed its season with a 2-6 record. Bismarck, headed to the playoffs as the West Region's No. 1 seed, improved to 8-0 on the year. The Demons will meet Grand Forks Red River in the playoff quarterfinals next Friday at the Community Bowl.
B – Jaxon Ford 70 run (Hunter Johnson kick), 9:51
M — Jake Carlson 80 run (kick blocked), 9:37
B – Jacob Schulz 5 pass from Hayden Gibson (Johnson kick), 11:55
B — Noah DuBord 9 run (Johnson kick), 10:09
B – Ford 2 run (Johnson kick), 9:29
B Dalton Sanders 69 run (Schulz pass from Jordan Mann), 8:20
B — Seth Siverson 21 pass from Gibson (Johnson kick), 3:59
M – Cameron Christopherson 16 run (Payton Schafer kick), 4:07
Rushing: B – Jaxon Ford 9-131, Dalton Sanders 6-91, Noah DuBord 7-49, Nick Hagen 5-28, Jake Sanders 1-19, Hayden Gibson 2-5, Seth Siverson 1-2, Bradyn Just 1-minus 1. M – Jake Carlson 8-92, Cameron Christopherson 11-66, Nick Miller 11-22, Trever Leingang 4-9, Jason Moore 1-7.
Passing: B – Gibson 7-17-0, 59 yards. M – Carlson 14-30-3, 194; Jarad Zittleman 0-1-0.
Receiving: B – Siverson 1-21, Connor Hellebust 1-12, Jacob Schulz 3-10, DuBord 1-10, Jon Tharaldsen 1-6. M – Parker Harm 4-77, Leingang 4-52, Jesse Bruner 1-20, Miller 2-18, Zittleman 2-18, Tyler Gangl 1-9.
Interceptions: B — Alex Seibel, Connor Hellebust, Cullen Irey.
Records: Bismarck 6-0 West Region, 8-0 overall; Mandan 2-4, 2-6.