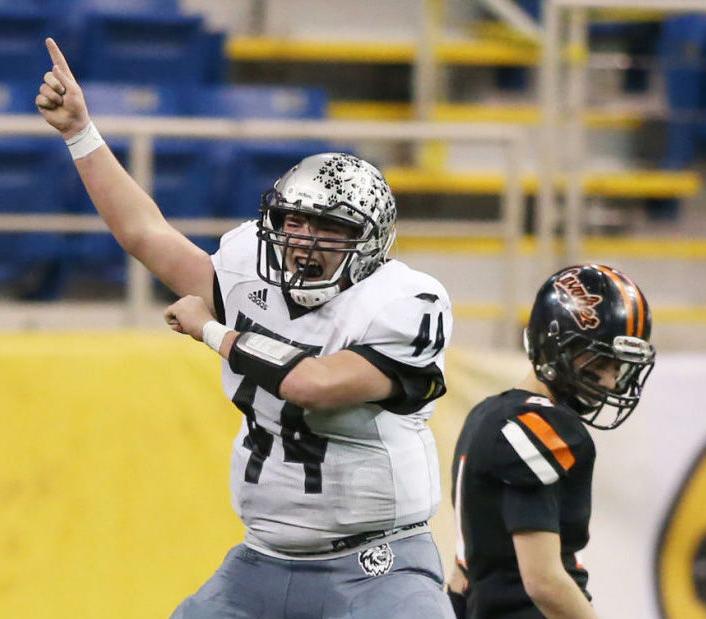 Kidder County football coach Dave Silbernagel is not grading on the curve.
Despite a 3-0 record and No. 1 9-man ranking, Silbernagel says the defending state champs still have some homework.
"The football season is a process, right? I wouldn't say we're playing great right now," Silbernagel said. "Our scores have been good. We've been able to grind some teams down and score on them, but we definitely have a ways to go if we're going to accomplish the goals we started the season with."
The Wolves are averaging just tick under 50 points per game, and have a 36-28 overtime win over Linton-Hazelton-Moffit-Braddock on their resume. The Lions are ranked fourth, few would argue if they were higher.
"Their history speaks for itself. They're always good and this year I think they have a great team," Silbernagel said of Linton-HMB.  "So yeah, that was a great win for us."
Silbernagel is a coaching veteran of many seasons and multiple sports in Steele. However, taking over a defending state champion, during a pandemic no less, made for intense times.
"I would say the stress level is a little elevated, to be honest," he said. "In a normal season you're talking to the kids about getting good grades, staying out of trouble, typical stuff. This year, it's all of the health-related issues to go with staying out of trouble and their grades.
"At the same time, they're kids. They're in high school. You want them to be able to have fun and live their lives. So you're trying to balance all of those things while being safe and smart."
Having experienced players helps.
Senior quarterback Jonah Harter triggers the Wolves' double wing running attack which is averaging 8.3 yards per carry.
"It's his leadership and the intangibles he brings. Kids listen to him," Silbernagel said of Harter. "You can't really teach what he's got."
Harter's 167 yards rushing are third on the team. Junior Jacob Biegler has taken over for all-everything performer Parker Hager in the all-important fullback role and flourished. Biegler's averaging 8.4 yards per rush and has five touchdowns. His 369 yards lead the Wolves.
"Jacob has played really well," Silbernagel said.
Wyatt Miller, another junior, has been a big play almost every time he touches it. Miller is averaging 18.3 yards per carry with four scores.
"Wyatt's really come along," Silbernagel said. "He's done a nice job."
Payton Cauthon has picked up from last year. Cauthon, a senior, has six TDs -- three rushing and three receiving.
"In a different offense, he'd probably catch 50 or 60 balls. He's a pretty dynamic kid," Silbernagel said of Cauthon.
Kidder County's ground game is so effective, they've only thrown the ball 10 times total.
It has proven to be a winning formula.
"You pick your offensive system based on your kids and your community," Silbernagel said. "Coach (Jack) Biesterfeld picked this offense a long time ago and it's been pretty successful. I'm not going to mess with something that has worked."
The double wing doesn't demand big linemen, which is another benefit. The Wolves' athletic front fits perfectly with the setup.
"We've been able to rotate linemen and build some depth through playing time," Silbernagel.
Seniors Jacob Nolan and Blake Pfaff are the anchors.
"Jacob has played well for us," Silbernagel said. "Blake's our center and he could probably play fullback. He's just a great all-around player."
Pfaff also has a team-high 32 tackles. Pfaff and all-stater Tristan Patzner form a dynamic duo at linebacker.
Up front, Luke Rath has already registered 17 quarterback pressures in just three games. 
"Luke is a really good player. He's been a demon at defensive end," Silbernagel said. "He's really tough to block."
The stats of the Wolves' starters are a little depressed based on two of their three games being blow outs at halftime. Their first-stringers figure to play a lot longer Friday.
Beach, unbeaten at 3-0 and ranked fifth, comes to Steele for another big Region 4 contest.
"They're a big, power-running team," Silbernagel said. "We're going to have our hands full."
Region 4, like always, is a gauntlet. Grant County-Flasher also has received votes in the poll. Last season, Cavalier was the only non-Region 4 team to beat a team from Region 4 in the playoffs.
"Our region is very strong. It gets you ready," Silbernagel said. "We know going into the playoffs that we've been challenged. That's definitely to our benefit."
Be the first to know
Get local news delivered to your inbox!