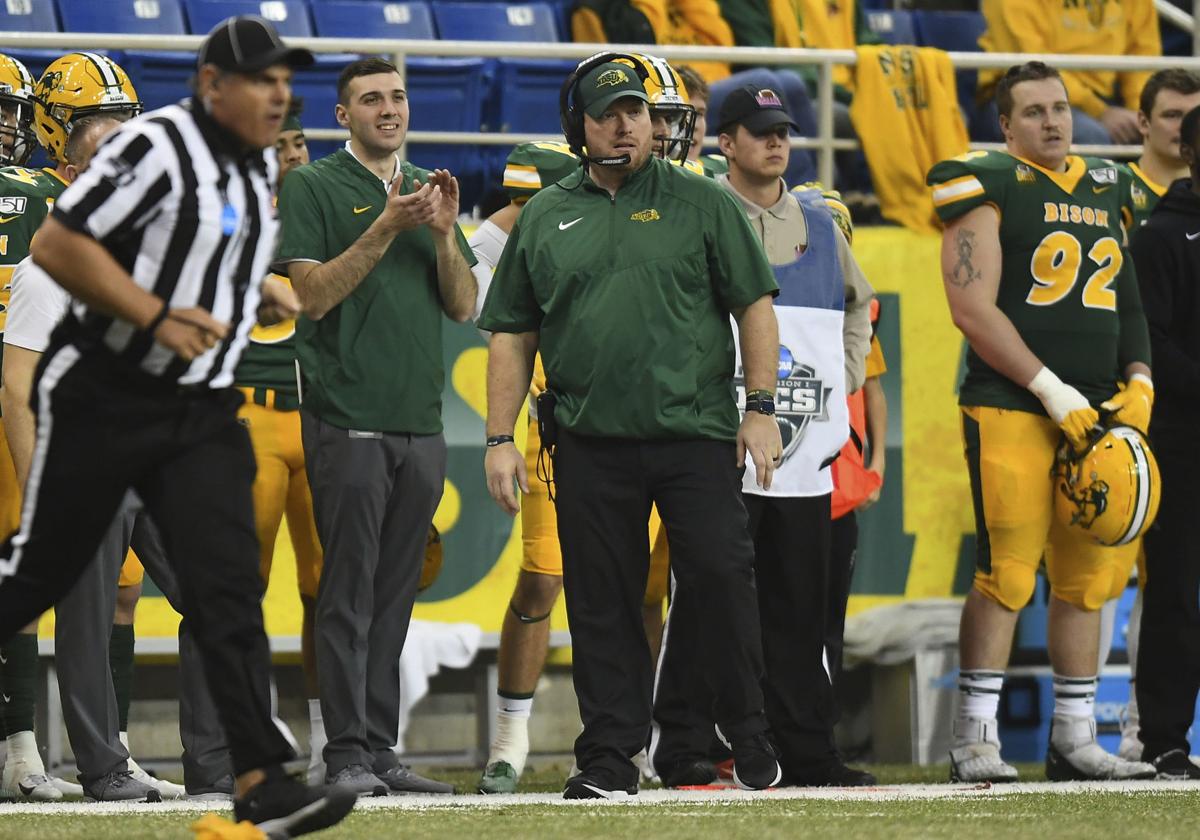 Matt Entz's mission was clear when he took over as head football coach at North Dakota State.
"My number one motivational tool this year was don't screw it up," the first-year boss of the Bison said. "My greatest concern, it goes all the way back to spring football, was making sure it still looked like Bison football. … That was my greatest fear."
Entz clearly aced the test.
With a 15-0 record and No. 1 ranking, NDSU will play James Madison University on Saturday at 11 a.m. in the Football Championship Subdivision championship game in Frisco, Texas. The game will be broadcast on ABC.
Entz inherited a Rolls Royce and the Bison have continued to roll down the road. One win away from their eighth FCS title in nine years, year 1 has been all business for the Waterloo, Iowa, native.
"If it weren't my first year, I probably might be able to step back more. But I'm probably still in that phase where every day is a new day for me right now," Entz said. "Probably after the season we'll get more of a chance to reflect upon the entire year and our body of work, but right now our coaches are pretty focused on trying to find ways to be successful (on Saturday)."
The 2019 version has been much like the previous seven FCS champions -- dominant from the start with few hiccups. On the season, the Bison have scored 568 points and allowed 177. Most games, they nearly double their opponents in yards gained (477.3-268.7).
Offensive lineman Dillon Radunz and Zack Johnson, quarterback Trey Lance and tight end Ben Ellefson earned All-American honors on offense, while Derrek Tuszka, and his 12.5 sacks lead the NDSU defense. Tuszka also earned All-American honors.
"We felt confident going into spring ball that we were going to be a good football team and have possibilities of winning some games and maybe surprising some people just because of the youthfulness of our roster," Entz said. "But as the summer passed, we had more and more leadership coming out of our younger classes. And that gave myself and our coaching staff a boost of confidence we could push this group a little bit more maybe than we anticipated."
Only two of NDSU's 15 games have been decided by fewer than two touchdowns. However, in 14-1 James Madison, the Bison are facing the No. 2 team in the FCS.
"We have a ton of respect for James Madison's program," Entz said. "I've been fortunate enough to play them twice as defensive coordinator here at North Dakota State.
"(We) know the type, the caliber of kids (they have), how hard they play and know that it will be a great contest down in Frisco, Texas."
After a successful first season, and potentially a 16th win and another FCS title, maybe Entz will have a little time to relax until attention turns to the 2020 campaign and a marquee opener at Rose Bowl champion Oregon on Sept. 5.
"I think we do an unbelievable job -- Chris Klieman did, Craig Bohl did -- but every year we treat it as its own season. We don't try to overlap," Entz said. "So we're just going to stay focused on this year now. And of course, I know because of having some of the greatest, if not the greatest fans in the country, they're already thinking about next season. But I'm going to hold off on that right now."
Be the first to know
Get local news delivered to your inbox!