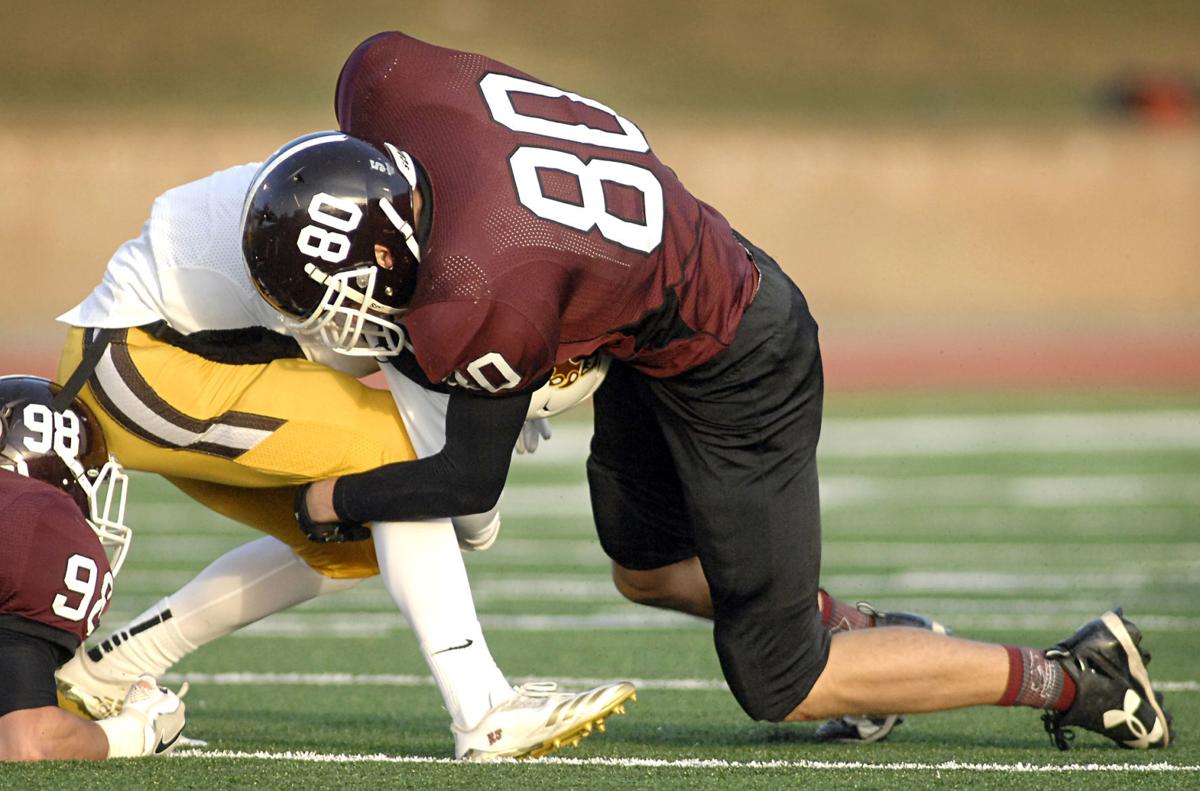 Fargo South quarterback Tanner Dubois passed for 156 yards against Bismarck on Friday, but boy-oh-boy did the Demons make him pay for that real estate.
 Bismarck's defense recovered a Dubois fumble, filched four of his throws and sacked him five times. That set the stage for the Demons' 42-15 AAA quarterfinal playoff victory over the visiting Bruins. All told, Bismarck built a 6-2 takeaway-giveaway ratio.
 BHS coach Mark Gibson, whose Demons led just 14-7 at halftime, had plenty of praise for his defenders.
 "For the way (South) started, and the way they controlled the first half, I'm very, very happy with the 15 (South points)," Gibson said.
 South's ball control woes began in the earliest seconds of the game. Jamon Howard bobbled Zac Schmidt's opening kickoff at the two-yard line and completely lost possession of the ball at the 12.
 Bismarck's Matt Trolliey recovered the ball, setting BHS up at the Bruin 12-yard line on its first possession of the contest. Three carries by Jalen Sprecher, the third from eight yards out, gave Bismarck the lead. Schmidt's conversion kick put the Demons up 7-0 with just 69 seconds expired.
 The teams exchanged touchdowns in the second period, the first on a three-yard run by South running back Victor Isaak that capped a 95-yard, 18-play scoring drive.
 Bismarck regained the lead with 38 seconds to play in the first half, quarterback Will Madler connecting with wide receiver Joe Jahner on the left sideline from 24 yards out. Junior defensive back Isaiah Olsen set up that score with the Demons' first pick against Dubois.
 So BHS left the field with a far-from-comfortable 14-7 halftime lead.
 It didn't take the Demons long to create some elbow room once the second half began, however. Olsen, playing tailback, scored three times in the third period to give Bismarck a cozy 35-7 advantage.
 Bismarck got a 46-yard kickoff return from Tate Doppler to start the second half and scored five plays later, Olsen darting in from three yards out with 2:20 expired.
 "That was a huge return and a huge possession for us," Gibson said.
 Jahner picked off a Dubois pass on South's next series to give the Demons the ball in South territory. Playing the opportunist, Olsen crashed into the end zone from two yards out to give BHS a three-touchdown lead.
 A short South punt set up Bismarck's final TD of the third period. Olsen capped a 34-yard scoring march with a 24-yard run. That put BHS in charge 35-7 with 12:13 left in the game.
 A two-yard scoring run by South's Isaak and a tackle-breaking four-yard TD burst by Bismarck fullback Jared Rath in the fourth quarter closed out the day's scoring.
 Bismarck's defensive unit hogged the spotlight with its six takeaways and four sacks. Defensive backs Olsen, Trolliey and A.J. Jerome intercepted passes. Linebackers Jahner and Joe Kellington contributed a pick and fumble recovery, respectively. Trolliey recovered a fumble on special teams and defensive lineman Canyon Stonecipher finished with nine tackles and four sacks.
  Stonecipher, a 6-foot-3, 190-pound junior, tossed Dubois for losses of five, seven, three and one yard.
 South went to the air 23 times in a 41-14 regular-season loss to Bismarck, so Stonecipher said he knew he'd be chasing Dubois around again.
 "You can rush the quarterback all you want (against South)," he said. "He's really good at avoiding the defense, so you've got to stay focused and bring him down."
 Stonecipher said Bismarck's goal was to contain the Bruin passing game enough to make it non-lethal.
 "We knew (Dubois) would get a couple of good plays, but in the end we had to step it up and limit their passing game as much as we could," he said.
 The regular season win over South notwithstanding, Stonecipher said the Demons knew they had to be even better on Friday.
 "We had to step it up, because in the playoffs every team gets better," he observed.
 Next in line is a road trip next Friday to visit top-ranked West Fargo. The Demons dropped a 41-0 decision at West Fargo early in the regular season, and Stonecipher wants another shot at the Packers.
 "I look forward to it," he said.
 Before the Demons can look ahead to West Fargo, however, there are some concerns to deal with in their own back yard.
 Senior tailback Jalen Sprecher, the focal point of the BHS offense, limped off the field during the first offensive series of the second half and didn't return. Gibson said he's not sure about the nature of Sprecher's injuries.
 "I don't know the extent of the injuries. We basically had to pry him off the field, but our offensive line stepped up and our backups came in and ran very well," Gibson said.
 According to Gibson, Sprecher had a thigh injury that was amplified by a blow to the right knee.
 "He had a quad injury and he was kind of gimpy at halftime ... and then, in the second half he took a helmet to the knee and that put it over the top," the coach said.
 Bismarck improved to 8-2 with the victory, its seventh win in eight starts. South, which lost for the fourth time in its last six games, finished the season 6-4.