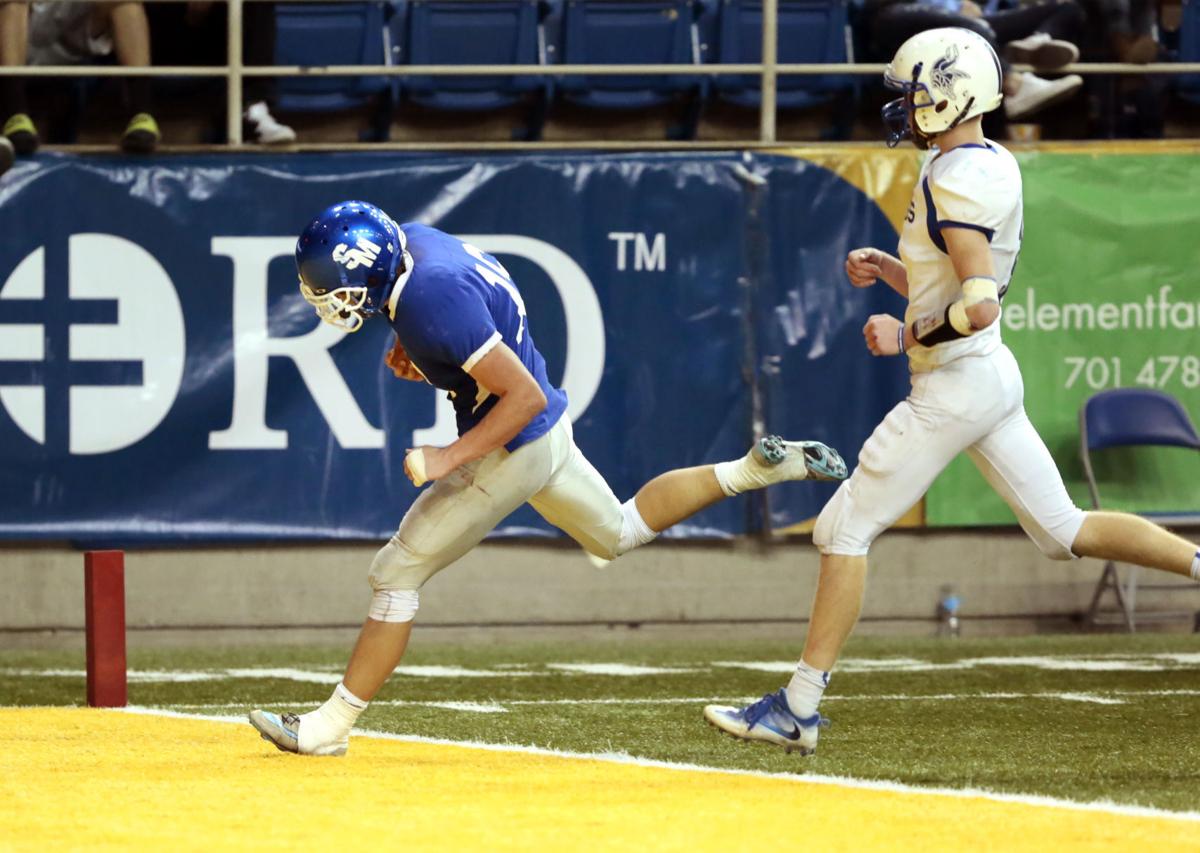 FARGO — Kindred took an early lead against St. Mary's in the Class AA football state championship game on Friday.
How did the No. 1-ranked Saints respond? With a punishing defense, and a punishing running game.
St. Mary's held the Vikings to zero points and eight total yards after the 11:56 mark of the second quarter, and tailbacks Kurt Dickhut and Cole Spies combined for 330 of the team's 388 rushing yards as the Saints cruised to a 47-6 victory at the Fargodome to claim their third state championship in four years.
Kindred went ahead 6-0 four seconds into the second quarter on a 7-yard touchdown pass from quarterback Ethan Lingen to Brock Benson. The pass capped an impressive 16-play, 96-yard drive that started after the Vikings recovered a Saints fumble on the Kindred 4.
However, the Saints answered on the ensuing possession and never looked back. Dickhut finished off an eight-play, 54-yard scoring march with a 1-yard run, and Joel Huber followed with the first of his five extra points to give St. Mary's a 7-6 lead. The Saints went on to score on each of their next three possessions and held a 28-6 lead at halftime.
"(The Vikings) came out and punched us in the mouth, but there was no panic, not when you have good seniors who aren't bothered by adversity," said St. Mary's coach Dan Smrekar, who was named the Class AA coach of the year. "We knew that we were going to move the ball with our running game, and we knew that our defense was going to regroup and play better. We responded to their touchdown right away and from there, everything went our way."
Dickhut, a 5-foot-10, 165-pound senior who rushed for 234 yards on 32 carries, said the Saints were determined to answer Kindred's score quickly.
"When they scored it kind of woke us up. We had to go out and take the momentum away from them," he said. "The best way to do that is score. After we went ahead, everybody was pumped. The offense and defense were ready to take control."
Dickhut had a career game on Friday, one week after rushing for 204 yards in the Saints' semifinal victory over Hillsboro-Central Valley.
"It's easy when you have an offensive line as good as ours," he said. "Those guys just dominated today, just like they have all year."
The last three St. Mary's possessions of the first half all started in Kindred territory. The Saints set up shop on the Vikings' 38 following a short punt, and six plays later, Spies scored from four yards out.
After the ensuing kickoff, St. Mary's linebacker Jacob Scheetz intercepted a Lingen pass on the Kindred 43 after the ball was tipped by teammate Dylan Gross. Dickhut later capped the four-play scoring drive with a 26-yard burst with 1:28 remaining.
The Saints' defense then forced a punt, and Luke Kambeitz returned the kick 30 yards to the Kindred 29. On the next play, quarterback Cole Gendreau threw a 29-yard touchdown pass to Spies with four seconds left.
"After our first touchdown drive, our defense and special teams put us in great field position and we were able to take advantage of those opportunities," Smrekar said. "That's happened many times this year."
The onslaught continued in the third quarter. Spies, the Class AA senior athlete of the year, ended a 72-yard touchdown drive with a 6-yard run 3:45 into the frame, and Dickhut broke loose for a 26-yard score with 1:22 remaining.
Gendreau's 1-yard sneak with 7:10 left in the contest closed the scoring. All told, the Saints scored on seven straight possessions.
The St. Mary's defense smothered the Kindred offense after allowing the Vikings' only touchdown. Lingen completed nine of his first 11 pass attempts for 90 yards, but finished 14 of 28 for 130 yards. He threw two interceptions. Lingen was sacked three times, and Kindred's ground game produced a minus 19 yards.
"Kindred likes to throw the ball and they're really good at it, so our pass rush and our secondary really had to step up today," said St. Mary's defensive tackle Sam Harris, a 6-2, 250-pound senior who had six tackles, 1.5 sacks and 2.5 tackles for a loss in his final high school game. "We kind of struggled on their touchdown drive, but we played lights out after that."
Harris, a four-year starter, played on three state championship teams.
"I'm pretty lucky. In four years, I had the best teammates and the best coaches," he said. "For all of our seniors, there's no better way to go out."