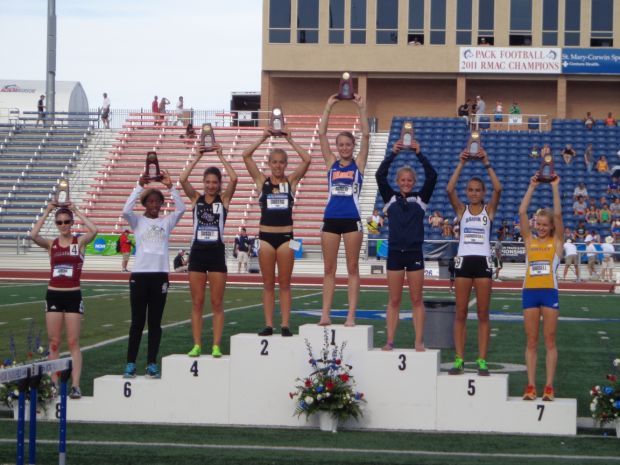 Most female college athletes I visit with when their careers wrap up indicate how happy they are to be done.
Don't get me wrong, they are proud of what they accomplished and feel some sense of sorrow; however, there is a sense of relief too.
Ever since they were little girls they have been practicing and competing in their chosen sports. They are usually tired and burned out. They are ready to enter the work force or are eager to get married and become mommies. Some of them want to know what it's like to lay on the couch all day and eat a pint of cookie dough ice cream.
University of Mary runner Melissa Agnew is a different breed.
The senior from Onamia, Minn., wrapped up her running career on Saturday at Pueblo, Colo., with a national outdoor championship in the 1,500-meter run.
Agnew will go down in history as one of U-Mary's most decorated runners. She finished her career with two individual national titles and one as part of a relay. She has been named an All-American 12 times in track and cross country.
Agnew doesn't get an offseason. She competes at a high level year-round.
Agnew believes she has a lot more left in the tank and wants to keep competing. She said she feels that she has just hit her prime.
"I'd rather keep running and doing everything," Agnew said. "I feel like I can still get faster times. There's more I can do."
Agnew was at the Denver airport waiting with her teammates to fly back to Bismarck from the national championships. It hasn't fully sunk in yet that her career at U-Mary is done.
"It's pretty crazy and fun," she said. "It's fun to have had my best year my senior year.
"It's sad that it's over. It will be weird to not start running in a couple weeks. I plan to take a good chunk of time off, and then I will keep training and running."
Agnew, an exercise science major, plans to spend the summer as an intern at U-Mary with the strength and conditioning program. She said she also plans to work a couple of other jobs.
After the summer is complete, Agnew will be packing her bags and heading to the Twin Cities, where she will enter chiropractic school for three years.
Agnew has applied to become a member of Team USA Minnesota, a professional runners club. Since 2001, it has developed an Olympian and racked up 19 national championships in distances ranging from the 1,500 up through the marathon.
Agnew didn't exactly say she's aiming for the Olympic trials, but it seems to be in the back of her mind.
"I have a few years," she said. "The trials year would be my last year (of school). It will be tough, but I'm used to being really busy. I think I can handle it."
Once the summer ends, it will be the first time Agnew will be separated from her twin sister, Jennifer. Jennifer earned All-American honors this past weekend by placing third in the 3,000 steeplechase. Jennifer has a year of eligibility remaining in cross country and will compete this fall for the Marauders.
The longest the Agnews have been apart was for a week when they were in their early teens.
"She babysat one of my cousins for a week," Melissa Agnew said. "It will be weird being separated from her."
(Cindy Peterson is a Tribune sports writer.)