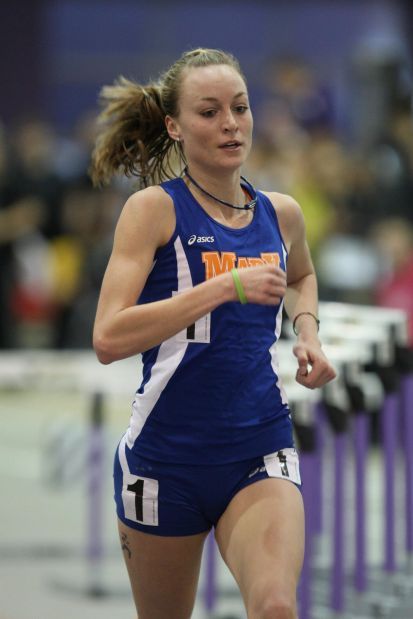 University of Mary senior Melissa Agnew told running coach Dennis Newell that she wanted to close out her career as a national champion.
Agnew let Newell know her intentions before the school year began. After turning in a successful junior campaign in cross country and track and field, the goal seemed well within reach.
Newell, who coaches the distance runners, didn't deep six the idea. He thought Agnew's could achieve her goal.
Agnew etched her name into school history when she became the first U-Mary track and field athlete to win an individual national championship at the NCAA Division II level.
Agnew not only did it once, but twice.
She anchored the distance medley relay to a title the first day of the national championships by running a mile. Other team members were Dakota Wolf, Kathryn Stewart and Brienna Lynch. Agnew followed it up with an individual title in the mile the next day.
Let's back up a few years, to when Agnew first signed at U-Mary. Winning a national title seemed like a pipe dream, especially in the mile — an event that Agnew never tried until she came to U-Mary. Agnew's specialities were the 400 and 800 meters.
"I knew I couldn't be a collegiate 400 runner," said Agnew, who is from Onamia, Minn. "I thought I'd give the mile a try."
Agnew was surprised she did so well the first time she ran it competitively.
"I thought, 'OK. Maybe I am a good miler,'" she said.
Newell and head coach Mike Thorson have been known for taking average high school athletes and turning them into superstars.
Agnew was better than your average high school athlete, but she wasn't one of the top recruits in Minnesota. She competed in the Class A state cross country meet four times and finished in the top 25 twice, placing 19th and 22nd. In Minnesota there are two classes in cross country, Class AA and A. In track, Agnew helped her school's 3,200 relay qualify for state twice. Individually, she competed at the state meet in the 400 and 800 as a senior, placing fifth in the 800.
Agnew has turned in a stellar college career, earning 11 All-American honors in cross country and track — and she still has the outdoor season remaining.
What was it about Agnew that made Newell and Thorson recruit her? How did they know?
"One of her greatest attributes was the X factor," Newell said. "She has the desire to win. She wants to be great, and she's willing to put the work in. A lot of athletes have attributes, but at the end of the day, they have to have that desire. It's nothing we can train. They really have to want it."
How did Newell and Thorson know Agnew had that X factor they look for in athletes?
Newell spent the time with Agnew and her twin sister, Jennifer, before signing them.
Newell spends several hours talking to athletes during their campus visits. The Agnews visited U-Mary three times, and Newell spent more than six hours talking to the sisters.
"There has to be an intangible connection," Newell said. "The relationships and communication between two people is a factor. I'm going to create and form the best relationships with these kids. I will be there for them as a coach, friend, psychologist. I will wear all these different hats for them. It comes down to trust.
"(Melissa) is a story that is as perfect as it can be told. It gives us reassurance that we are doing things right."
Agnew, who isn't at U-Mary on a full scholarship, had considered MSU-Moorhead as another option. She chose U-Mary because that's where her twin sister wanted to go.
"She decided to go here, so I decided to go here," Agnew said.
The time Newell spent with the Agnew sisters during their visits was obviously well-spent.
(Cindy Peterson is a Tribune sports writer.)