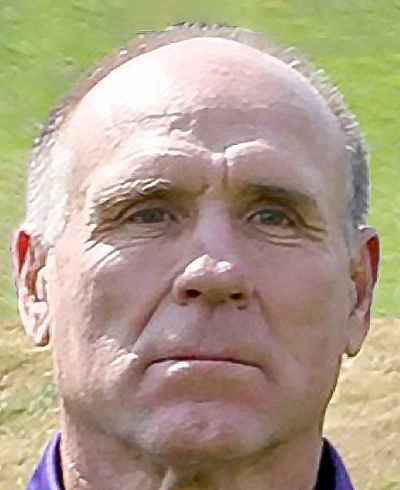 Mike Van Diest wants to be an assistant football coach. The University of Mary wants his knowledge, experience and success on staff.
 Don't read anything more than that into his presence on the Marauders staff.
 The highly successful former Carroll College (Mont.) head coach – now the Marauders' outside linebackers coach – arrived on campus on Monday. He'll have time to get acclimated to his new surroundings before spring ball.
 "My expectations are two-fold," Van Diest said. "One, to contribute and help coach (Craig) Bagnell go forward, not change anything he's done, but add to it; and also to learn. I'm not done learning as a coach. I'm not trying to come in and put my thumbprint on anything."
 Van Diest had his fingerprints all over the Carroll College powerhouse, where he spent 19 years as a head coach. He forged a 203-54 record at the NAIA school in Helena, Mont., before retiring in 2018.
 Van Diest's teams won six NAIA national championships (2002, 2003, 2004, 2005, 2007 and 2010). They also reached the quarterfinals twice, the semifinals four times and lost the title game twice. The Saints won 14 Frontier Conference championships.
 Van Diest was American Football Coaches Association Coach of the Year four times (2003, 2005, 2007, 2010).
 Bagnell, U-Mary's head coach, said he welcomes Van Diest's experience to the staff.
 "You can read as many books as you want, you can watch as many videos and listen to as many coaches talk, but until you are around somebody who's done it at a high level for a long time day to day, you're not going to get that experience," Bagnell noted.
 Bagnell said experience like that from Van Diest will be valuable in close games.
 "We had four games that we lost in the fourth quarter," Bagnell said. "It came down to a couple plays in the fourth quarter, if it goes the other way we have a winning record and people are saying different things. Bringing coach Van Diest, the knowledge he has for the game, will help us take the next step."
 At U-Mary, Van Diest will work to help turn around a program that was dominant in the NAIA but has struggled since joining NCAA Division II in 2007. U-Mary is 6-49 over the past five years in the Northern Sun Intercollegiate Conference.
 U-Mary ranked 15th out of 16 teams in scoring defense last season. It was 15th in rushing defense and 14th in total defense.
   "I've been watching film from last year," Van Diest said. "I want to make sure I'm on the same page. There are some things I think I can help with. I want to be the best outside linebackers coach I can be."
 Van Diest said he has a longtime relationship with University of Mary athletic director and former head coach Dale Lennon.
 After one year away, Van Diest said he had offers from FCS, NCAA Division II and NAIA schools before choosing U-Mary. "The University of Mary is where I want to be."
 Lennon said nobody should read anything different into the hired.
 "Any time you're trying to build a program there is speculation when you do something like this. But Mike is truly looking for an opportunity to coach," Lennon said. "There's just a lot of familiarity that existed. Mike's not looking to be the next head coach at the University of Mary."
Be the first to know
Get local news delivered to your inbox!