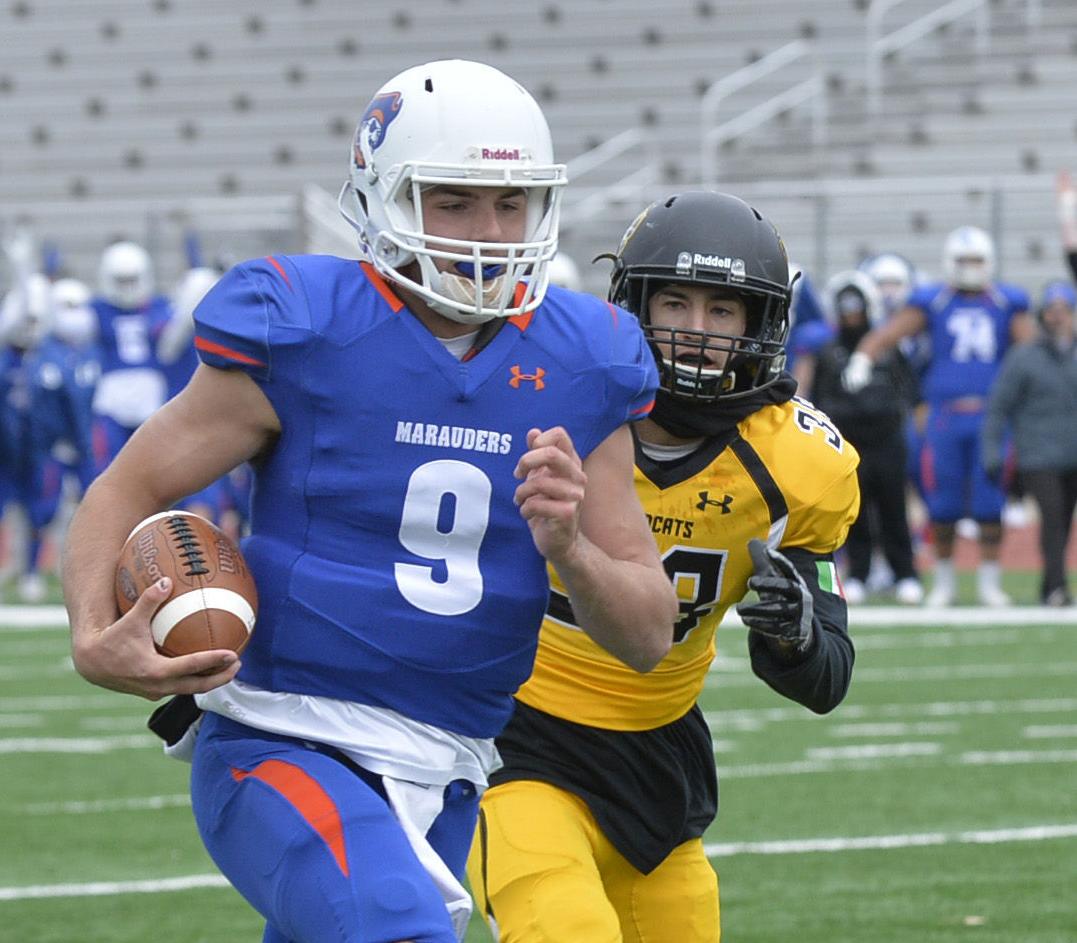 Fall sports teams at the University of Mary will have to wait a little longer for their seasons to begin.
The Northern Sun Intercollegiate Conference (NSIC) announced Monday it was delaying the fall season. U-Mary teams impacted are football, men's and women's cross country, volleyball and women's soccer.
"I like this delayed start. Right now, it's the best option," University of Mary Athletic Director Dale Lennon said. "What I've told the coaches is that our goal is to give the student-athletes the best opportunity possible for a good athletic experience. When that becomes no longer possible, then we'll have to consider other options."
Lennon is confident a season will be played in some capacity.
"I wasn't worried about it from within the Northern Sun. We have 16 institutions that are pretty unified in their desire to have fall competition," Lennon said. "Our conference has a big footprint being in five different states, so each state has their own unique challenges that are regional. We're fortunate in North Dakota to have the resources we have."
Practice for football and cross country can begin on Sept. 2. The first games, and meets, can be held Sept. 26. The NSIC football schedule has been cut to eight games. A typical season is 11 games. The NCAA Division II Presidents Council lowered the number of football games from 11 to 10 in May in reaction to the pandemic.
Soccer and volleyball practices can begin Sept. 8, with the first games Oct. 2. Soccer will play an 11-game season. Volleyball will play 15 games.
"This was a challenging decision for our membership to make," NSIC Commissioner Erin Lind said in a statement. "At this time, we remain optimistic that we can safely conduct a fall sports season and moving the start date of competition will give us the best opportunity to give our student-athletes the experience they deserve."
According to Lennon, nine NCAA Division II teams have delayed their fall sports seasons. Four others have yet to make a decision. Previously, 10 conferences postponed or canceled their fall seasons.
"Having this additional time is going to be beneficial in terms of how we set up practices, how we set up games, how we handle fans coming to the games," Lennon said. "We'll also be able to observe how some other entities are dealing with it and hopefully learn some things we can apply to our situation."
As for U-Mary athletes, Lennon said offseason workouts will extend longer than normal.
"Our athletes definitely have to continue to train and that's going to be very important," he said. "Coming into the start of the season we need to be in very good shape to hit the ground running."
U-Mary starts school later than some other universities in the NSIC. For example, Northern State in Aberdeen, S.D., is scheduled to start Aug. 17. U-Mary's first day is Sept. 8.
"Normally at this time our athletes are finishing up their final tests and backing off. Well now we have to restructure those workouts so that we're hitting our peak on Sept. 2 and Sept. 8," Lennon said.
The Marauders' football opener will be played Sept. 26 at the Bowl against Winona State. They'll also play: at Northern State, Minnesota-Duluth, at Sioux Falls, at Minnesota State University Moorhead, Concordia-St. Paul, Minot State and at Wayne State.
The cross country team's first meet is scheduled for Oct. 9 in Jamestown. Beyond that there are major questions. The regional meet was scheduled to held at the same course where the annual Griak Invitational in Minneapolis is hosted. However, the Griak meet has already been canceled.
The U-Mary women's soccer team's first game is Oct. 2 at Upper Iowa. Their first home game is Oct. 9 against MSU-Moorhead.
The Marauder volleyball team opens the season at home against Wayne State and Augustana, Oct. 2-3.
Coaches face many challenges as they prepare for an unprecedented season.
"The one thing I did address was the team-building aspect and how it's going to require a completely different approach. How do we go about team-building and building team chemistry in the era of social distancing?" Lennon said. "(We) really have to reinvent the wheel here with the approach we're taking compared to what is commonly used in coaching.
"It's going to be extremely interesting to see how everything comes together."
Be the first to know
Get local news delivered to your inbox!