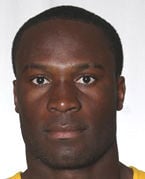 Bartholomew Ogbu is ready to get back out on the Fargodome turf.
"I'm 100 percent. It feels good to be back. It's been a while," the Shiloh Christian graduate said.
The North Dakota State junior played the first four games last fall for the Bison before a season-ending injury. Going into Saturday's lone scheduled fall contest against Central Arkansas, Ogbu is back in the mix for playing time at defensive end.
Ogbu got his first collegiate playing time in the opening four games last fall, recording three tackles, including a tackle for loss in wins over North Dakota and Delaware. But his first season was cut short.
"It was tough last year after getting hurt and finding out I was going to be out that long," Ogbu said. "We have a lot of guys who stepped up and filled the role and we had a great season last year."
After redshirting his freshman season, Ogbu got a chance to get into the rotation before having to hit the sidelines again. He said it was a learning experience that will pay off.
"It was big for me, watching from the side and learning. I'm ready to go," Ogbu said.
He's one of a number of players looking to make their mark on the Bison defensive line.
"I think we're a pretty deep and diverse group," Ogbu said. "We've got a lot of guys. We work hand in hand. One guy goes in with a bull rush, one with a finesse move. I feel like we have a lot of talent. There's competition every day, in practice, in games, every day we're competing."
That competition is something Ogbu relishes.
"It's day by day, rep by rep, practice by practice," he said. "Everything you put on tape is your resume. Every day you show up in practice, you have to put your best on tape. And that's how everyone thinks. You have to come in every day and compete. There's no guaranteed spots."
And after missing part of last season, Ogbu is ready to hit the ground running.
"Every opportunity I have out there, I have to give 100 percent, give everything I've got because you don't know when it could be taken away from you," he said.
When the Bison take on Central Arkansas (2-1) at 2:30 p.m. on Saturday, the Fargodome will look much different. Due to COVID-19 precautions, attendance at the contest will be limited to players' families only.
"I'm not going to lie, it's disappointing," said junior linebacker James Kaczor. "At NDSU, the fans are so crucial and important to us. We love our fans. I know they'll be watching on TV but at the end of the day, we've got a game to play and I'm excited our family can still be there. It's just the world we live in right now."
Playing defense will be different without the noise from the packed stands.
"That's definitely going to be a big difference," said junior safety Michael Tutsie. "We love playing in the dome because we get that, not just on third down, on every down, making it hard for the quarterback to make checks and all that with the noise. But at the end of the day you've got to play the game so we just have to go out there and execute. That's what it comes down to. We'll still have our communication, we'll do everything we normally do, we just won't have that 12th man but that's all right. We just have to execute and do what we do."
"It will be a change for once to be able to hear each other out on the field," Kaczor said. "It's not going to make a huge difference I don't think as far as our communication. We're going to be giving hand signals just like we usually would but it will be a different atmosphere without the fans there but we're excited to create our own energy."
Junior defensive tackle Costner Ching said the atmosphere will be different, but not something totally foreign.
"I look at it this way, I come from a nine-man school where we probably had a hundred people there, but it was the energy of your brothers," he said. "Your parents were there, your grandparents, but it was the energy that you built off of from your brothers that made you keep going.
"Fans are awesome and the energy they bring is awesome but we're going to just have to adapt and adjust and we're going to have to make some plays just feeding off of each other's energy, celebrate when they make a play, celebrate when I make a play."
Be the first to know
Get local news delivered to your inbox!