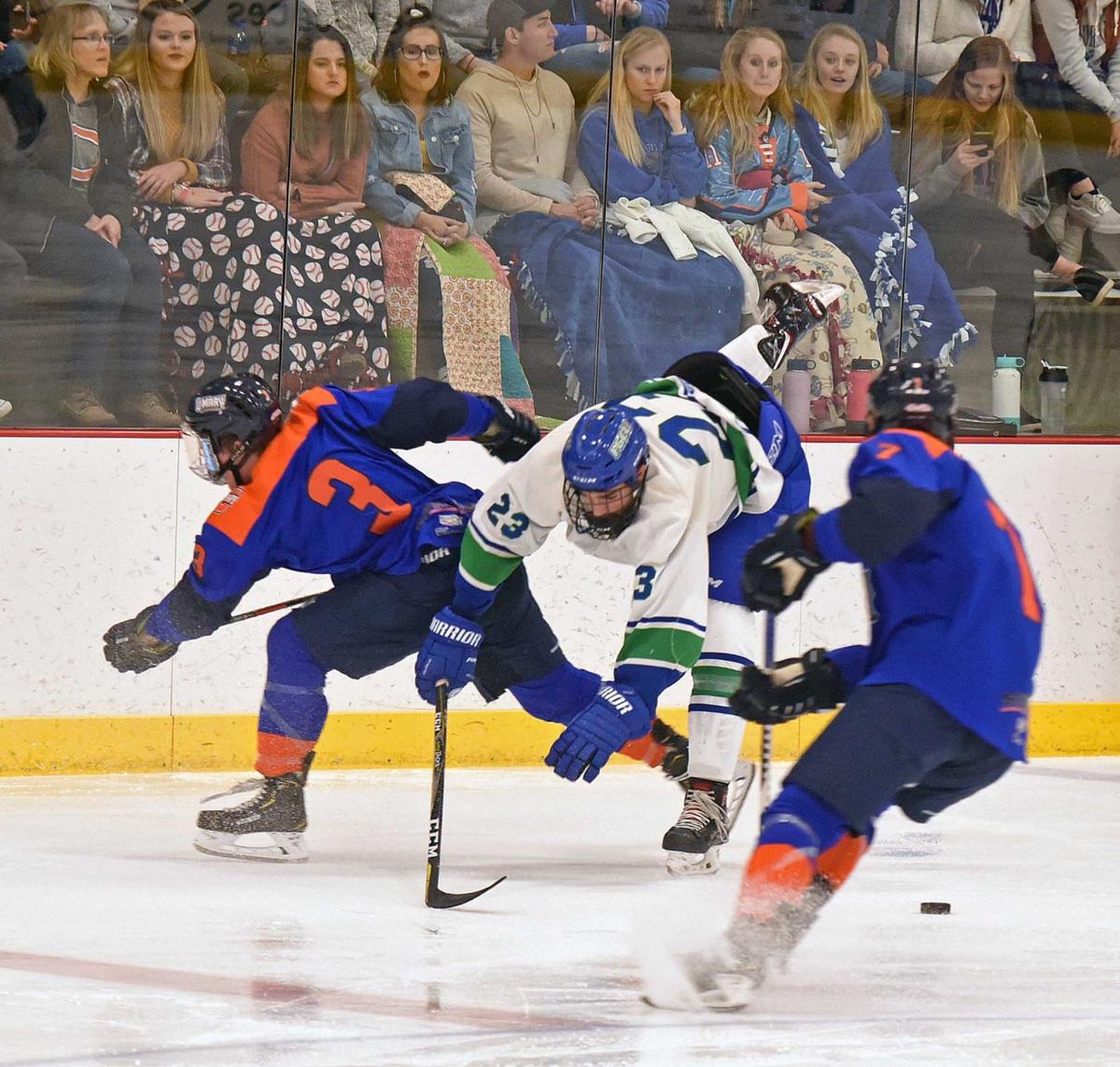 A strange week at the Mountain West Collegiate Hockey League tournament last week in Provo, Utah, ended the only way it really could have for the No. 1-ranked University of Mary -- with a 3-2 overtime loss in the championship game.
 A tournament that began with an injured senior goalie, and included lost equipment, the first short-handed goal allowed in program history and a 7-1 power-play disadvantage in the title game, ended on an easy-looking one-man rush up ice by University of Providence skater Leo Felt just 18 seconds into overtime.
 "A lot of things didn't go our way on the weekend," U-Mary coach Dan Huntley said. "We gave up three or four power-play goals, and we had one power play and they had seven in the championship game … We hit four posts … We didn't travel well."
 They also didn't have senior goalie Lance Knudson, who was hurt the previous week. That meant freshman Kyle Hayden was in net for the tournament.
"Kyle did a great job in net being a freshman being put in a position of leadership. You want to count on an upperclassman, not that Kyle isn't capable, but it's one of those things that's emotional for everybody," Huntley said.
 Losing a conference title wasn't as important to Huntley as playing for a national title. The Marauders' goal from day one wasn't to win a conference championship but to win a national title.
You have free articles remaining.
 Regardless of the outcome at the MWCHL tournament, U-Mary (37-8) was assured a berth in the ACHA Division II national tournament March 20-24 in Dallas, Texas.
 Huntley had the Marauders prepare for the grind of up to five games in five days (three round-robin, semis and a title) at nationals, by loading up on tournament appearances: five games in five days at the U-Mary Icebreaker (5-0) and four games in four days at the Bronco Showcase in Boise, Idaho (4-0), Beehive Showcase in Provo and Logan, Utah (4-0) and the Big Mountain Classic in three different cities in Colorado (4-0).
 Unlike those games, there was a title on the line at the end of the MWCHL.
 "That's really why we got into this this thing is to see how we would do before we get to the national tournament for the first time," Huntley said. "It's brutal to lose. It's not fun, but in the end, it didn't change anything. We're still a great team and we have the end of the year to look forward to."
 The Marauders currently have a record of 37-8. Three of those losses are to teams U-Mary will play between Feb. 14 and the start of the national tournament: Minot State and the University of Jamestown.
 The Marauders play at Jamestown tonight, and at home against the Jimmies on Saturday at 7 p.m. They play at Minot on Feb. 21 and at home against the Beavers on Feb. 22 before finishing the regular season against the Jimmies' Division II team at home Feb. 29.
 Huntley didn't want the Marauders sitting around for six weeks between the conference tournament and the national championships. The 20 days they will be off is long enough.
 "Florida Gulf Coast is going to have six weeks off. I don't know how you can do it and expect your guys to be ready to go," Huntley said. "We've got three weekends left. Our schedule has those tough teams at the end of the year when we want to prepare for the national tournament."