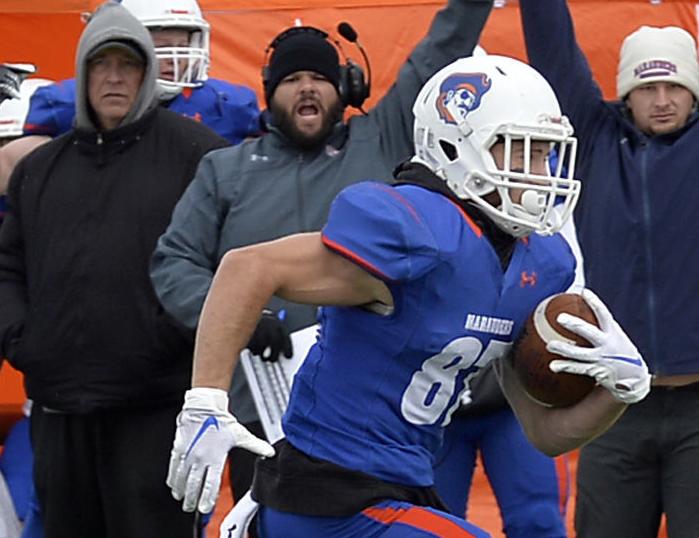 Danny Kittner bears a physical resemblance to former NFL star Julian Edelman.
Kittner, the University of Mary's star junior wide receiver, plays a lot like the three-Super Bowl champion. It's not a coincidence.
"Julian Edelman is my guy," Kittner said. "He's the guy I like to model my game after. We kind of have the same body type. Same physicality. He's a great guy to emulate."
Kittner hopes to end up in the same place Edelman did, and based on his play for the Marauders, it certainly seems possible.
Last week the 5-foot-10, 190-pound Gilbert, Ariz., native set a school record with 17 catches in the Marauders' 34-27 loss to Wayne State. Two of the catches were for touchdowns. He finished with 202 yards receiving.
"The goal always has been to play professionally. Make it to the NFL and play in the league," Kittner said. "I've been in love with this game since the first time I touched the football."
Kittner and the Marauders play their first home game in nearly 22 months today against 25th-ranked Augustana at 2 p.m. The Vikings routed Minot State 49-0 last Saturday.
"Augustana is a great opponent. They're really good," Kittner said. "I haven't played against them since my freshman year (2018), so I'm looking forward to it. It's a big challenge for our football team, but we're excited about the opportunity."
Kittner didn't play much offense in high school. Hardly any, in fact. Primarily a defensive back, he was mostly recruited on that side of the ball. He wanted to play wideout, however, and after relaying that preference to Marauders head coach Craig Bagnell, a match was made.
Very early in Kittner's career, Bagnell said he could go down as one of the pass-catchers in school history. With more than 1,000 yards and eight touchdowns with almost two fulls seasons to go, that prediction could prove prophetic.
"Danny's different," Bagnell said. "He's really, really good. The thing is, he's only going to get better."
In last week's encouraging, yet ultimately disappointing loss to Wayne State, Kittner had more than 200 yards receiving, Luke Little also surpassed 100 yards and caught two TD passes from quarterback Logan Nelson.
Kittner and Little are one of the top tandems in the Northern Sun, but they'll be challenged by Augustana's defense, which allowed just 160 yards last week.
"Teams are going to try and figure out how to shut down Danny and Luke, but you can't double everybody," Bagnell said. "We have other guys that can play."
Bagnell, who quarterbacked the only two Marauder teams to beat Augustana in 2011 and 2012, said the current version of the Vikings are very formidable.
"This is one of the better Augie teams I think I've seen in terms of their defense and what they do on offense," Bagnell said. "They have a lot of guys that have played a lot of football in the NSIC. They're really good."
To keep it interesting, the Marauders will need to play two halves like they played the second one in Wayne, Neb., on Sept. 2. Down 17-0 at the intermission, they outscored the Wildcats 27-17 in the second half.
In the final 30 minutes, the Marauders offense went up and down the field as Nelson threw for nearly 400 yards.
"A couple years ago that game would have been over at halftime," Kittner said. "But nobody was thinking that way. We knew we just needed to play better. Logan did a great job leading us, the offensive line played awesome and the defense came up with stops. What we did in the second half, that's the team we expect to be this season."
Kittner, studying business administration with a minor in public relations, knew they were "throwing the heck out of the ball" but didn't realize to what extent during his monster 17-catch performance.
"In the moment, you're just trying to get open. Help the team move the sticks and ultimately score touchdowns," he said. "After the game on the bus, the guys were telling me about the stats. It was cool, but it would have been a lot better if we had won."
Kittner is more than just a dynamic wide receiver for the Marauders. He returns punts and kicks and is the holder on extra points and field goals for kicker Kevin Powell. In a lot of ways, Kittner is cut from the same cloth as former NSIC star Gunner Olszewski, who starred as a defensive back at Bemidji State, before being unearthed by Bill Belichick and the New England Patriots as a wide receiver.
"Honestly, I don't think it matters what division you play in. That's kind of been proven out over time," Kittner said. "If you're a talented football player, they'll find you."